Let's talk about the cream to make your beard soft today. You may have noticed in recent times that men are now flaunting their sexy beards nowadays. It is the utmost wish of any bearded man to remain noticeable in any gathering. This is so much that men are no longer interested in shaving instead they just trim and make their beard look fancier.
Guess what, a lot of women find it sexy too.
The softness of your beard will not be your concern When you first start growing. Anyways, I prepared this article for you to guide you step by step and understand how to soften your beard easily and with not too much effort.
This post will also expose you to the best beard cream you can use to soften your beard. If you are ready, let's go!
I've heard cases where a bearded guy's girlfriend complains about taking a layer of skin off her face every time they kiss! If this is you, Worry no longer! Problems, solutions and tips and tricks will be spelled out for you here
Reasons why your beard is rough and why you need to get them soft!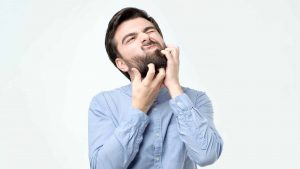 So many guys often ask Why their  Beard is rough and itches and how they can possibly soften it
Perhaps, it's three months since you started leaving your Beards to grow and you realize that it's not such a piece of cake after all. Your beard has a decent length, but the quality is not the best? It's a bit wiry and difficult to manage?
Well, the only thing we can say is, don't worry, we've all been there. Let me show you some reasons why your Beards get rough
1. Not cleaning properly
Do you know that all the germs you get from objects end up in your Beards? This will, however, only happen when you do not wash your hands often.
Unlike the hair on your head, the beard gets in contact with the food you eat. And it's more prone to be touched during the day.
And unfortunately, your beard does cannot fight debris, food or dust because it doesn't have an immune system. In such a case, a dirty beard means an unhealthy beard. Subsequently, this leads to having a  rough beard. A rough beard means an ugly beard.
Do you know what's next? An ugly you. I'm sure you don't want that.
2. Washing with hard water
You invite negative effects to the quality of your beard whenever you wash your Beards with hard water. Remember, not all water is good for you.
Yeah, I'm sure you are asking What I  mean by hard water?
Hard water is water that has high amounts of minerals in its structure. You can understand that the water is hard when it leaves this type of chalk on the surfaces it gets in contact with.
It makes your beard rough and tangled. As such, it becomes more difficult to wash off the product when you try to rinse. Leaving too much product in your beard can make it even rougher.
3. Trimming and split ends
Once you begin Trimming your beard, ensure that the tools you use are properly cleaned and properly sharpened. If not, this can lead to actually breaking the hair, instead of cutting it. And beard will be more prone to split ends which will definitely lead to A rough beard.
I know that A good beard care expert will lay emphasis on the importance of trimming when growing a beard. But what most people don't say is that it is also important to give your beard a good quality trimming.
4. Low temperatures
Do you know that cold temperatures affect beard look as well?
Well, we learn every single day!  Just like your skin gets dry, your beard gets dry as well.
The devastating effect on the quality of your beard can set in once there is a low temperature.  Why? Because the effect of dryness is, guess what? A rough hard beard!
And the sad news is as far as we are aware, nobody invented a protection mechanism for our beards yet.
5. Dehydration
Maybe you are aware of the general rule, not drinking enough water for a longer period of time can have some ugly consequences.
Well, Lastly is dehydration. This has, unfortunately, an ugly effect, for our skin, but also for everything that is attached to it.  Like a very tired complexion, full of spots or a very dull and wiry bear, lacking shine and health.
Home remedies to make your beard soft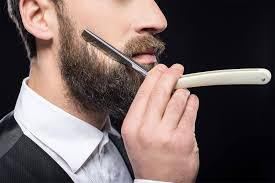 If you want to notice a vast change in your beard, from rough to soft just within a month, then follow these steps. I have outlined here 5 home remedies that will help you soften your beard.
Use of Olive oil
People say that Olive oil has moisturizing properties and it not only will help you soften your beard but it will also facilitate growth. Hence, one tip to soften your beard is by applying olive oil.
What you have to do is warm two teaspoons of olive oil and then massage it on your beard. You could also leave it overnight since olive oil has no side effects. Wash it off with lukewarm water and your beard will soften in the first use itself.
You are advised to do this regularly so that your beard stays black and also soft.
Use of Aloe Vera
When you apply Aloe Vera to your beard they make sure your beard does not have to face dandruff issues. Apply Aloe Vera gel and massage it on your beard. You can do this twice in a day to make it soft.
A good shampoo for your beard
In the mission to get a soft beard, It is not just your scalp and hair that needs shampoo, shampooing your beard is one of the best things ever.
Mix a portion of shampoo with water and apply it on your beard. Massage it in a circular motion and then just wash it off. Always remember, you should wash it off with cold water.
Practical ways to make your Beards soft
You've seen the causes of a rough beard, it's time to show you Practical ways to make your Beards soft, to help you tame the rough beast that is taking over your face.
1. Maintain a healthy diet
Let's face another general rule, The healthier your diet, the handsome you will look.
Ensure you eat more of eggs, nuts, avocado, salmon and low-fat cheese, all very rich in biotin.
Do you want more shine to your beard? Eat foods rich in vitamin A, such as sweet potatoes, carrots, kale, asparagus or pumpkin seeds.
Oh, most importantly, don't leave out at least 2 liters of water per day!.
2. Hydrate and protect your beard
There are ways to keep your beard protected, hydrated and nourished.
The use of beard oils, waxes and balms, soaps, shampoos,  beard brushes, and beard combs, will expose you to an exceptional range of products out there.
These tools will help you compensate for what nature cannot solve. I implore you to consider these products.
3. Buy quality grooming product
This is the most important of all. And that is why it is seated at this position. The need to have a quality beard cream as a bearded man can never be overemphasized. It is for this reason that we strongly advise you to do proper research before investing. And I want to congratulate you as you are in the right place to get the best beard cream for your beard.
The cream that will Make Your Beard Soft – MyBeardGang Beard Cream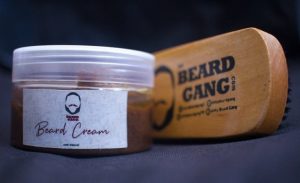 The MBG cream has been Created with manly love for grooming, respect for nature and care for our customers' well being and handsomeness, our products might be just what you need to help your beard reach its full potential.
This is one of the BEST BEARD GROWTH CREAM IN Nigeria.
It has been proven beyond reasonable doubts and beyond several tests and studies, the MBG Beard Cream remains indisputably the best Nigerian cream for growing and grooming beard to have beaten all odds to be the best!
Having The MBG Beard Cream would definitely help you, not just to soften your beard, but to ensure its full growth (even as a black man) within a month or two!
Entirely made with 110% natural ingredients, this beard growth cream in Nigeria (and even beyond) helps in causing softening and conditioning effects to the beards of its users, whilst also stopping any form of tangling of the beard. Plus, it is very affordable, yet, effective!
Of course, you may be wondering why I'm just saying all this. Let's face the third general rule which says the best is always reserved for the last! Right?
Ready for the cream to make your beard soft? You can get this beard care product right at your door post within Nigeria with just a couple of clicks. The first click begins by CLICKING HERE NOW.