An essential duty of sophisticated men is getting rid of unwanted hair from the body, and it is true that Philips Norelco bodygroom series have so far been among the prominent hair removal products available in the market.
If you have fallen in love with this particular brand just like me, you must have come across their 3100 series and their 3500 series. Which do you think is better?
Although the two versions are outstandingly ideal for hair removal there has been a controversy over the best among these particular versions of Philips Norelco Series. In this post, I will clear the air concerning which versions are the best and the reasons why.
The Philips Norelco bodygroom series 3500 is quite better and more effective than the 3100. The Philips Norelco Bodygroom 3500 promises to provide you a safe, gentle and fast trim and shave every part of your body from below the neckline to the sole of your feet! That, 3100 may not be able to offer.
When it comes to men's grooming products, Philips is one of the old popular names. They have some special body grooming machines on the market which are leading the body grooming market as we speak.
The Philips Norelco Bodygroom 3500 is regarded as the  2nd generation body grooming kit of the Philips. While 7100 remains their 3rd one. But in this post, we shall be addressing all about 3500 series.
One of the major features that make 3500 better than 3100 is that you can shave or trim all areas of your body including hard to reach areas like your backside of the body, shoulders using the extra-long back attachment of bodygroom 3500.
This makes shaving or trimming the hairs from our back side less difficult.
Since it is impossible to touch the back part of your body with your hand, we rarely can remove hairs from that area when using 3100.
In terms of effective blades, Philips Norelco Series 3500 blades have been designed to comfortably and efficiently catch hairs and contact your skin very smoothly.
A feature in 3500 that you will not get in 3100 is the hypoallergenic foil system for maximum skin comfort.
Comparing the features of Philips Norelco Bodygroom 3100 and 3500
For us to arrive at a justifiable conclusion, we shall take a broad look at the features of the 3100 and 3500 series of Philips Norelco Bodygroom.
Below is a table showing the sharp differences that exist between Philips Norelco Bodygroom 3100 and 3500.
Attention: The internal data of table "7" is corrupted!
Detailed Review: Philips Norelco Bodygroom Series 3100 vs 3500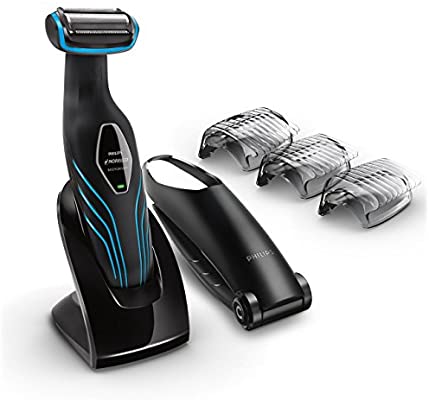 The reason why the 3100 series may be hard to ditch out is about their special features. A user of Philips Norelco Bodygroom 3100 can agree to the experience of close trim, comfortable shave even in hard-to-reach areas, skin comfort system, 3 fixed combs, 50mins cordless use/8h charge, and back attachment.
Let's assume that most Philips product lovers felt satisfied when the 3100 bodygroom series was released as it offered safe and comfortable trim/shave for underarms, chest & abs, back & shoulders, groin area, and legs.
Even at that time, I fell in love with the skin comfort system because they catch and cut hairs of different lengths, without the need for multiple tools or skin contact with sharp edges.
And yet, we thought we'd seen it all from the Philips until the 3500 series was released.
Philips Norelco Bodygroom  3500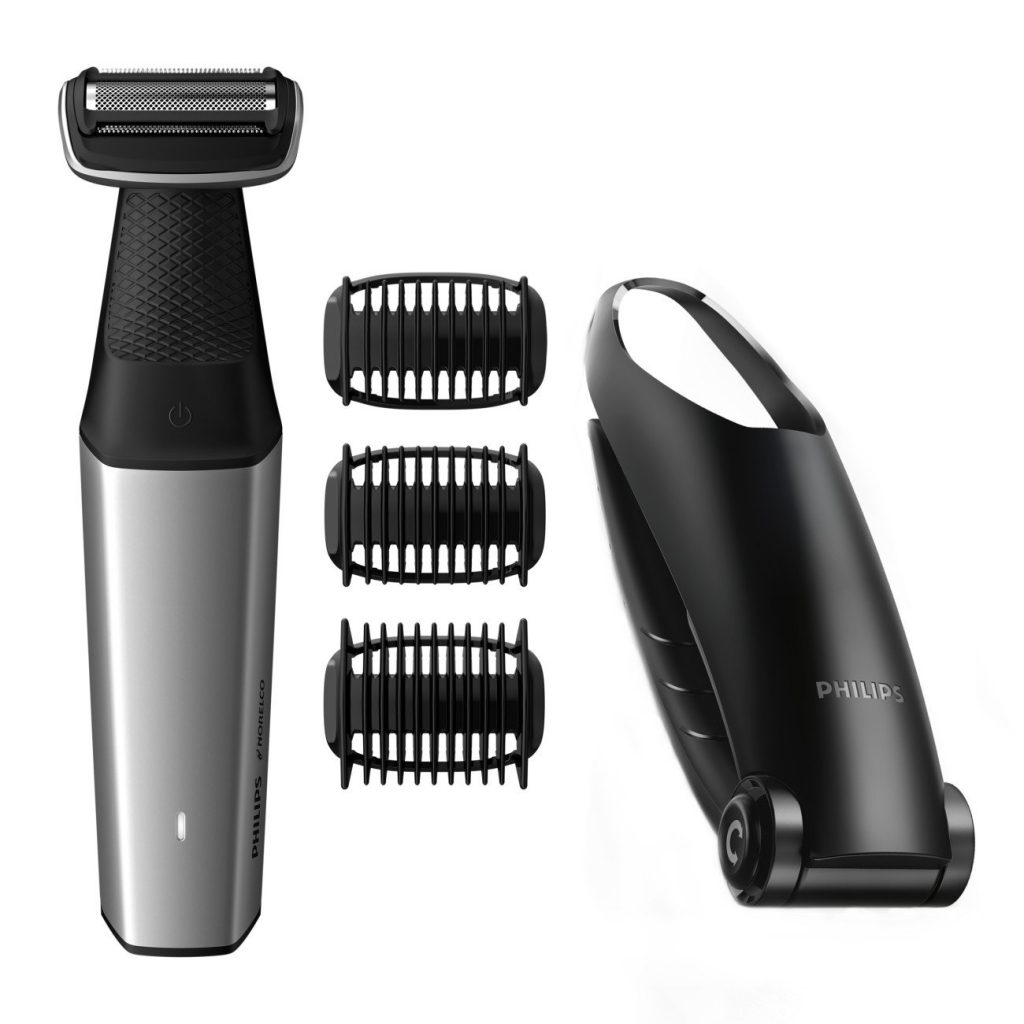 Yes, it was when we tried out the new thing that we knew the real deal! I believe, even now, most people would still prefer to stick to using the 3100 series. But there are some features that make the 3500 series better and cheaper!
In the 3500 Bodygroom Series of the Philips, we can observe that the battery life can last for an hour. This version comes with an easy-to-use back attachment and in an economy-friendly package.
In addition, The bi-directional trimmers cut longer hairs, which are shaved by the foil for a closer result.
The skin comfort system of the 3500 series features a hypo-allergenic foil and rounded tips to protect your skin while shaving.
You can use the shaving system without the combs, for a closer result. For thicker hair, pre-trimming with the fixed combs is recommended.
The trust is that there isn't a vast difference between the Philips Norelco Bodygroom Series 3100 and 3500. But with the little development we see in the later, it is worth considering.
Does Philips Norelco Bodygroom 3100 have an edge over 3500?
Like I just mentioned, it is difficult to clearly point out the features that make 3500 better. But they are.
On the other side of the coin, there are reasons why most men would still stick to using the 3100 series.
You can use the 3100 series on both wet and dry, in or out of the shower by simply rinse the device under the faucet for easy cleaning.
In addition, part of the reasons why most men still think the 3100 series is better is because it is a handy razor to have around the house and it can be used in the shower. (actually, same applies to the 3500 series)
The 3100 series razor is rechargeable in 8hrs and gives you 50 minutes of cordless power – something good enough for one who is often out of power.
A feature of the 3100 series that I will not forget to talk about is the stand docking station for recharging. This is the missing feature you may not get in Philips Norelco Bodygroom Series 3500.
All in all, the 3100 series is recommended for any one who is looking for a body razor you can use everywhere, whether you are wet or dry.
Why is The Philips Norelco Bodygroom 3500 less expensive than 3100?
Isn't it unusual? People do ask this question often. It is true that the 3500 series is less expensive than the 3100 series.
When you search Amazon for this product, the 3500 is priced $39.95 While the 3100 is priced $188.95
The Philips Norelco Bodygroom company promises that the 3500 is going to do just what the 3100 was not able to offer. How come it became cheaper?
This, among other amazing features of the Philips Norelco Bodygroom Series 3500, has made it a favorite of many men.
The fact remains that people actually want a product that will aid a comfortable and perfect trim/shave and will cost them less. And I believe the 3500 series has done well enough in suiting that demand.
What makes Philips Norelco Bodygroom Series 3500 better than 3100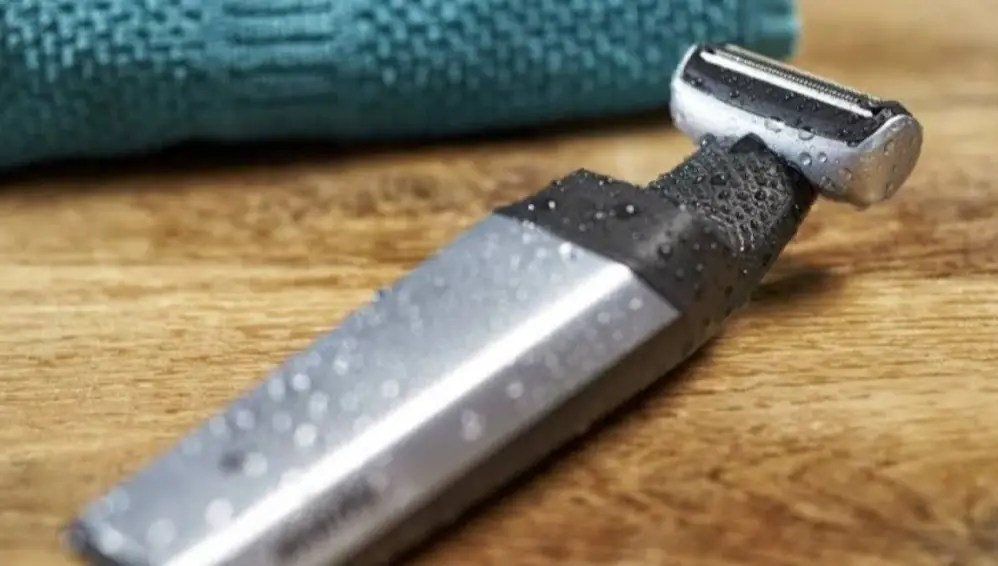 There are various things to consider when comparing bodygroom series 3100 and 3500, and at the end of the day, you will see that the later is better.
Let's run through these important features below.
Full Body Grooming Kit
The Phillips bodygroom 3500 is accompanied by a full-body grooming kit. With this, a comfortable grooming experience is assured. These kits are available to solve areas you need to groom such as your back, chest, abs, underarms, groin area and legs.
The bi-directional trim guards of this package can cut longer hairs with ease as they have 3 length setting
Lithium-ion Battery
One of the features that would make you choose series 3500 over 3100 is that this particular grooming machine is powered by rechargeable lithium-ion batteries. This means that running time will last up to 60 minutes as per charging for just an hour.
You also get notified when the battery life is running low as the LED display will indicate that.
Together with a full-body grooming kit, this advanced lithium-ion battery promises a perfect cutting performance.
It is showerproof
Most men are now buying grooming products that are waterproof. Probably because they enjoy grooming in the shower. Anyway, you will not look away from Philips Norelco Series 3500 when you think of the waterproof feature. Having a fully water-resistant handle, This body grooming machine comes with a waterproof design.
This allows you to use it under the shower without any fear. It can be used in both wet and dry conditions.
However, I recommend you use it in a dry condition because you will get better performance that way. All in all, cleaning is made easy with a waterproof tool such as this.
Sharp, suiting Blades
To aid a skin-friendly contact, the blades have been designed with rounded tips.
The blades have smooth skin contact and they will prevent your skin from nicking and cuts.
While making the 3500 series, The Philips Norelco assures that the innovative shaver head can capture short hair, long hair, and thickest hairs in a single stroke without difficulty.
Bumps and cuts is a major problem associated with using trimmers and shavers. But with this well-designed blades of Philip Norelco Series 3500, it is minimized. To get a maximum shaving experience, I advise that you trim the hair first before shaving.
Warranty
Generally, it is important to consider the warranty of a product before purchasing it. In the case of this series, Philips Norelco will repair or replace your product (except cutters and blades) without any charge if your product damages against materials defect or workmanship within 2 years.
Please note that this warranty does not stand for products that are damaged in accidental situations, lack of reasonable care or mishandling.
To access the warranty, you need to keep all the papers carefully and handle your product carefully
45 Days Satisfactory Trial
One interesting thing that caught my attention about the Philip Norelco bodygroom series 3500 is that you can return this product to the producer After buying this product. But the condition remains that you do not feel fully satisfied with the shaving/trimming performance.
Your full money will be provided back to you if you return this product to Philip Norelco within 45 days.
Philips Norelco Bodygroom 3500 – How to use the back attachment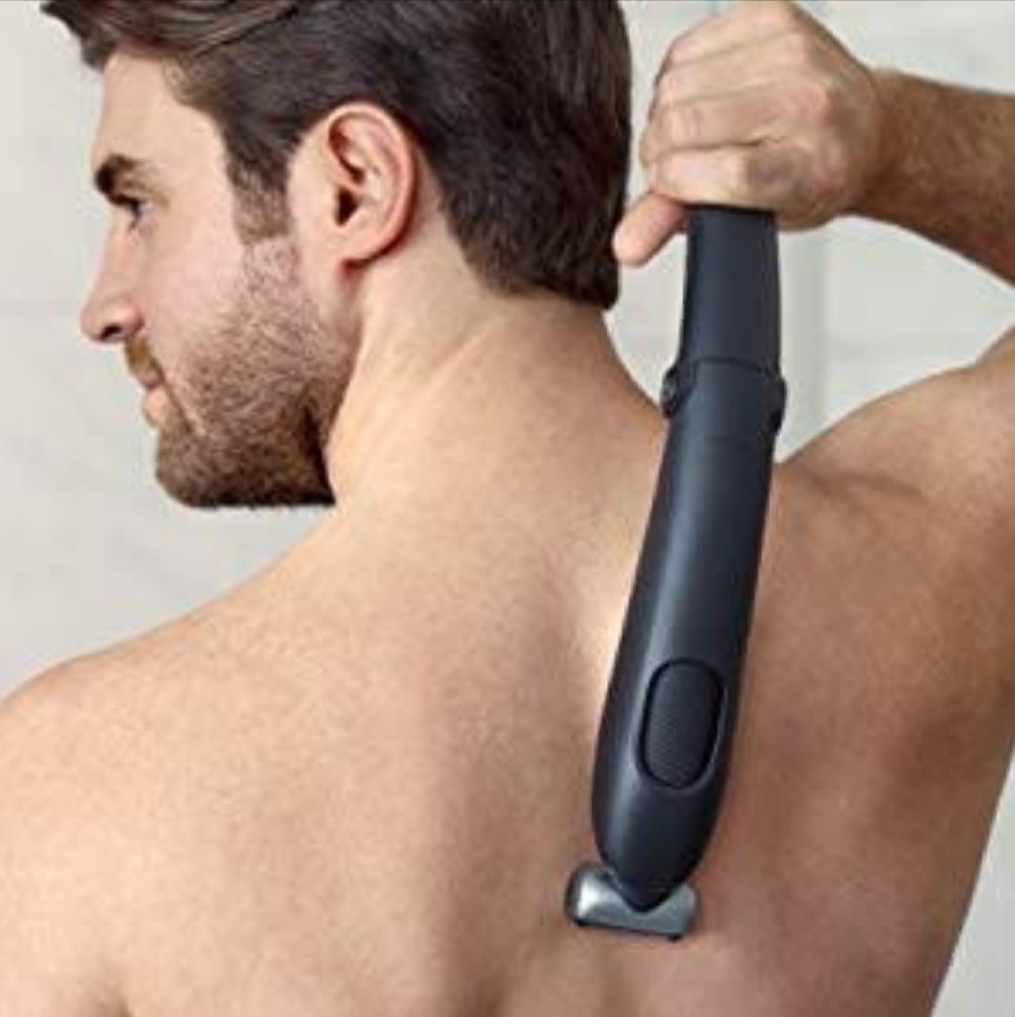 One of the special and outstanding features of the Philips Norelco Bodygroom 3500 is the back attachment. As you may be new to it, Here is a brief guide on how to handle and use it properly for shaving Hard to reach areas like you back.
Firstly, you press the release button to open the back shaving attachment.
Afterwards, place the grooming machine in the lower part of the ''back attachment''
Then press the  "extra-long back attachment" holder on the top until it locks.
Now, you are ready to switch ON the groomer and shave your back by moving the handle up and down per where the hair area is.
Be aware that the handle can be folded to different angles.
When you are done, pull the groomer towards you until it releases from the holder to remove extra-long back attachment.
Press the release button again and then push the handle against the holder to close the shaving attachment
That's it!
How to Clean and maintain Philips Norelco Bodygroom 3500
When a grooming tool is waterproof, cleaning and maintenance become easier. Regardless, it is important that I point out the dos and don'ts when cleaning this body groomer.
One thing you should bear in mind, however, is that there is no risk whatsoever of water causing trouble.
The groomer should be cleaned immediately after use. To ensure a long-lasting optimal shaving/trimming performance, observe Proper cleaning and maintenance with these steps:
Before cleaning, be sure the groomer is switched off.
Remove the trimming comb from the groomer.
Remove the shaving head by pulling it off from the groomer handle.
Hold the shaving head under running water for removing the loose hair and debris.
Clean the hair chamber with a cleaning brush even if you can rinse the hair chamber.
For hygienic cleaning, you can use a bit of liquid soap.
Don't use cloth or tissue to dry the cutters and foil, it may break.
Allow to airdry.
Important caution
Maximum care is required when you will apply it on near children or invalids.
Never charge the groomer beside the skin or bath tab where it can fall into the water.
Only use the included AC adapter.
After a full charge, unplug the groomer immediately from the electrical outlet.
Try to follow all the instructions of the user manual.
It is dangerous to use it for facial hair. Do not use it for facial hair as it is a body groom kit.
Before connecting the adapter with the electrical outlet, check it. Never connect a damaged cord with the electrical outlet.
Keep the groomer and its charger away from the heated surface.
DO NOT use the trimmer without replacement when the foil, cutter, and blades are damaged. That is why you should check before use.
Buy Philips Norelco bodygroom series 3500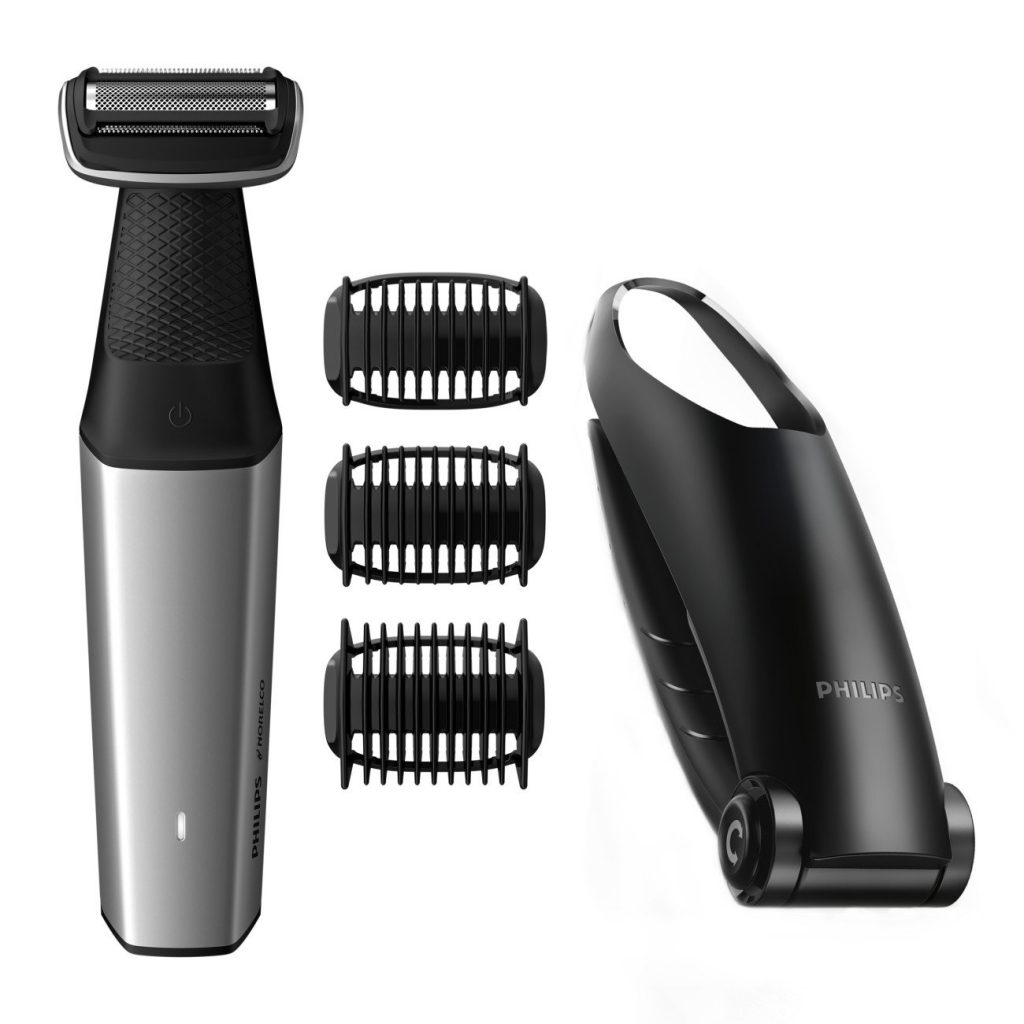 Pros
Fully waterproof.
The hypoallergenic foil is very good for skin even in sensitive skin.
Multiple trimming heads for different hair lengths.
The extra-long back attachment handle helps you reach any areas of the body.
Good Battery life.
Cons
Not for facial hair.
You need to buy a facial shaver separately.
---
Challenging questions about men's grooming and their answers
What is the best way to remove pubic hair for men?
The safest and simplest way to get rid of hair in the pubic area for men is to trim as much as you can before you begin the proper shaving. Also, it is advised to always use tools that are very sharpened or have sharpened blades. Soften the skin and public hair by soaking in the tub before cutting hair. Finally, it is important to have a shaving cream as they serve as a soothing agent when applied to the shaved areas.
Is back hair attractive?
Well, most people find growing back hair unattractive. But there should be no shame in it. To me, it is a sign of high testosterone in the body. Notwithstanding, not everybody likes back hairs.
A lot of ladies will love to admire the contours of their men's back then to have it covered with hair all over.
Why is my back so hairy?
In the same connection, genetics remains a dominant cause of hair backs and you should know what this means. Perhaps, it is something that occurs in a lineage.
How genetics reacts to the effects of testosterone in a man's body will be different from the other.
Is it proper to shave back hair?
Ideally, I will not advise a man to shave back hair if he's got there. But you can do it to keep your skin smoother and fresher.
Using the right tool like the Philips Norelco Bodygroom Series 3500 back attachment is the best option.
Depending on the situation at hand, you may choose not to shave your back hair. It's all about how groomed you would prefer your appearance when you take the shirt off.
Does shaving increase hair growth

?
The short answer is No. Shaving has no effect on how fast hair will grow on the skin. As a matter of fact, shaving has no effect on the thickness and colour of the hair when regrowing.
The tip of hairs that have been shaved may look stubble and thick but it is not.
Do all men have chest hair?
While some men do not have any hair on their chest, there are others that are so hairy. This largely depends on the genetics and stimulation of testosterone in a man.
One thing you should note is that they are all normal and natural.
Areas in the chest that hairs will extend to include the periareolar areas (nipples), the centre and sides of the chest and the clavicle collarbone.
Why are bald guys attractive?
Some women find bald guys attractive. Especially those who have ample amounts of facial hair. But I can say that those with completely bald hair are better attractive than those brothers with halfway bald.
In the class of baldness, partially bald men are preferably attractive than those who are completely bald.
How often should a man shave his head?
It is ideal to shave your head every three days to keep your shape and look clean and smooth always.
Every guy is different and grows hairs on the head in different ways.
---
I hope that this article has helped you in finding out all you need to know about one of the best Philips Norelco bodygroom series 3500. When compared with the previous Philips version (3100), the 3500 series should do a better job and give you that comfortable grooming experience.