Have you had the Philips+ Norelco Multigroom pro trimmer series 7500 experience? Let me start by saying it's an amazing product that you won't regret using.
Getting a positive user experience from using a product is very essential. Adequately utilizing a product that serves it's money's worth is very important.
Like every other product, this product has its good and bad side and we will be going through every detail with a fine-tooth comb.
What features do you look out of when purchasing a trimmer? Let's check out the main features of the Philips Norelco Multigroom pro trimmer series 7500.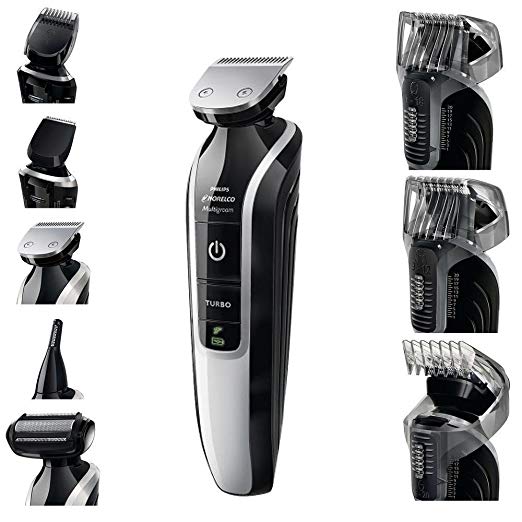 Key Features of the Philips Norelco Multigroom pro trimmer series 7500
Detail trimmer and full-size trimmer
A combination of 4 useful attachments and combs, each
An automatic voltage of 100-240 V and a durable Li-Ion battery
Tubenose trimmer
Detail & eyebrow comb
18-setting beard comb
60mins cordless use/1h charge
This product can be used in wet and dry situations
60 minutes run time with an awesome turbo Power
What do you think about its features? Personally, I like the fact that it's waterproof and it has multiple trimmers. Let me know what you think in the comments box.
Pros and cons of the Philips Norelco Multigroom pro trimmer series 7500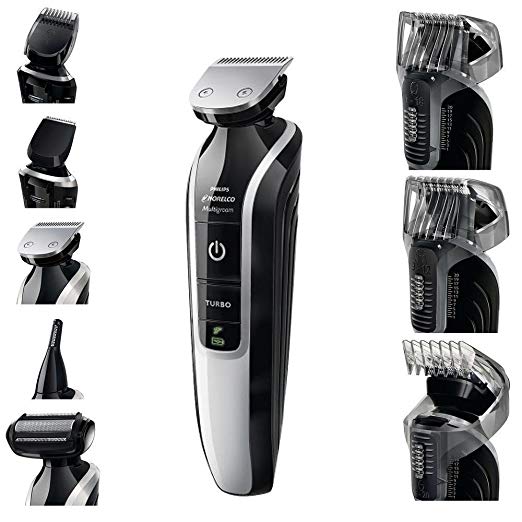 Can I be honest with you? Before purchasing a product, it's okay to know how awesome it is but it's equally important to be aware of its shortcomings. With that said, let's examine the highs and lows of using this trimmer.
Pros
Sleek design which makes it easy to use.
Quick battery charge and average battery life.
Accessories are easy to use, clean and maintain.
Multiple attachments to choose from.
Cons
Trimming a long beard with the trimmer may not yield satisfactory results.
This product is specifically designed for wireless use
it is a bit bulky, that is, compared to older versions.
Care to learn about an awesome beard cream? Check out this Cremo Beard cream review.
Well, there you have it! The unblemished truth of this product. To fully evaluate this product, we will be considering it based on a few more factors.
Design
Although it is designed to give a firm hold, it may be a bit bulky at first. It sleek and streamlined frame, however, gives a flexible feel to this product. Now, let's be honest, is this product one that looks presentable? Can you show it off as a good deal in terms of design? Honestly, yes you can.
Blades Quality
The blade quality of a trimmer is a big determinant of the results you get. The Philips Norelco Multigroom pro trimmer series 7500 is fitted with chromium steel razor blades. And yes, they are self-sharpening blades, which makes them even more long-lasting. They may not be the best blades in the market, but they can give you a smooth shave.
Charge Speed and use time
With a charging speed of one (1) hour, this trimmer can serve you for 50-60 minutes. As expected, lasting time may begin to reduce after a period of time. Also, you can also use the trimmer even while it changes. What do you think? Awesome right? Let's move on.
Full body grooming
The Philips Norelco Multigroom pro trimmer series 7500 offers a definite solution for all-round grooming. This trimmer ensures that you have that smooth feel where ever it is required. However, it is advisable to not press the blades on your skin as they may cause irritation.
Performance
Although the blades are sharp enough to give you a clean-cut, you may not get a very smooth result. You may be disappointed if you desire a smooth skin cut result, as it may take longer to achieve. However, this product can help you to comfortably remove all unwanted hair.
Packaging And Storage
You must be wondering, with so many attachments and combs, how do you carry them around? Well, an accompanying pouch comes with the product. With this pouch, all your attachments and combs can comfortably into it.
Maintainance
The Philips Norelco Multigroom pro trimmer series 7500 and it's accompanying parts are extremely easy to wash. This makes keeping them clean even easier. The trimmer, begin waterproof will enable proper cleaning.
Who can use this product
Although this product can be an amazing tool in the hands of a beards man for Grooming an awesome looking beard, this doesn't prevent women from enjoying this product. As a guy, properly used, this product can help you maintain that alluring and charming look. As a lady, this product can equally be a very resourceful companion.
Turbo power boost
Looking for a quick action trimmer? With the Philips Norelco Multigroom pro trimmer series 7500, you don't have to worry about thick hair. Its turbo power helps you achieve your desired results in the quickest time possible.
Skin care
Does your skin easily get irritated while or after Shaving? Count yourself lucky because this trimmer takes care of that. Built for extra comfort, you can look forward to a blissful Shaving experience.
Attachment durability
Although its attachments are very resourceful and serve several purposes, they tend to get loose over time. You need not to worry as this isn't much of an issue.
Conclusion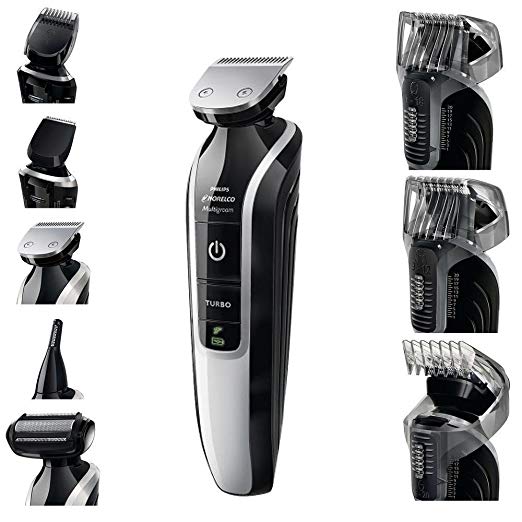 In all, is the Philips Norelco Multigroom pro trimmer series 7500 worth a try? In my opinion and experience with trimmers, YES. I understand the need to buy a quality product that will only deliver satisfactory results.
Honestly, buying a product that falls short of expectations is annoying at many levels. But this review is meant to save you that stress.
It is important that you get the best quality for your money. What to experience the satisfaction of using this product. Check it out now on Amazon.
---
Frequently Asked Questions and Answers
How Can I Know If Philips Norelco Multigroom Pro Trimmer Series 7500 water-Proofed?
To know if this product is a water-proofed beard trimmer lookout for the following symbols:
If you see a crossed-out tap symbol on the box or body of your groomer, it means that the groomer is not washable and should be cleaned without water.
A tap symbol printed on your grooming device indicates that it is washable and its parts (cutters and combs) can be cleaned with water. However, this does not mean that you can use it to clip or trim your hair in the shower or bath.
If you see a shower or bath symbol printed on your groomer, it means that your device is waterproof. It can be safely cleaned with water and used while taking a shower or a bath. For safety reasons, these waterproof groomers can only be used cordless and will not turn on if they are connected to the power supply.
Is Philips Norelco Multigroom Pro Trimmer Series 7500 Good?
From the reviews provided above, this model is a good one. And below are reviews dropped by verified buyers to back this claim up:
Truly excited with this grooming device. Use it all over, and with the right maintenance and proper head there is little risk of injury or unaesthetic mistake. Although it is gentle, it is powerful. Easy to clean and easy to use. Hope you enjoy it as much as I; very worth your buck.

An amazing gift from GF on my birthday 🙂 !! Love it for the days that am either lazy or just not in the mood to shave or be it to style & trim my beard. I still have to figure out the clippers how to use them but mostly it's the trimmers & precision sets that work best!!
What Are The Cons of Philips Norelco Multigroom Pro Trimmer Series 7500?
Judging from reviews below are some of the things you should expect when you buy this product:
Finding a replacement for a damaged part can be hard.
The battery span might be shorter than the specification provided.
The battery may stop charging after some months.
 I bought this a little more than a year ago and the main head is broken. it doesnt hold anymore and the machine stops. I use it 3-4 times a month mostly. I can not find any replacement parts or any reference to this product on Phillips site.
---
With so many opinions in the market, it can be quite difficult to make a decision on a single product. I hope this review has shed some light on the nature of this product.