Gift Ideas for Men with Beards: We all know that as long as the earth remains, there would always be one or two birthday parties to attend every month. Whether it is the birthday party of a friend or a family member, There's no denying that the birthday season would never end.  Birthday celebrations provide the perfect opportunity for us to show our friends and loved ones how much we really value and appreciate them.
This appreciation can be shown in so many ways but one of the best ways to show someone that you appreciate their presence in your life is by giving them gifts, these gifts don't need to cost a fortune, you don't need to rob a bank to be able to afford the perfect gift, what's important is that when shopping for a gift, you put some thought into it. If this special someone is a bearded man, knowing the perfect gift to buy can be really tricky because bearded men are unique species and you don't want to disappoint them by getting them a gift that's totally useless to them.  You'd want to get them the perfect birthday gift, so it's good to start early to plan and know the options available to you. Also, your inventiveness would have to come to play in order to get a decent gift in the nick of time. This is why this guide is so important.
Below, we have listed out 10 amazing gift ideas for men with beards in your life, whether it's your father, brother, husband or son, we are about to make your gift shopping a lot easier. We have listed out so many amazing items that would definitely impress your bearded guy, from beard kits to funny Beard mugs. Take a look at some of the best gift ideas for men with beards in 2019!
The Best Beard Care Gifts for men with beards
1. Beard Kit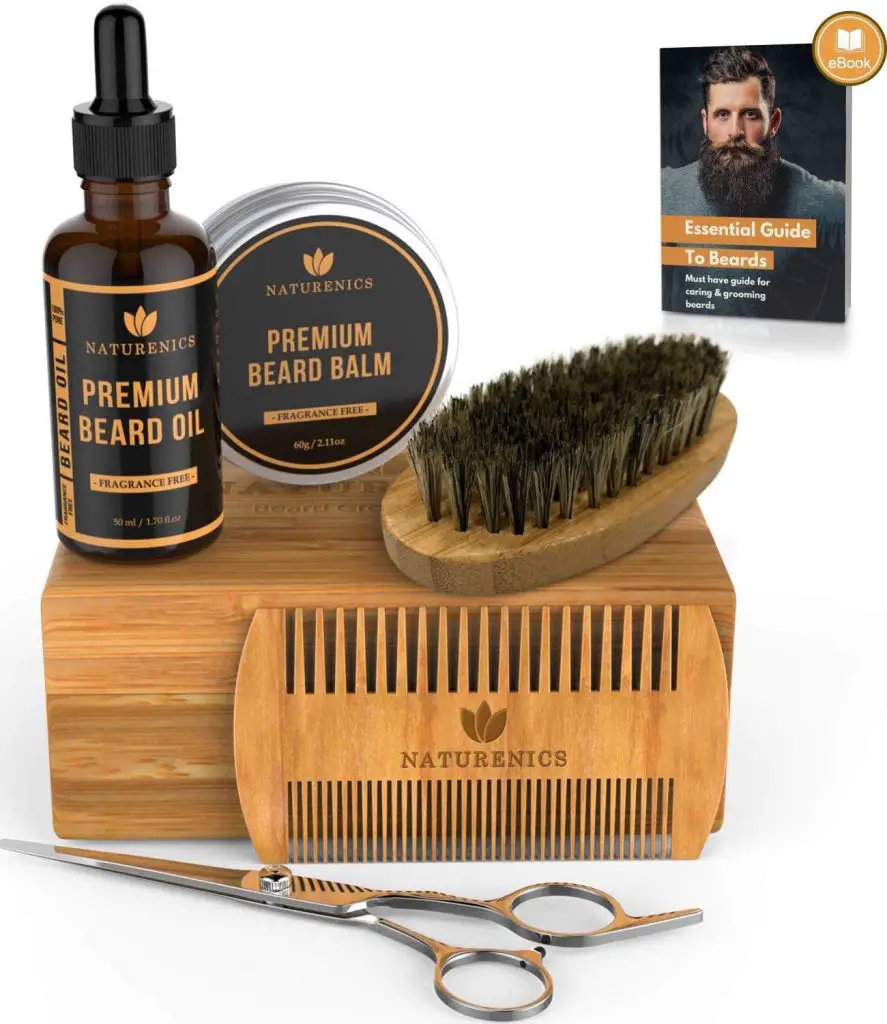 A Beard care kit is just as amazing as the name sounds, it's such a perfect gift idea, any man with facial hair would definitely love and appreciate it. Just as the name implies a beard kit is a set which usually contains a large number of different beard care products, it is undeniably one of the best gifts you could possibly give as a present to the bearded man in your life whether he is a friend or a family member.
The good thing is that there are so many great options to choose from, so many different beard kits are available in the market, so you can choose whichever works best for you. Some of the factors you could consider when buying include, cost, packaging, brand name and most importantly the content of the beard set. Some of these kits come in a bag while others come in boxes the choice of which one to go for depends entirely on the taste of the person you are shopping for, if your bearded friend has a more laid back personality, chances are they would prefer something simple and not so flashy.
there are so many great places to shop from but if you don't have so much free time on your hands take advantage of the hundreds of online shops. simply browse through and place an order. A good beard kit should contain a variety of useful products for the bearded man these could include items like beard cream, beard oil, beard balm, beard wash, beard brush, beard comb, beard trimmer, etc. Some kits include a complimentary gift like a scent. You could also consider going for products that are organic this is usually a good idea too as it makes for better beard care.
Check the Beard Kit out HERE
2. Beard Brush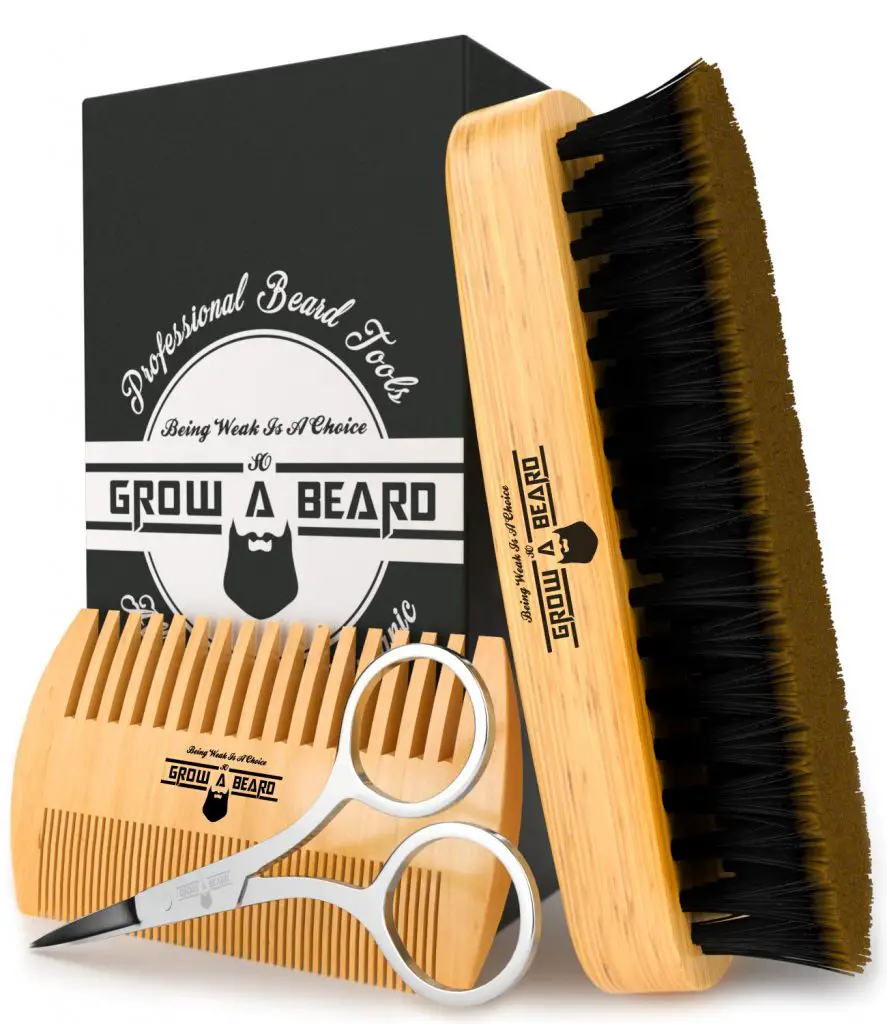 If you have any hair at all then you know how handy a good brush is. This tool gets even more important when you are a man with beards. A good beard care routine would always involve brushing your beard at one point or the other so the need to have a Nice bristle beard brush can never be overemphasized. If you are wondering why a brush is so important here's a little something a good brush can do. It helps to get rid of beardruff, and also helps with circulation and exfoliation.
This is definitely a great gift idea for a bearded man. If you want to take it a notch higher, try getting a personalized beard brush for that special someone, maybe with their initials or with their favorite lines.
you could also go for a set of brushes which should contain brushes of different sizes and shapes. When shopping, take into consideration the pricing and quality of the brush, it's always good to go for something that would last them a while, a product that has good value. Where to shop for a beard brush is endless, both online shops are regular shops that offer a large variety of products so this shouldn't be so hard to find.
Go for a brush that looks really good and should last almost a lifetime. This is one of the perfect gift ideas for men with beards.
Check the Beard Brush out HERE
3. Beard oil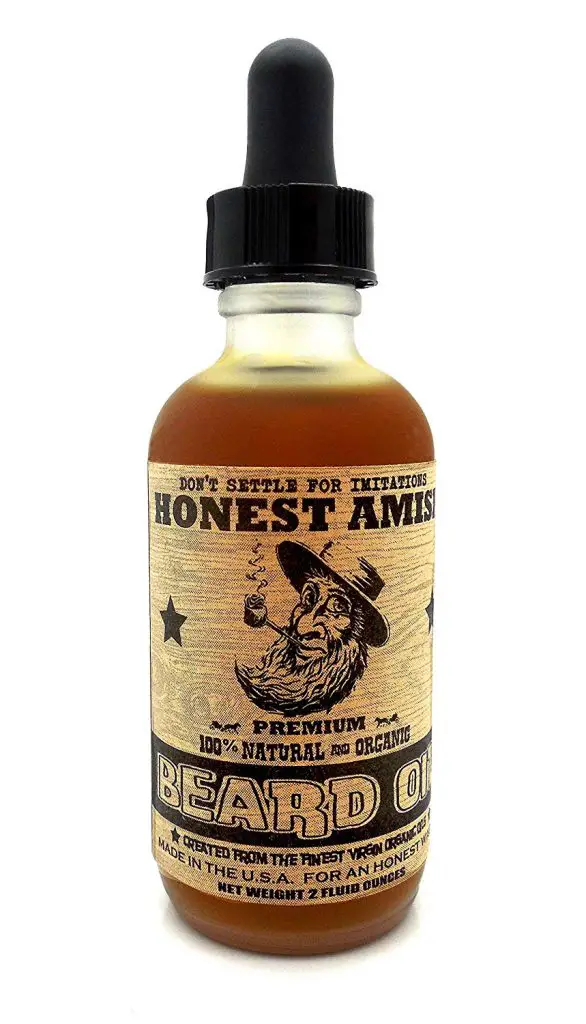 One of the things a bearded man definitely needs in order to have a healthy beard is a variety of essential oils. Essential oils have been proven over the years to be so useful and handy for so many things and this includes hair care and skincare. This is to say a bearded man definitely needs to have essential oils in his kit, so why not gift them one? They would love you forever. Beard Oil, is super beneficial for the bearded man because it gives him a neat and sleek appearance.
So if you don't want your man looking unruly or untidy gift him a beard oil. this oils also have other amazing benefits which include, enhancing the thickness of the facial hair, it reduces the chances of acne and beardruff, it also helps to hydrate, condition, nourish and soften the hair and the skin In that area.
Do I need to go on and on about how this would make for a perfect gift for men with beards?
If your man suffers from dryness, irritation, and knots, essential oils would get rid of those. Interestingly, most of these oils have amazing aroma, which makes the man appear more appealing and approachable, guess that's some bonus points for beard oils.
Thinking of which one to purchase here's a list of oils that are great for facial hair.
Rosemary oil
JoJoba oil
Coconut oil
Tea tree oil
Patchouli oil
Vetiver oil
Clove Bud oil
Pine oil
Peppermint oil
Lemon oil
Eucalyptus oil
Cedarwood Oil
Check out the Beard Oil HERE
4. Beard gang Tee-shirt and Hoodies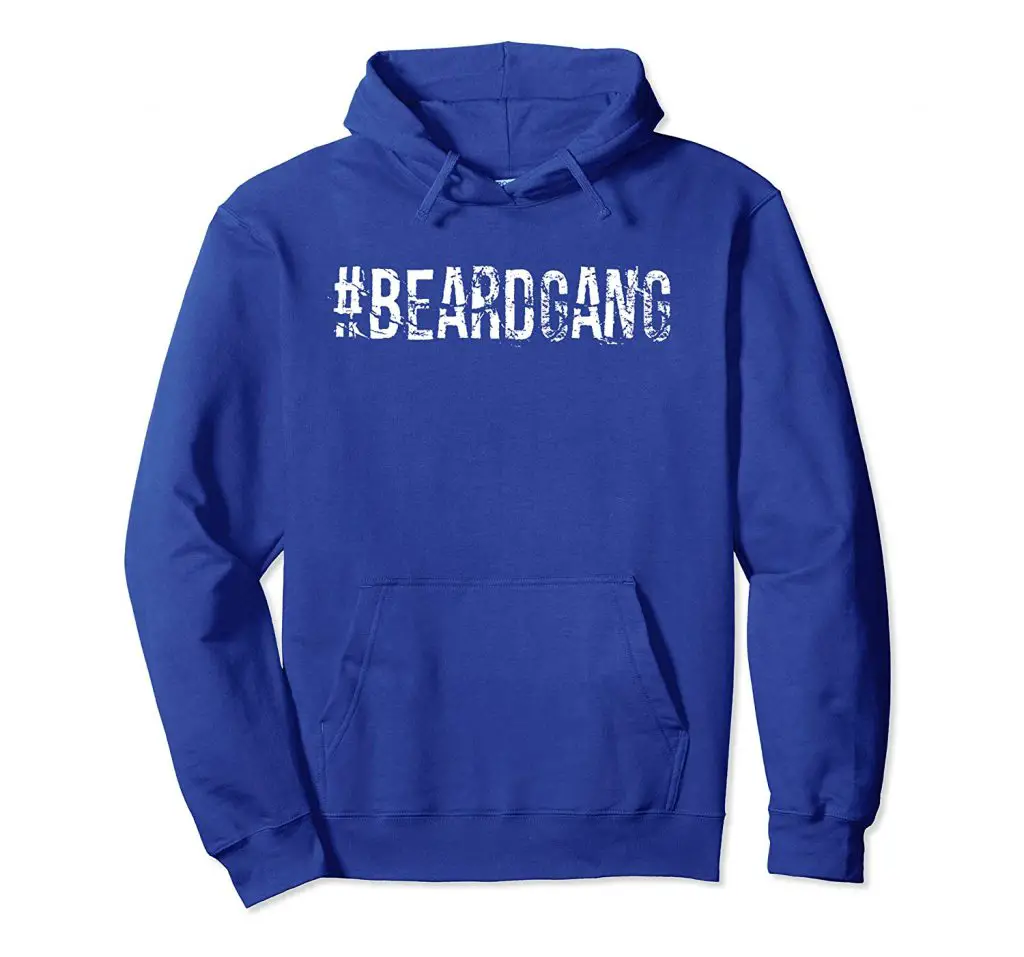 We can never have enough clothes In our coffers, this makes clothing items one of the most gifted items in the world, virtually everyone could use an extra t-shirt or pair of pants. This is even more important for the man with Beards, clothing is always a hit among men with facial hair, especially customized T-shirts and hoodies. The shirt could have a funny, heartfelt or random inscription. Whichever works best for you. I'm sure your bearded special someone, friend, or relative would really appreciate the thought put into the gift.
There are also some readily available beard scale clothes such as T-shirts, long sleeve shirts, and hoodies, with come in different sizes, designs and varying colors which have some really interesting captions.
Try not to go for something really conventional and common which can be found all over the place
You're much better off with something cool and stylish.
Check it out HERE
5. Customized beard items
How does this sound! Bearded men love to show off their stuff and this often means using items and wearing clothes that show the world that they are proud to be part of the Beard gang community. If you Gift your special man a customized notepad, journal, key holder, t-shirt, hoodie or beard mugs this would definitely bring some joy to the gift recipient.
These are all fancy and fun items and would all make for fantastic gifts. If your bearded Friend is a coffee Lover, a coffee mug would light up his face, just add a personal touch to it by going for something with a unique design and a slogan that rings a bell. Getting a bunch of customized items that your special someone could identify with and also use as souvenirs would also be a great and unique idea.
6. Beard shampoo

It is undeniable that finding a suitable gift for your bearded friend can be somewhat challenging, Whether you are shopping for someone who is a newbie in the Beard gang or someone who has been part of the squad for a long time now, it's really important to take into consideration the critical and important items that would make their beard journey easy and stress-free. That's why a beard shampoo or conditioner will definitely work, needless to say, that this item is crucial to the men with facial hair, a good beard care routine requires identifying the ideal soap to use.
There are several great products that are available in the market and can be gotten easily. With a little bit of care finding the perfect shampoo or conditioner for your bearded husband, boyfriend, dad, uncle or friend should be easy. ensure you do your research well in order to Find out which soap, shampoo or conditioner which works well with the various skin types.
Check out the Beard Shampoo HERE
7. Beard trimmers
If you are still dissatisfied with the options that have been listed so far. How about getting a beard trimmer kit for the bearded man in your life? This should work! Beard trimmers are a must-have for any man and more so for one who has to groom his facial hair. A good trimmer makes the task of trimming a lot less cumbersome. This is a good idea and a very thoughtful gift.
A good trimmer kit should have everything from a beard trim, shave, stubble, nose trim, and even an ear trim. Getting one should be easy! There are tons of shops that cater to men's grooming needs and these should include having trimmer kits and beard kits. Make sure to take your budget into consideration before making a purchase. There are a variety of great products which are also affordable. Endeavour to choose carefully and go Whatever works best for you and your bearded friend.
Check out the Beard Trimmer HERE
8. Beard backpack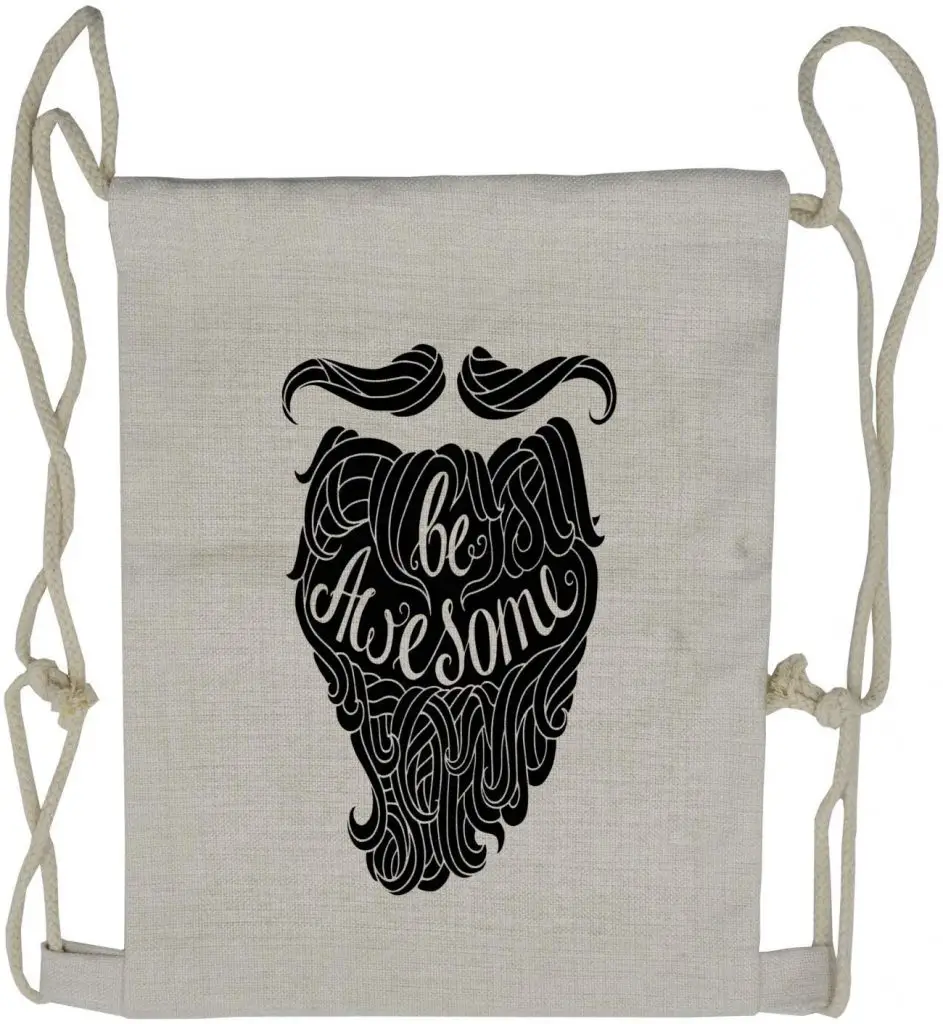 Backpacks are super handy for everyone. They make the journey from one place to another hassle-free because they provide ease. We all have so many things that we carry around as we commute from place to place on a daily basis and one of the easiest ways to have all of your stuff organized and safe is in a backpack, this is why this item had to make the list of perfect gifts for the bearded man. We all know how important the grooming kit is for a man who has to take care of his facial hair.
In the course of the day, it is likely that the Bearded guy might need to touch up his face a little bit, put on some oil or brush his beard a little, so a backpack is definitely a great idea. this would make it easier for him to carry his beard care items around, easily without drawing so much attention and most importantly with ease. So what are you waiting for, gift him that amazing backpack you spotted while shopping and he would love you forever?
Check out the Beard Backpack HERE
9. Beard safety razor
Just like the name implies this is a safety razor that is different from the regular shavers. This makes a really nice gift for the bearded man.
In order to have a healthy beard care routine and achieve the desired look with his facial hair, the Bearded man would require the use of a safety razor that's double-edged. It's an essential item because it helps to keep the skin healthy and free from bacteria and ingrowth. This safety shaver is quite different from the regular ones. They come in different styles and are readily available. This is a gift which reeks of thoughtfulness, your special person would know for certain that you care about their health.
Check it out HERE
10. Beard moisturizer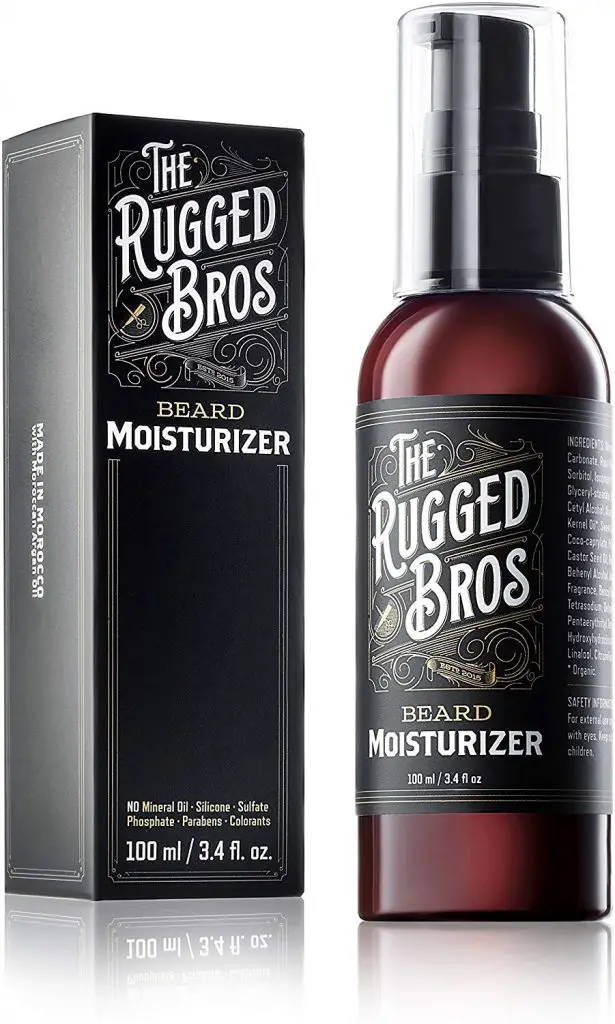 Because moisturizers would never go out of fashion, it made the list. As a man progresses on his beard journey he would need all the cleansing, nourishment and shine he can get. Moisturizers are super handy for every form of hair care and this includes facial hair. So whenever you are out of ideas on what to buy for his birthday just get a good moisturizer, you can never go wrong with it. You can thank us later.
Just in case you are in Nigeria, you should try out the Beard accessories we have here. It could serve as one of the perfect gift ideas for men with beards. Don't you think?
Check out the Beard Moisturizer HERE
There you have it, 10 amazing gift ideas for men with beards.