Does shea butter help hair growth? We have been swamped with lots of questions regarding whether shea butter promotes hair growth and we are here again to provide the answer you need.
Does shea butter help hair growth?
Yes, it does work.
Shea butter has been and still being used by men and women in Africa to moisturize skin and hair. It produces an astonishing result after being applied on hair, and a lot of hair care products use shea butter as their main ingredients.
This wonder found in Africa is known to moisturize the skin and hair. It fights dandruff, infections, and reduces inflammation. Shea butter is also known to balance the amount of oil on the scalp; it moisturizes dry scalp and reduces flakiness. It also reduces excess fat produced by the skin.
What is shea butter?
According to Wikipedia, shea butter is a fat extracted from the nut of the African shea tree. Shea butter raw form is ivory or yellowish.
Further processing makes it white. Shea butter is used in skin care products and hair care products. Shea butter is majorly imported from Africa where most shea trees are found. This product has been used for centuries dating back as far as the first century B.C. during the period of Cleopatra of Egypt. Shea butter is extracted manually by collecting, cleaning, segregating, drying and pounding of nuts into a paste. The paste is further processed to produce natural shea butter.
The benefit of shea butter for beard growth
1. Helps soften beard
Shea butter is not greasy, so it is perfect for moisturizing hair. It traps moisture in your beards, and it is an excellent emollient and humectant in protecting your beard. It softens your facials and reduces flakiness. When shea butter is applied on the beards, it prevents hair from drying out and becoming brittle. It also protects hair from sun exposure, UV rays, and environmental pollutions.
2. Helps to have a smooth shave
Shea butter will give you a clean, smooth and bump free shave. It allows good razor movement and will provide you with a very close shave. Shea butter is often used as an aftershave or a post-shower cream. It contains antibacterial properties, and it soothes the hair, this butter also has fantastic healing capabilities with these properties shea butter will heal resident bumps on your skin surface and also stop new ones from surfacing. To have a good, smooth and perfect shave then you might want to consider shea butter.
3. To strengthen hair and prevent hair loss
If you want to have strong, healthy hair, then shea butter is for you. This wonder piece strengthens hair by nourishing a dry scalp and weak hair strands that are prone to falling off. Shea butter helps to rejuvenate weak follicles. It feeds and maintains the scalp. It is rich in hair boosting nutrients and vitamins. Shea butter also strengthens hair follicles to stop hair loss. Applying shea butter on your beard will change their look from frail, shaggy beard to robust, healthy and shiny beard. Drastic improvement only shows in a matter of days. So if you experience hair loss, you should apply shea butter to it regularly. You can also add other hair boosting oils to increase its effectiveness.
4. Repairs damaged and split beards
Shea butter regenerative effect on your beard will make your hair look shiny, secure, and healthy. Dry, brittle, and weak hair shouldn't be much of a concern if shea butter is within reach. This butter is packed with fat; these fats play a role in repairing damaged beard and goes on to provide them with the required nourishment. Shea butter softens as it improves. It often revives hair follicles and boosts their hair growth since it contains vitamins like A and E. These vitamins will provide your hair follicles with the nutrient they deserve. For split ends shea butter should be applied regularly to improve hair condition.
5. Helps prevent itchy beard
Irritation leads to itching and then drive to beard dandruff. Beard dandruff is caused by dead skin cell that flake off your face and hides beneath your beard. This condition is caused by various conditions such as yeast infections, stress, and change in weather conditions. Another cause of the itch is also caused by infection of hair follicles, also known as folliculitis barbae; bacteria infections cause it. These form of diseases can be treated with shea butter as it contains antibacterial and soothing properties. Although shaving might be another cause of irritation because as the hair is shaved new hair starts to grow, this new ingrown hair can cause extreme itching and irritation. So as your beard grows, you should prepare for itching and irritation.
To stop beard itch all sorts of conditioners, oils and balms are required, but pure natural shea butter outclasses all of them. It is an all in one formula that provides your facials with perfection.
Where to get shea butter for a beard?
Access to shea butter generally is easy as it is sold in stores around the globe. A consumer based in the USA can order natural shea butter from online stores like Amazon and eBay.
Purchases can also be made from Walmart, pharmacies, and other credible locations. Customers outside the US can make purchases in local and online stores around them. Customers in Africa have the most comfortable access to shea butter as it can be bought in the local shop, on the street and online stores across the continent.
Just in case you want the best traditional African Shea Butter, then you can send Deedee a mail at admin@mybeardgang.com.
What to look out for when shopping for shea butter
When looking to purchase shea butter, natural shea butter should be bought. Natural shea butter is usually yellowish or ivory in color, it is a moldy, sticky and semi-solid butter. While refined shea butter is added with other ingredients to boost its effectiveness, refined shea butter is usually used to promote one of the numerous functions of shea butter, making it less effective in other areas. Also, cultured shea butter can contain some chemicals that can cause extensive hair damage.
The best brand of shea butter on Amazon
This product is of the highest quality. This organic Ghanaian shea butter is loaded with vitamin A, E and F. It is also packed with antioxidants and other essential fats. To make your beard soft, shiny, secure, and healthy.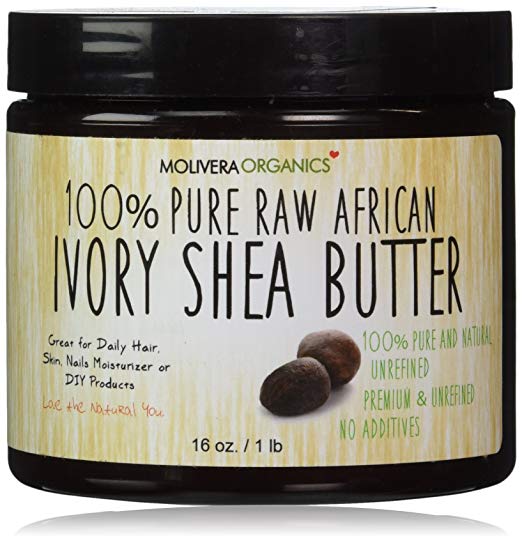 This product is unrefined, and it contains all the essential vitamins, fats, and antioxidants. It also aids UV protection amidst other benefits.
How should shea butter be stored
Shea butter should be stored in a cool, dry place. It should be stored at room temperature of 28 degree Celsius. Change in temperature may change the form of the substance.
Does shea butter help hair growth – Conclusion
Raw shea butter is one of the best or perhaps the best hair care product you will find out there. It is a moisturizer and a humectant that will nourish your hair. It is one of the most functional raw materials that will provide your facials with everything you want.