Onion can help increase and stimulate beard growth, and this is why Onion Juice for beard growth is important when you want to start your beard care regime.
Size, shape, colour, and flavour of onion vary. The most common types available in the market are red, white, and yellow. The season determines what the flavours are like; sweet, spicy, pungent juicy to sharp.
Asides from it being useful for beard growth, it is used for maintenance of skin and improves mood.
Reasons Why You Should Buy Onion Juice For Beard Growth
The smell might irritate you, but its benefits should not. According to the book, "Healing Foods" onion contains many medicinal chemicals. The chemicals in onion have anti-bacterial and anti-inflammatory actions in the body system.
The amount of Sulfur in Onion makes it suitable to use for your beard. The juice of Onion helps in the increment for blood circulation around skin area. The more blood circulates around your skin, the better your chances at improving the growth of your beards. Onion Juice also helps you to make your hair better and stronger, eliminating beard hair breakage and hair thinning.
Growing beards generally is not an easy task but including onion Juice/onion in foods you consume is one of those things that you need to do.
Doing this will make you spend less and also reduce the stress of you moving from one place to another in search of Natural remedies for the growing of beards.
Why is Onion Juice good for the Growing of Beard?
Onion Juice contains sulfur that is good for preventing thinning and hair breakage. This in return will ensure thick beard growth.
Onion Juice nourishes the hair follicles with the aid of sulfur. The nourishment of the hair follicles will ensure proper hair growth.
The presence of anti-bacterial chemicals in onion is good in reversing premature white beard hair growth. Check out How to turn white beard to black Naturally.
Massaging the beard with onion Juice also stimulates the circulation of blood to areas where it is needed. Its anti-bacterial properties help keep the scalp from getting infected, further promoting healthy beard growth.
Are you convinced enough? Then scroll down to read on:
How to Make Onion Juice at Home for Beard Growth
Take 1-2 onions and peel them.
Cut into pieces and blend using a blender or make use of alternatives.
Now filter it off using a muslin cloth.
Check if the texture and ensure that no onion chunks are left.
Put the extract on the beard and massage it thoroughly.
Leave it for an Hour.
Rinse it off using Mild Shampoo to get rid of the pungent smell.
Do this once in a week till you get the result you want.
Note: Before applying the prepared onion Juice on your beard make sure to perform a patch test to know if your skin sensitive to onion Juice.
Onion Juice You Should Buy
1. Reese Onion Juice, 2 – Ounces ( Pack of 12)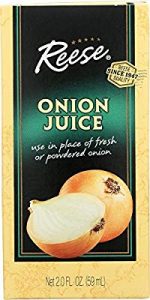 Reese Onion Juice needs no peeling or chopping, pack of 12 2-Ounces bottles with a shipping weight of 5 Ounces.
2. Howard's Onion Juice "New" 5 Ounce Bottle (3 Unit pack/15cm)

Howard's Onion Juice "New" G Ounce Bottle is made with 100% organic ingredients and gluten-free. This large 5-ounce bottle offers consumers value worth its money and it is made in America.
Check out reviews dropped by buyers on Amazon:
I love this stuff, because it truly allowes my hair grow fast. I was able to grow more inches of hair, by applying this stuff for 30 minutes on my scalp twice a week. And wash it with my hair loss shampoo.
From the review, one can say that the product can work for beard growth and worth the price.
It's super Awesome for the regrowth of the hair.
3. Chuncho Food Onion Juice 100 Premium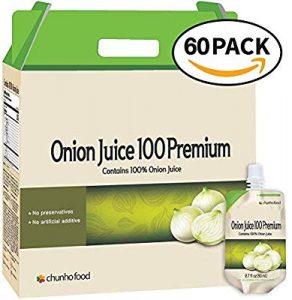 This product does not only helps reinforce stamina, but it also helps decrease fast aging in men, maintain healthily live and help in beard growth. It s made up of no preservatives and artificial additives.
Chuncho food onion Juice contains 100 onions per pack. The ingredients present in it help in cleaning the blood circulating the body system, which ensures that blood reaches all parts of the body and hair follicles. Instead of wasting time grinding onion, you can make buy this.
---
Is there any other alternative to onion Juice for beard growth?
Yes, there is and that is Onion Oil.
Why Use Onion oil and what is Onion Oil?
Onion Oil is made up of properties/chemicals that enhance and stimulates beard growth. Onion Juice, when processed with oil in the right proportion, increases blood circulation which is linked to an increased in beard growth. It provides the needed nutrients to facial hair.
---
Reviews on Best Onion Oil For Beard Growth
1. Khadi Global Red Onion Hair For Hair Growth With Argan. Jojoba, Rosemary, Black Seed Oil in Purest Form
Khadi Global Red Onion Hair Growth oil is made with sulfur which is found in amino acids needed for the growth of strong beards. It stops hair loss and also promotes good beard growth.
Applying this product to your beard hair will not only boost blood circulation but also your hair growth. It contains the following oil that works together to boost hair growth: Neem Oil, Wheat Oil, Blackseed Oil, Shea Butter, Rose Oil, Sunflower Oil, Ginseng extract, Tea Tree and Curry leaf.
2. WOW Onion Black Seed Hair Oil
WOW, onion Black Seed Oil is a pure traditional remedy that helps bring silkiness and strength to the beard and improves the way the hair feels and looks.
It is made with Onion, Almond Oil, Castor Oil, Jojoba Oil, Olive oil and coconut oil.
---
Some Side Effects of Onion Juice on Beard Hair
Onion Juice can indeed perform a series of wonders on the beard that hope has been lost on. But we need to know that there are many negative side effects of using Onion Juice on beard hair. Overuse, incorrect usage, and allergies can cause side effects that can be avoided in the first place.
Onion Juice can cure dandruff, ensure proper blood circulation, protect the hair from Lice, help beard hair growth, combat hair loss but we also have negative side-effects such as:
Burning Feeling
Itching of scalp
Eczema of the Scalp
Hair Loss
Dry Hair
Burning Feeling
That same compounds that cause the beard to grow can also cause pains at times. Onion Juice is a good effective hair growth ingredient but the bad side of it is that these same powerful compounds can cause adverse effects.
Sulfur is the one that is responsible for beard hair growth. But this same sulfur can cause the burning when using consistently especially for someone with sensitive skin. When you start feeling this sensation then rinse your beard hair off using a shampoo that is meant for the beard.
Itching Scalp
Another bad side of using Onion Juice on a beard is the unpleasant sensation that can happen when overuse. By applying too much onion Juice to the beard can cause damage to the scalp. Remember to wash off using shampoo or use water to avoid irritation.
Eczema of the Scalp
Onion Juice is made up of ingredients that makes it good for beard hair growths. And that is sulfur, one of the side effects is that it can cause natural oil in the scalp to get dry. If you belong to the set of people that is prone to dry sin. Use it once a week.
Dry Hair
Adding onion Juice to the beard gives the hair strength. Only use it once/twice in a week if you have sensitive skin. Onion Juice can strip your skin of its nutrients if you use it in a way that you shouldn't. It is made up of sulfur in high concentrations that can dry out natural oil in the beard.
The solution to this is to make use of nourishing conditioner or mix onion Juice with Oil of your choice.
What are the Safe procedures to Use Onion Juice for Beard Growth?
The safe measure to follow for proper use of onion Juice on your beards depends majorly on the type of beard hair you have. How often and when to use onion juice on your beards depends on the state of the hair and skin sensitivity.
But the general practice is that you should apply onion juice on your beard twice a week. And if you are allergic to smell of onion Juice mix it onion with the scent of your choice.
---
Frequently Asked Questions and Answers on Onion Juice for Beard Growth
How Often Should I Use Onion Juice in my Beard?
Researches have it that hair started growing after 2 weeks of Using Onion Juice. How often you need to use it depends on factors like genetics and nutrition. If your genetic makeup is the type that does not grow hair faster then you need to apply it consistently compare to someone that only needs little efforts to grow beards.
Does Onion Juice make beard white?
No, Onion Juice does not turn beards white in any way. Onion Juice is a great scalp cleanser likewise follicle Stimulator. Instead of turning your beard white, it reverses the growth of white hairs.
Can I Use Onion Juice on Hair Daily?
If you fear that using onion Juice daily can turn your beards white or have other side-effects, you have nothing to worry about. The answer is YES.
Can we mix Onion Juice with Egg
Yes, you can mix onion Juice with egg. The combination will improve hair health and that of the scalp.
Which Onion is best for hair growth?
We have white and Red Onion but which one of the best for beard growth? Red Onion is the best for beard growth.
Why?
Because Red onion contains more flavonoids and antioxidants than white ones.
Does Onion Juice Thicken Hair
Yes
Can I sleep With Onion Juice in my Hair
If you are comfortable with inhaling the strong smell of onion, you can put it overnight as a mask or mix it with Oil.
Can we store Onion Juice in a refrigerator?
Yes, you can store it in a refrigerator but make sure to use an airtight container.
How to Make Onion Juice for Storage?
Peel and chop the onion into small pieces.
Grind into a paste-like texture using blender or mixer.
Take the thick onion paste into a fully airtight container.
Add 1 spoon of pure Honey.
Squeeze lemon juice into a different bowl. Add 1 spoon of lemon Juice.
Mix the content.
The next step is to close the lid of the airtight container and keep it in the refrigerator.
---
Final Words on Why You Need To Buy Onion Juice For Beard Growth
Now that you are done reading Why You Need To Buy Onion Juice For Beard Growth, you should now be able to make your onion Juice at home, and you have also read on the best onion for beard growth, benefits of onion Juice apart from its uses in the Kitchen, How to store Onion Juice at Home using refrigerator and refined onion Juice products that you can buy from Amazon.
If you have anything to ask or complaints to make make use of the comment box. And don't forget to share.