Peppermint Oil for hair is one of those keywords trending among those looking for ways to grow beards. We have looked into how a beard can grow with onion juice and important accessories needed for beard growth. Here we are looking into what peppermint Oil is and its uses.
Here we are going to look into:
What is Peppermint Oil?
List of benefits of peppermint oil.
List of peppermint oil products reviews
Frequently Asked Questions and Answers
What is Peppermint Oil?
Peppermint Oil is another great oil derived from the peppermint plant – which is between water mint and spearmint that grows in North America and Europe.
Below are a few of the facts you should know:
Due to its stimulant properties, using it every day can lead to a change in sleep patterns, and using overdose can lead to severe side effects.
It belongs to the Mint family that contains Spearmint, Forest Mint, and Water Mint. Peppermint is a hybrid plant with properties of Water Mint and Spearmint.
The most active chemicals in peppermint are Menthol and Methone. The two ingredients can reduce pain, prevent the growth of harmful bacteria and energize the body system.
It is one of the most versatile oils in the world which makes it rank at the same level as Lavender oil.
List of Benefits of Peppermint Oil
We have benefits of peppermint oil for beard hair, uses of peppermint oil for human hair and uses of peppermint oil in the growth of hair.
Below are the uses of this oil:
1. Colds/Congestion
The menthol found in peppermint is effective relief to many respiratory problems including asthma, nasal congestion, sinusitis, bronchitis, and the common cold and cough are not exempted. Commonly used as an ingredient in a natural chest rub to help take care of congestion.
2. Promotes Hair Growth
If you are facing difficulty growing beard or hair or maybe the number of loose strands on your hair keeps on increasing? Do you fear going bald? Peppermint can solve that for you. With it's stimulating properties, it will stimulate the hair follicles by penetrating the scalp surface.
What peppermint does is that:
It promotes hair growth by promoting the circulation of blood to the needed areas. It makes the hair roots stronger in the process by providing all the needed nutrients.
3. Eases Digestion
The benefit of peppermint oil is not limited to the growth of hair alone or cosmetics industry alone, it can cure indigestion. Adding it as flavor to food or by drinking with a glass of warm water after mean. It helps to reduce a stomach upset.
4. Anti-Viral Agent
It is made up of chemicals that can treat cancer and tuberculosis. The application of peppermint oil will reduce the chances of outbreaks and infections.
5. Improves Blood Circulation
When the oil vapor reached the nerves. it boosts the pulse rate, it does not only increases pulse rate it oxygenates ate all the organs of the body. This helps to increase body system metabolism and prevent diseases.
To keep the long story short, the following are the key elements of peppermint oil: Antioxidant, Antibacterial, Antiseptic, Analgesic, Digestion, Respiratory issues, Anti-carcinogenic, Invigorating, Anti-inflammatory, Pain relief, Blood Circulation, Skin Care, Nail care and many more……
---
List of Best Peppermint Oil for Hair Product Reviews
1.

Majestic Pure Peppermint Essential Oil, Pure and Natural, Therapeutic Grade Peppermint Oil, 4 fl. oz.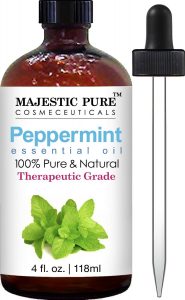 Majestic Pure Peppermint Essential Oil is a potent oil that offers multiple health and household benefits. It is also popular for its wide uses and therapeutic benefits. The application of this oil is safe but it recommended that it should be diluted with a carrier oil such as Coconut, jojoba or Almond oil.
How to Use:
Aromatherapy: Add a few drops to your favorite diffuser.
Massage: Dilute it with a carrier oil such as coconut/almond oil and enjoy a therapeutic massage.
Sleep-aid: Add a few drops on your pillow before you sleep.
Caution: Keep out of reach of children. For external use only. Keep away from eyes and mucous remembrances. If you are pregnant, nursing, taking medication, or have a medical condition, consult a health professional prior to use. For topical uses, It is necessary to dilute essential oils with a carrier oil.
Safety Warning: For external use only. Other than aromatherapy, dilute with a carrier oil. Keep out of the reach of pets. Avoid contact with eyes, keep out of the reach of children. If pregnant, consult with your health care provider before use.
2.

Peppermint Eucalyptus Beard Oil Artius Man Winter's Chill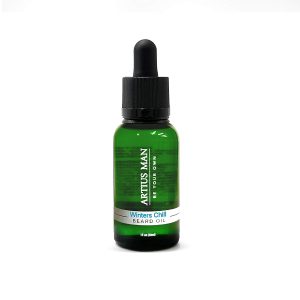 Peppermint Eucalyptus Beard oil Artius Man Winter's Chill will heal moisturize and hydrate the face and the beard. It is not greasy. This product will help prevent dandruff, and also keep the beard healthy and soft. Comparing with other oil it is thicker, made with a natural and organic carrier oil.
Reviews dropped by the verified buyer on Amazon:
I love the scent of this beard oil but… when I received this item I noticed a strong smell coming from outside the box. When I opened it I noticed that the beard oil was leaking inside the sealed plastic bag. It didn't look like I lost too much of the product. But when I opened the plastic bag to clean off the excess oil I noticed that the dropper is broken and the cover won't go back on correctly and that is why it is leaking. My rating would have been a 5 star review except for the broken dropper and it leaking everywhere.
3.

Peppermint Beard Oil – Joy (Peppermint and Clary Sage Scent) – Mint Beard Oil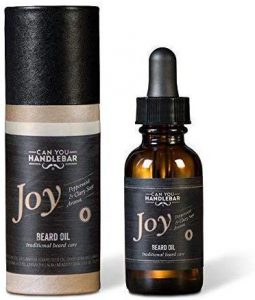 Peppermint beard oil is a great liquid that serves as a leave-in conditioner for daily use. It is easy to apply and provides natural and direct conditioning to the beard. The mixture of light and medium-weight oil provides the shine and strength needed by the skin and hair. This will go a long way to reduce flaking and itch and most importantly, gives the beard chance to grow to the fullest.
Natural Oils are used to make sure sure the scent is a good one, which can cause a slight variation of scent from batch to batch.
4. Beard Wash for Men by NEAT | 100 ml | Peppermint oil for Beard | Organic & Vegan | Beard Care & Thick Beard Oil | Beard growth & Soft Beard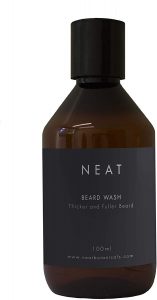 Growing of the beard needs patience and care. You need to take care of it properly to achieve a fuller and attractive beard. With  NEAT Beard wash you can achieve all that within the blink of an eye. It does not only promote good beard growth but also prevents the skin from getting itchy and red.
What is so special?
NEAT Beard wash will keep your skin and beard hydrated. Its benefits do not end at that, it prevents itchiness; men with beard are known with this problem buying NEAT Beard wash will put an end to that.
5.

Peppermint Essential Oil – A Refreshing Revitalization For Healthier Hair (10ml) – 100% Pure Therapeutic Grade Pure Peppermint Oil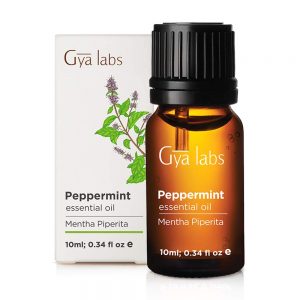 With this product, you will be able to feel the blend of aroma that blends well with peppermint invigorating freshness. And each of your hair strands will get all the nutrients that have been craving for. It eases the pain of sore muscles & tensed joints with refreshing mineral oil.
So below are the reviews dropped by buyers on Amazon:
Excellent scent, long lasting. It is exactly what I wanted. Totally recommend this product.

and

I bought this oil to add to my shampoo to help with scalp health and so far its been a great product. I can definitely feel a difference when I use it and so far it seems to have improved the feel and appearance of my hair.
---
How To Make Your Own 3% Peppermint Oil
Making your own peppermint oil is one of those things you should try out especially if you are a fan of DIY. It is not rocket science all you need to do is follow the steps provided below:
You will need the following:
Jojoba oil
Pure peppermint oil
1 oZ dark dropper-bottle
The next thing to do is mix the oils into the bottle but it must be at the correct ratio.
Start by filling the dropper bottle until it almost brims with jojoba oil
The next step is to add 18 drops of peppermint into the bottle, close the cap and shake thoroughly.
Imagine that each of 1 oz bottle can hold 600 drops, adding 18 from the PEO should be close to 3%.
Now that we are done with the making of homemade peppermint beard hair. You should also note that it is never recommended that peppermint oil should be applied directly into the skin. Make sure to dilute with a carrier oil before use.
---
Frequently Asked Questions and Answers
How many times can I apply peppermint Oil to the beard?
One drop of peppermint effect can last for days so it is not important that you should apply it on a daily basis. The final decision is still yours to make.
Is peppermint better than minoxidil?
Peppermint and minoxidil are both effective when it comes to the growth of facial hair but which one is better and effective? Peppermint oil is better than minoxidil.
Can I use peppermint with minoxidil?
Yes, you can. Minoxidil is effective in treating hair loss as a result of pattern baldness. So when the strands of hair start to fall out they are not replaced by the normal new hair but replaced by thinner ones. while in the case of Peppermint oil it is faster.
Meaning that when you combine peppermint oil and minoxidil you will get an amazing result.
Can you out Peppermint oil directly on your skin?
Peppermint oil is meant not to be used directly on the skin because it is just like an essential oil. It is highly concentrated and should be diluted before using
Is inhaling peppermint oil dangerous
It is safe when taking orally but should not be applied directly to the skin.
Can I mix peppermint oil with water?
Yes, you can mix peppermint and water.
---
Conclusion
Here you have read on the list of benefits of Peppermint oil, side effects of this oil and different products that make use of peppermint oil. From all you have read here, you will be able to decide the best product for you and other benefits of peppermint aside from the ones you know in the past.