Beard Softeners for Black Men: Beard Softeners are important beard products you should get if you have tough and coarse hair. As a black man, this means that your hair type is naturally tightly coiled and dense. This might make growing a beard as a black man become a constant struggle because combing or brushing will be difficult and be sort of a fight with your hair. It is no surprise that straight hairs like Caucasian hair are usually easier to comb or brush through than African hair. For this reason, you need a beard softener as an African man.
Most beard softeners are not harmful to your beard because they are very pure and natural and tapped from natural ingredients like essential oils vitamins and organic butter.
For you to come here, to this article, looking for something to use to soften your beard, it means that you've probably been battling with hard and coarse beards for some time. Well look no further, beard product companies have seen that this is a common beard problem among bearded men so, they have come up with unique products that can help you out of this beard problem you are in.
This article promises to list the best of beard softeners out there on Amazon for you. We did all the research for you. All you need to do is to just pick the one you want and then you apply.
What are beard softeners?
Beard softeners are leave-in conditioners, oils or balms that soften your beard as well as moisturize it. Beard softeners could come in the form of a leave-in product or be washed out minutes after application.
A beard softener will help you to soften those tight curls in your Afro beard making it soft and manageable. In this article, we will be giving you ten recommended beard softeners that have proven their worth in the market and are essential for your beard as well as important for beard growth.
How do you apply a beard softener?
It all depends on the form it comes in. If it comes in as a leave-in product, then after applying your beard oil, you should apply your beard softener and wear it throughout the day. If it is a leave-in product, it will probably be an oil or a balm. But some softeners come as a beard conditioning wash. So in this case, when you are through with washing your beard, which you should only do two to three times a week, you apply the conditioner, let it sit in your beard for the recommended amount of time that the product manufacturers advice and after that, wash it out.
Below are our top ten beard softeners on Amazon
1. Cremo scruff and beard softener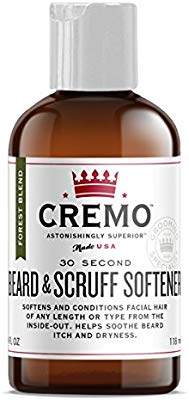 This 4-ounce beard softener by the Cremo company costs $6.69. This product is a 30 seconds beard softener that is very effective in softening your beard and scruff. It is very healthy for your face as well as a beard and is not harsh. No matter the length of your facial hair, the Cremo beard softener and conditioner is ready to tackle it. And it does this in just 30 seconds! Apart from being a good beard softener, it also helps in relieving itch underneath the beard and soothes you and your skin. It also deeply moisturizes your beard by replacing and replenishing lost moisture.
It contains strong moisturizing ingredients that help in effectively softening and conditioning your beard. The ingredients it is made of are; water, Glycerin, Shea butter, Coconut oil, peppermint oil, tea tree oil, Aloe vera leaf juice, Tocopherol acetate etc. These ingredients are mostly natural and organic and have no side effects.
How do you use the Cremo beard and scruff softener for your African haired beard?
Pour a quarter-sized amount of the beard softener on to your palm. After, rub your palms together to form lather and then apply to your beard thoroughly. Be sure to wait for 30 seconds before you rinse it out. This is not a leave-in conditioning product. To shop for this on Amazon, kindly follow the link here.
Beard Softeners for Black Men 2. Beardsley Ultra Conditioner for Beard

The Beardsley conditioning product is another taming and softening product for your beard as a black man. The Conditioner is specially designed for facial hair. It so deeply softens and smoothens your moustache and beard in a very pleasing way. The Beardsley company is quite a reputable company when it comes to beard products.
They deal primarily in facial hair care and have been in the market since 1993. So, you know they have quite the experience. This beard product gives your hair a stronghold and adds a finishing touch to your beard routine. It also relives beard itch especially if you are just growing out your beard. It is made in the USA. And is packed in an 8 oz bottle. It costs $14.95 and ships to other countries. It contains Jojoba seed oil, Hops extract, goldenseal extract, wild cherry fruit extract, perfume, water, soap bark extract, Glycerin etc. To buy from Amazon, follow the link here.
Beard Softeners for Black Men 3. Grave Before Shave's Tequila Limon Blend Beard Balm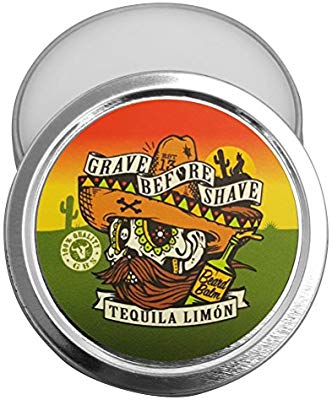 This 2oz tin beard balm is another top-quality beard balm that perfectly takes your black beard by softening and conditioning it. This beard balm has Tequila Limon scent which is a really cool and manly scent you would love. It is made of the finest oils and butter blended together to form this amazing product. This beard balm truly tames your beard, deeply conditions it and protects your facial hair as well. The Grave before Shave beard balm is definitely not a write off at all. You should definitely try it!
This product costs $13.49 on Amazon.
You can buy this product on Amazon by clicking here.
Beard Softeners for Black Men 4. Honest Amish Beard Balm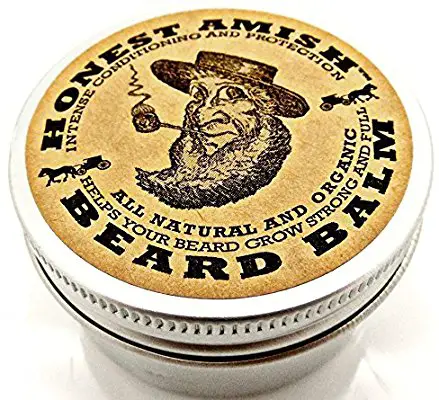 The Honest Amish brand is very well famous for its product quality. They are especially famous for their beard balm which they have nicknamed 'Better than oil'. The Honest Amish beard balm is a sure bet for softening your tightly coiled Afro haired beard. Seriously, this beard balm is still their best product so far. They make other range of products like the beard oil, grooming kits and so on. But they have been in the business for a long time. Their beard balm is the best selling beard balm on Amazon currently. Yes, we are talking about this particular beard balm we are analyzing right here.
It has close to 7,000 reviews, mostly positive on Amazon. Huge right? Yeah… This is because this beard balm is so well trusted and true quality. It is also purely organic and natural. With essential oils like Jojoba oil in it.
This beard balm costs $12.87 on Amazon.
You can buy this product from Amazon by clicking here.
Beard Softeners for Black Men 5. Viking revolution Best Deal Beard Balm with Sandalwood Scent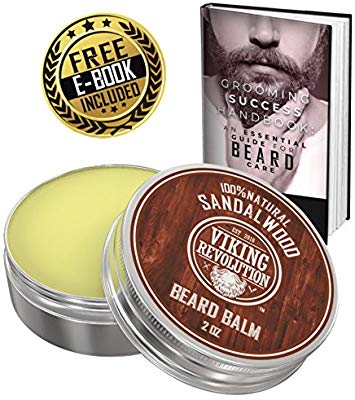 This Sandalwood scented beard balm is another top beard balm that will soften your beard in a jiffy. This beard balm has the Sandalwood scent that is very manly and not too powerful. This beard balm promises to strengthen, soften and condition your beard and starches. It is a leave-in conditioner and what that means is that you should not wash it out after use but leave it in your beard. It is a 2oz volumed beard balm that is 100% natural and tames your beard so well. It moulds, shapes and restores your beard, the manufacturers are promising you that you will be getting a lot of compliments just by using this beard balm. It also soothes itches as well so if you are struggling with beard itch as a black man, you can use this too.
This product costs $9.42 on Amazon and also ships to abroad countries.
You can buy the product from Amazon by following this link.
Beard Softeners for Black Men 6. Clubman Pinaud Beard Balm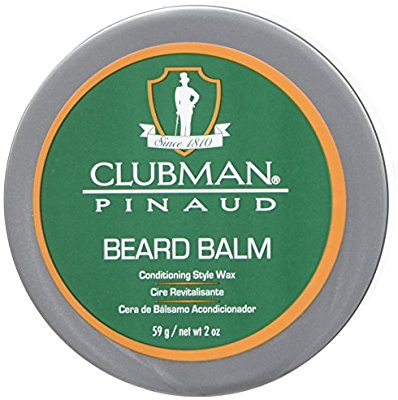 This beard balm is 2oz in volume and is conditioning, softening and styling beard balm. What this means is that apart from softening your beard which is the primary purpose of you applying it, it also aids in styling. Cool eh? You don't need to use a heavy amount of this beard balm. It also has a slight hint of grapefruit scent in it. So it promises to smell refreshing while softening that Afro haired beard! It is a perfect blend of Coconut oil and beeswax.
This beard balm costs $5.79 on Amazon and you can shop for it by following this link here.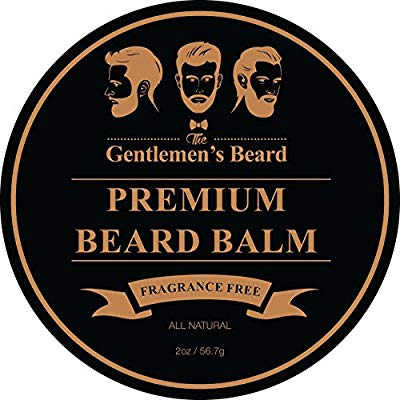 This premium beard balm costs 2oz in volume. It is a leave-in conditioner and softener for your Afro and tightly coiled beard. Just take a bit of the Gentlemen's beard balm, rub between your palms and spread across your beard and facial hair. You will notice the immediate softening of your beard. This beard balm is Fragrance-free, 100% natural, made in the USA, and so effectively helps in moisturizing beards.
This beard balm costs $19.97  and you can order for yours through this link.
Beard Softeners for Black Men 8. Beard moisturizer for men by the Rugged Bros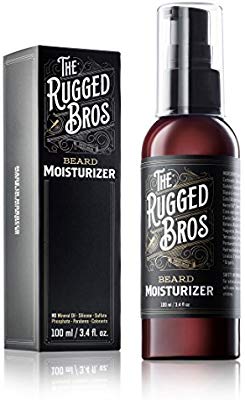 This beard moisturizer and softener is 100ml/3.4Floz in volume. This leave-in conditioner deeply hydrates your beard and is very lightweight. It promises to soften, take and moisturize that dry, coarse and tough beard. It is made of the finest ingredients like Argan oil from Monaco in Morocco, Rosewater, sweet almond oil, and so on. It has no chemical additives and is 100% organic. This product is the ultimate softener.
This beard moisturizer costs $17.99 on Amazon and you can add to cart or shop for it now through this link here.
Beard Softeners for Black Men 9. Wild Willies' Beard Butter and Balm
This beard butter has 13 different purely natural and organic ingredients in it. It's treating your beard and moustache the finest and softest texture could ever think of. It is 60 ml in a volume that is 2 fl oz and helps in taming wild hair and softening coarse beards. The balm also treats dandruff, itchiness and beard irritation, especially if you are in your first few weeks of growing a beard. It is packed with vitamins, it has totally no preservatives, it is 100% natural and it also promotes beard growth.
This product costs $9.77 on Amazon and you can follow this link right here to buy it.
Beard Softeners for Black Men 10. Smooth Viking Beard Balm
This beard balm helps to soothe your dry skin under your beard, deeply moisturizes your beard, promotes beard growth, and acts as a leave-in conditioner for your beard. The Smooth Viking beard oil also helps you in grooming your beard as well as your moustache.
It contains the following ingredients such as Olive oil, Safflower seed oil, Carthamus, Castor seed oil, Avocado oil, Sweet Almond oil, Apricot kernel oil, Argan oil, Jojoba seed oil, Fragrance, Tocopheryl Acetate, pumpkin seed oil and so on. Smooth Viking is another beard balm that will get the job done for you when it comes to softening your beard.
This product costs $13.97 on Amazon, and if you would like to purchase this product kindly click this link.
You can see from the above-listed beard softeners on Amazon that there are a whole lot of products available to soften that hard and coarse beard that you have. Your beard is never too hard or coarse. Just pick the one you feel to be the best for your beard and apply. One of the benefits of softening your beard is that it's easier to comb or brush and also it improves the overall appearance of your beard by making it appealing to other people around you.
The beard softeners listed above are some of the best you can find your Afro beard on Amazon. Be sure to follow the links attached to the shop for your favourite. Wishing you all the best in your beard journey.
Should I use beard softeners every day?
Beard softener is accepted to be used every day. It can be applied daily without beard wash of you so desire. It should be done once you are out of the shower. Ensure that the oil chosen for the softening of your beard is the good type.
Best Beard softeners for coarse beards?
There are lots of beard softeners we can recommend for your beard especially a coarse beard that triggers an irritating sensation that may force you to want to remove the beard completely. We all understand how you feel when your beard itches. Here some products you may want to try yourself:
The Gentlemen's Beard Oil and Conditioner Softener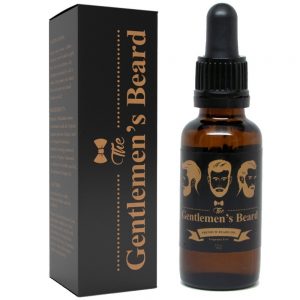 The gentleman Beard Oil and Conditioner softener is one of the best beard oils in town. It has a lot of good reputations from customers, and as such is one of the highly recommended ones for you—it is 100 percent organic and natural, it is free of fragrance, and in fact, it is free of any kind of scent. This is good for any gentleman that is willing to be free of any kind of smell.
This product is designed in such a way that it will help you remove your beard itchy, moisturize your scalp and make it a better place for the growth of your beard. You can get to buy this product in the Amazon store.
Smooth Viking Beard Oil
If your problem is a rough, irritating and coarse beard, Smooth Viking Beard Oil is the answer. It will definitely help stop those annoying itching. It is designed with the capacity to tackle your beard problems and then gives you a kind soft and smooth beard. The formula helps to moisturize your beard and transforms it into a smooth and manageable one. Buy it on Amazon.
Honest Amish Classic Beard Oil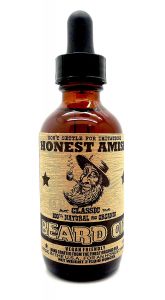 This is handcrafted from organic oil. It is 100 percent natural, and a vegan-friendly product. This is a highly recommended product; it is made in the United State of America. You can get this highly rated product on Amazon.
Leven Rose Fragrance-Free Beard Oil
It is made to moisturize and smooth your beard and thereby makes it look neat and equally helps to eliminate dandruff and itching. This is the kind of product you deserve and therefore, you should go for it. It will go a long way to soften your coarse beard, forces it to accept your rules and then, you can style it into any form you wish. You can get it in the Amazon store.
Why do beards stink?
Naturally, a beard is an odour trapper and tracker—it attracts odours especially if you are a smoker or you sit near smokers regularly. It can also attract smells when you work around strong smells.  The skin underneath the beard does not get exfoliated and therefore cannot get flushed out and therefore can exude none pleasant smell. This is the reason why you need to wash your beard regularly.
Can I use hair conditioner on my beard?
Yes, you can use your regular hair conditioner on your beard. Hair conditioner has the ability to keep your beard neat and moisturize especially for the sensitive areas of your face. It helps to control irritation, or in other words, you are free of itching.