Baxter of California Beard Products Review: Welcome to the home of quality cum efficient hair and skin care products. And trust me, when I say efficient, I really mean the maximum rate of efficiency you can think of!
The Baxter Of California is a thoughtfully curated collection of products which are essential for maximum blossoming and growth of your hair, skin and shave. These collections are basically designed to unleash you in you using Baxter.
You've truly gotten your own unique story, your own statement and signature, however, your choice story would keep being raw and unkempt if not treated well. You agree?
Good. So, Baxter is here to offer you're a curated collection of all grooming needs you must possess, in order to unleash your best self and fuel yourself to the next level.
Baxter Of California was established in the year 1965, and since then, the top-notched products delivered gas proven beyond doubts that premium doesn't give to be pretentious. The superior assortment of hair, shaving and skin essentials they provide in order to get your job done in the simplest yet most powerful way possible is one of the features that stands them out.
…once again, you're welcome.
Why You're Reading This
Baxter Of California as discussed and introduced to you in the last section is a collection of wide varieties. Ranging from the hair to skin, et al.
However, what exactly is this article for out of all of this? The Beard! Our facial hairs.
In this article briefly, I'll be taking you on an insightful journey into the various beard products offered by the Baxter of California.
Without much ado, let's then get down to business.
Baxter Of California Beard Products
Below, are the various beard products manufactured by the Baxter of California.
Baxter of California Beard Oil, 1 oz.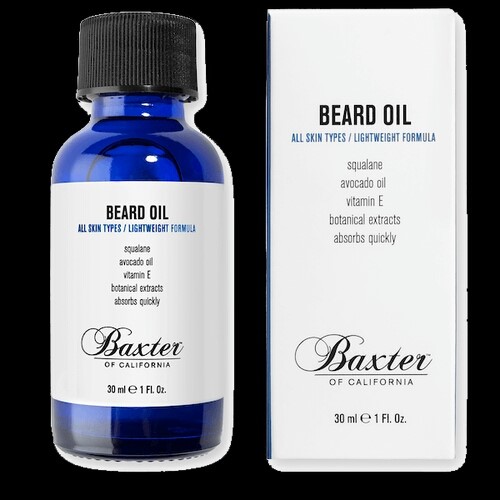 BEARD LINE-UP SHAVE GEL
DEEP CLEANSING BAR CHARCOAL CLAY
BEARD COMB
GROOMING CREAM
OIL-FREE MOISTURIZER.
SUPER CLOSE SHAVE FORMULA 4OZ.
Baxter of California Beard Oil is a Quick Absorbing formula, which is used basically to soften and further proceed to hydrate your facial skin, accompanied with a natural shine.
This Beard Grooming Oil is versed in taming all coarse facial hair, thus leaving you with varieties of beard style from which you can pick a choice from.
Enriched and stacked with Avocado Oil and Squalene. These ingredients help this beard oil to serve as a moisturizer and conditioner. However, it doesn't only moisturize and condition the beard but also applies its effects to the skin lying underneath, which is usually forgotten in all beard styles.
In addition, this beard oil is made up of Vitamin E. This helps in reducing any forms of beard irritation you might have the tendency of experiencing. Be it flakiness, or brittle hair. Alongside that, the presence of Vitamin E in this product also aids the promotion of healthy hair growth, accompanied by a smoother beard that's devoid of itchiness.
The daily application of this quick-absorbing oil will leave your beard neatly tamed with a full natural shine.
To mention but a few, the Baxter Of California Beard Oil is also made of a fragrance blend, sandalwood, Jasmin, and cedarwood.
Over the years, this beard oil has proven to offer even more than the cost it incurs.
Having problem taking care of those beards of yours, then the Baxter Of California Beard Oil is the solution.
CLICK HERE TO GET THIS PRODUCT ON AMAZON

This product was awarded in 2018 as the Best Innovation in 2018 Men's Health Grooming Award. Baxter Of California Beard Line-Up Shave Gel is a clear gel, that doesn't produce foam during a shave, thereby allowing it's user see with ease, where he is shaving. This is a very important feature which encourages precision and accuracy when using this beard care product.
This beard care product made by The Baxter Of California is made from; Aloe Vera, Vitamin E & C, and Eucalyptus oil.
The Aloe Vera present in this gel helps in providing the calming amount of hydration needed to soothe the skin of its user. The Vitamin C & E present helps in fighting against irritation and any discomfort that one might tend to experience as a result of keeping and grooming beards. This discomfort can evolve during shaving or anytime generally.
In addition, it is designed for water-free usage during shaving. So,  irrespective if it is moustache, beard style, neck clean up, sideburns, or even a full shave, one can now put it all on the line. This liquid formula – gel, however notwithstanding its form, doesn't clog its user' razor blade and thus. Also features a mint cooling sensation.
CLICK HERE TO GET THIS PRODUCT ON AMAZON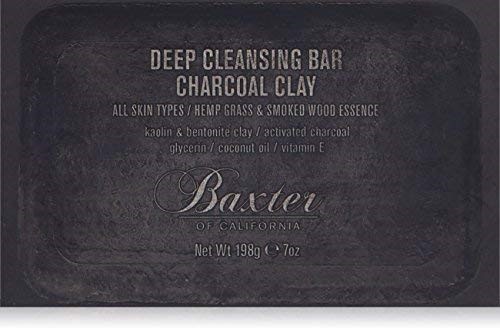 This one is quite new. Newly introduced. But trust me, previous products from the Baxter Of California are appealing, so would you think this would be different? Definitely no!
The Deep Cleansing Bar Charcoal Clay is a 3-in-1 newly introduced, non-drying cum detoxifying black soap which is rich in forming later. This soap features Kaolin & Bentonite clay alongside activated charcoal, which in turn helps in removing excess oil, dirt and as well impurities formed on the face or beard.
Also serves as a moisturizer. All thanks to the Glycerin and coconut oil added to this soap, which helps in giving a deep cleanse. This product is made suitable for all types of skin and also great for acne.
During application, this bar soap comes off as grey in the hands, and also on the body. However, this doesn't actually leave stains on the sink, your body, or the shower areas. How possible?
Well,  this soap is such manufactured that it Is very easy to time off from anywhere it is applied upon. Also, after the use of this soap, unlike others, you would not be needing a moisturizer, because the soap will effectively leave your face completely clean and oil-free.
Deep Cleansing Bar Charcoal Clay comes with a light but pleasant smell that doesn't stay long on the skin. Generally, this is a very nice product from the Baxter of California. Just another nice and interesting initiative.
I'll recommend that you start and end your day with this soap applied to your face. Especially after an excessive sweat on the face.
CLICK HERE TO GET THIS PRODUCT ON  AMAZON
Baxter Of California Beard Comb is a comb that's ideal as a man beard grooming tool, which plays a very important role in shaping, taming and untangling the beard.
This comb is handcrafted in Switzerland. Produced from materials that are of high-quality cellulose acetate sheets – this is a naturally modified polymer, which is derived from tree pulp cellulose and cotton.
During its process of manufacture, from the stage of cutting to polishing, each comb produced goes through a detailed 12-step process of manufacturing. This is however done solely and entirely by hand, thus resulting in smoothly tapered teeth, and rounded tips used for comfort and care of the beard and facial hairs generally.
Quite expensive though. It's inarguable twenty dollar is a lot of bucks for just a comb. But you know, this. Is really worth it. The Baxter Of California comb's degree of quality is excellent, and its user-friendliness is top-notch. Enjoyable to use. Feels so good in the users' hand, and has the ability to run through even thick hairs with ease.
Looking for your choice beard comb? Then this is the best option!
CLICK HERE TO GET THIS PRODUCT ON AMAZON

When used on its own, the Baxter of California Grooming Cream helps in managing fine or thinning hair. It also helps in taming frizz for hair that curls and undergrowths. Baxter of California Grooming Cream is a lightweight, versatile hair grooming cream that is ideal for every type of hair. This cream can be fused on its own, and also for pre-styling, either on wet or dry hair.
To use, just apply after showering. This is done in order to ensure a light hold and a shine-free finish. A user can however as well apply the motion to river hair. This is to ensure the control of flyaway and also light hold of hair.
When used as a style cream, simply apply this grooming cream to your hair as a "primer". This is done in order to ensure the manageability and the overall conditioning. This, however, follows the normal styling regimen. Which includes the Baxter of California's collection of versatile pomades.
This lotion is stacked with loads of natural ingredients. These include Meadowfoam and grape seed oil. These ingredients help in delivering soft shines for the beard, and also in maintaining weightless holds.
Another significant ingredient of this lotion is the sunflower and jojoba seed oils. This helps in adding conditioning power effect on the beard.
Asides the ingredients mentioned above below is a list of other ingredients which makes up this grooming lotion.
Water (Aqua)
Petrolatum
Cetearyl Alcohol
Propylene Glycol Dibenzoate
Helianthus Annuus Seed Oil / Sunflower Seed Oil
Phenyl Trimethicone
Brassica Campestris
Campestris
Dimethicone, Caprylyl Methicone
Sodium Polyacrylate
Phenoxyethanol, Polysorbate 60
Polyquaternium-11
Caprylyl Glycol
Hydrogenated Polydecene
Ethylhexylglycerin
Hydroxyethylcellulose
Foeniculum Vulgare Oil / Fennel Oil
Menthyl Ethylamido Oxalate
Salvia Officinalis / Sage Oil
Trideceth-6, Triethanolamine
Tetrasodium Edta, Glycerin
Fragrance (Parfum)
Vitis Vinifera Seed Oil / Grape Seed Oil
Simmondsia Chinensis Oil / Jojoba Seed Oil
Limnanthes Alba Seed Oil / Meadowfoam Seed Oil
Butyrospermum Parkii Butter / Shea Butter
Limonene, Panthenol
Camellia Oleifera Leaf Extract
Tocopherol
Citral
Algae Extract
Aloe Barbadensis
Calluna Vulgaris / Calluna Vulgaris Extract
Rosmarinus Officinalis (Rosemary) Extract
Salvia Officinalis Leaf Extract
Glyceryl Stearate
Generally, this beard grooming lotion helps in the provision of moisture to the beard, and also helps in taming overgrowing beards, which in turn leaves the beard rich, healthy, and blossoming.
Click Here To Get This Product On Amazon

Baxter of California Oil Free Moisturizer is an oil moisturizer which serves as a one-stop go-to for the provision of an healthy skin. This oil moisturizer is basically used to nourish and protect the skin in order to help prevent the signs of premature aging.
This product is made of Aloe Vera and Chamomile Extracts used to soothe inflammations present in the skin. Also, the Green Tea Extracts that are present in this product helps to fight against free radicals. This ensures the perfect healthiness of the skin, and also thereafter ensuring it has the right amount of hydration and doesn't still look old – wriggled & breaking.
The lightweight texture it possesses serves as a plus. Helping to quickly absorb, even without leaving greasy residues, thus leaving a shine-free finish.
This product features a plant-based hydration technology. This technology Absorbs relatively quickly, thus helping in the restoration of the skin's moisture barrier.
To use this product, all you need to do before its magic kind of effect starts to manifest, is to apply it graciously to your face, and also the neck area.
Finally, this product is in summary, a thoughtfully selected collection of hair, the skin, and shave essentials, basically designed to unleash the you in you.
Click Here To Get This Product On Amazon
This as well is a relatively new product. But although new, it's still trusted to deliver perfectly.
This shave formula is for men who desire to achieve a perfect shave anywhere, and anytime they want to. This is made possible as a result of its easy to glide and no-clog formula, which in turn provides a protective cushion of moisture. This cushion of moisture allows the applied razor to move smoothly along the skin, thereby preventing cuts and nicks. The razor can either be a straight razor or cartridge razor.
This Baxter Of California Close Shave Formula is made fully from loads of botanical extracts. Such as menthol and tea tree oil. The tea tree oil is used to soothe and refresh the skin in order to prevent razor burn and ingrown hair.
Other ingredients present in this shaving formula include Water, Stearic Acid, Myristic Acid, Sodium Stearate, Sunflower Seed Oil, Phenoxyethanol, Cetyl Alcohol, etc.
Click Here To Get This Product On Amazon
Conclusion on the review of Baxter of California
The Baxter Of California has proven over the years to be capable of offering you're a curated collection of all grooming needs you must posses, in order to unleash your best self and fuel yourself to the next level.
I hope you love their of their beard care products outlined and reviewed in this text.
Buy, did I miss out anything? Maybe not.
You can as well help out by sharing the missed information via the comment box.
You will, right? Keep bearding.