Beard Czar Products Review: Beard Czar is a global cosmeceutical brand with the sole focus on creating quality men grooming products. They produce supplements and essential oils that will enable the grooming and care for your beards.
This review will be covering some of the top Beard Czar products like their beard oils, facial hair formulas, etc. Beard Czar will be of great use to you even if you have got a few strands of hair or a full-blown Duck Dynasty-style thing going on.
The B.Czar complete product line contains everything you will certainly need from vitamins to brush and eBooks to help you on your journey to erect an ultimate beard.
Lest I forget, it also helps you with not just the health of your facial hair, but overall skin health as well. Isn't that amazing? Beard Czar has come a long way in the beard grooming industry. Extreme beard enthusiasts can testify to their resounding success in creating quality beard grooming products.
It has made name for itself as it prioritizes mainly on Men's fashion and style.
A friend once said, having beards completes the physical appearance of a man even though it's not necessarily true. it enhances the fashion sense of men in recent times.
Some rampant beard types include the stubble, they come in three types which are the short, medium and long versions, the full beard, the goatee which is a small patch of hair under the mouth), the extended goatee (where the hair extends to a short beard and moustache etc.
However, styles range from less rampant types as well, with the royal coming back into popularity (think pirates with a fancy moustache and tiny beard),
The amazing thing is, Beard Czar can cater for them All.
Beard Czar Products Review
According to a web page dedicated to beard grooming, it says that "it isn't enough to simply grow a beard," but also have to have a passion for caring and grooming your facial hairs in the right way. This is where Beard Czar comes in.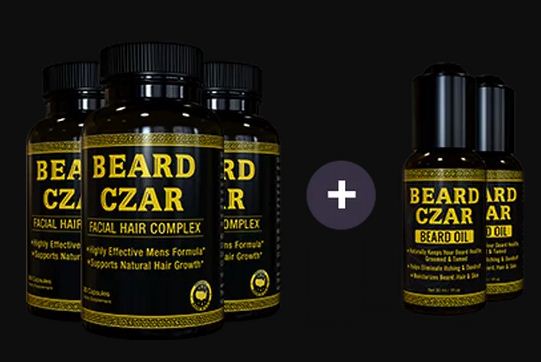 The Beard Czar collection of products is dedicated to helping you "grow, style and tend to your beards."
They boast the use of a facial hair complex and a Phytoceramides formula that can help enhance beard growth and the health of facial hair.
Anyone who has seen a man with a scruffy, scraggly beard knows exactly the vital importance of what Czar means here.
Just having a handful or thick beards doesn't make you look good, if you can tend to that beard, keeping it hydrated, healthy and trimmed, showing absolute dedication to doing so, it can ensure that your virility shows through your choice of facial hairstyle and care.
Without wanting to waste any more of your time, let us review some of the Major products on the Beard Czar product line which are;
Beard Czar- Beard Oil
The Beard Czar- Phytoceramides
The Beard Czar Beard Oil
Their Beard Oil with the aid of natural essential oils  Keeps Your Beard Hydrated, Healthy, Groomed and Tamed.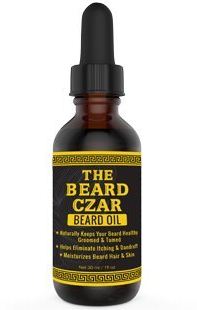 It also helps to eliminate Itching and Dandruff- Moisturizes Beard Hair and Skin- One of the extra benefits is that it also nourishes your beards.
The Beard Czar's Facial Hair Complex is safe to use and effective. It contains healthy organic ingredients such as Vitamin C and Vitamin A, Vitamin E, Niacin, Biotin, Vitamin B5, and Vitamin B6, as well as a Hair, Nail and Skin Daily Complex.
Other components besides the vitamins and minerals are horsetail powder, wheat germ powder, Coleus Forskolin extract, Garcinia Cambogia, etc.
The Beard Czar beard oil contains a natural essential oil known as the Argan oil, the Czar Oil is a healthy, nourishing way to style your Beards this new year.
Argan oil is a natural way women have been hydrating and nourishing their hair for years now, so Beard Czars took up the idea that men could also jump on board and use it for their facial hair's health too.
The Beard Czar Beard Oil is also an amazing way to help your beard keep its style so that your facial hair is always perfectly groomed and impeccably stylish.
The Oil is also advertised to possibly prevent beard hair fall out and the itchiness that comes with dry skin and dry facial hair.
Created from 100% Pure Moroccan Argan Oil (Argania Spinosa), it is perfectly natural for your skin and beard and contains no fragrances or chemicals that might harm your skin, facial hair, or hair follicles.
In Essence, the Czar's facial hair Oil is a great way to support hair hydration, support facial hair styling, reduce damage to hair follicles, reduce hair fallout, reduce itchiness, and support total beard health.
PROS
CONS

It contains natural  100% Pure essential oils e.g Moroccan Argan Oil (Argania Spinosa)
It contains Vital Vitamins
It helps to stop hair fall outs.
It decreases Itchiness and dryness of your beards
It nourishes your facial hairs.
It reduces damages to the hair follicles

 

It reduces damages caused by UV rays to the skin.
It does not contain any chemicals that can harm your skin
It is organic
It is Affordable

The company does not have a money back guarantee.
The Beard Czar- Phytoceramides Review
The Beard Czar's Phytoceramides is a dietary supplement which consists of phytonutrients that may improve collagen build-up to support dermal nourishment. This may help support beard hair growth and health.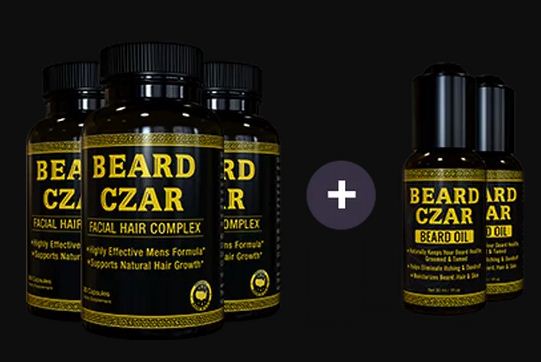 It is another product on the Beard Czar product line that seemingly supports regimen care for your facial hairs.
One of the biggest issues concerning damage to facial hair is overwhelmingly considered to be the dryness in hair and skin that occurs when your beard exceeds beyond a certain length.
Scientific studies have shown that the damage and dryness could be caused by a lack of collagen in the skin's layers.
These Phytoceramides were created by the Beard Czars to address this problem specifically.
The Beard Czar Phytocermides supports the production of Collagen skin layers of the beard, accelerating beard growth and skin that glows with nourishment
Where to Buy Beard Czar Product?
Now you are done with this review, If you are looking for where to buy these Amazing beard czar products you can buy Beard Czar Oil and Beard Czar Phytocermides here.
Why should I choose Beard Czar? 
While there are similar products out there, let me show you the major reason why this product will be an awesome choice. The Beard Czar is a very popular product among bearded men simply because of the myriads of benefits it has to offer. So why choose beard Czar?
Attenuates Aging Process
It is a wonderful combination of some important supplements that can drastically reduce the ageing process and reduce the development of grey hairs. You had better get a beard Czar if you want to rock a good looking beard looking young.
Stronger and thicker facial hair
This supplement nourishes the beard and facial hair follicles and leaves it strong and thick. It has the ability to increase the volume of beards by improving the growth of new beards.
Achieving a Shiner Beards
The essential nutrients needed to obtain shiny beards include biotin and vitamin E. These are abundantly present in the supplement which means you can be sure to get an extra shine to stand out among fellow bearded men.
Relieves Itchiness of beard
One enemy of beard growth is itchiness. Many men get frustrated and end of going for a clean shave because of persistent itchiness of facial hair.
Getting a beard czar can give a one-stop solution to itching of the beard as the ingredients used are excellent at relieving you from itching. It also helps in treating dandruff in beards.
100% Natural Ingredients
This product has gained popularity among bearded men basically because of the 100% natural and vital ingredients that it supplies to the beard to boost growth.
The natural product present in this supplement makes it absolutely safe for use in any type of beard and skin. It is unlike other beard care products formulated from various chemicals that may pose a serious danger to the skin and Beard over time.
Side effects of beard Czar and how to prevent them
When using a beard Czar, endeavour to use the product as instructed. This is the best way to prevent any side effect.
It also applies to other beard care products.
If you are applying the supplements topically on beards, make sure it is done properly in the right quantity. Supplement taken as a tablet should be taken with the appropriate dosage and nothing beyond.
If you observe a negative reaction on your skin to any of the product, make sure you stop using the product immediately. You may also want to consult a doctor for further recommendations.
The basic beard products needed for grooming a perfect beard
Beard oil
Every man who wants to grow magnificent facial hair must take beard oil as a priority in beard grooming.
Quality beard oil prevents the bread from being dry and crunchy.  Especially after washing, application of beard will make combing easier and hydrate the beard on any condition.
Beard balm and beard wax
Are you Battling with frizzy facial hair? You had better get a beard balm and wax. Look out for beard care products that have a percentage of beard balm.
Beard conditioner
The usefulness of a beard conditioner is to restore the lost moisture from washing facial hair. Rock a shinier and softer beard with the use of a beard conditioner.
In every complete beard grooming kit, there is always a Bead conditioner to make the beard feel softer and fuller.
Beard Combs
A beard comb is among the necessary beard care tools. This is very essential for Men with very coarse beards. A beard comb will work best for long curly hair while a beard brush will work through a short and straight hair better.
It is ideal to use separate combs for your beard, moustache, and head hair. This is done for some specific reasons. To avoid having to wash your comb in-between grooming steps, it's much easier to just have multiple combs.
The use of beard comb on facial hair is also needed to get rid of debris and particles that may be present in the beard.
A good beard comb is also relevant in distributing beard oil evenly after application.
Beard trimmer
Is there any bearded man in this modern world without a beard trimmer? Then you are probably wearing a not-so-groomed beard.
This is another useful beard care tool used for maintaining short beards. In a recent post where we looked into the best beard trimmers for men, we outlined the need to use a beard trimmer having a selectable guard that corresponds with your desired length.
This is a very useful beard tool that helps in maintaining neck and cheek lines.
You have to be very Conservative when using a beard trimmer to trim facial hair.  Beard trimmers will become very useful when you crave softer cuts at the end of your beard hairs.
Shaving brush
As a bearded man who comes familiar with shaving and exfoliation, there is no other useful tool as important as a shaving brush.
The purpose of a shaving brush is to help simplify the process of the above. To avoid over-drying when using shaving brush, make sure it is used with a beard wash.
Beard wash
Not all face wash can be used on a beard, basically because of the composition of harsh chemicals in normal shampoos. Beard wash is a product that is specially formulated for Beards just as you'd use a face wash on your face and hair shampoo on the head hair.
However, a normal face wash can be used on shorter beards, but it is ideal to use quality products made and designed for beard care specifically.
Most beard kits sold usually contain a bottle of beard wash for users. This comes from reputable beard care brands.
Interestingly, you can often find a wash to match the scent of your beard oil. A beard wash is equally important when grooming facial hair.