In this guide, we've zeroed into the quiet hair dryers for African American men available in the market right now. However, before you see our reviews and decide to buy one, we feel that you should know a couple of things about quiet hair dryers.
Oh, there are myraids of supposedly "quiet hair dryers" out there. They just aren't all that "quiet"
Perhaps, you might have thought that the "quiet" hairdryer you have right now is the best. But with our buying guide, that loud dryer in your salon that you obliviously cherish will be sent Into the bin.
It's not all about recommending Best Quiet hair dryers for African American men, We want you to understand what you stand to gain from having any of these product listed here. This brings us to the benefits a quiet hairdryer can offer.
Have you seen our posts on
Best light hair removal machines for home use 
Shocking differences between castor oil and olive oil
Best Electrolysis machine for home use 
What Benefits Do you gain from a Quiet Hair Dryer?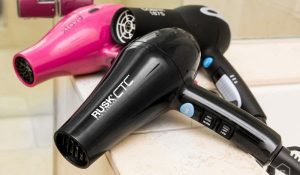 Hey friend, If you want to start your day in a peaceful, calm way, then consider getting a quiet blow dryer
If you live with others, you can use a quiet blow dryer to avoid wakening up others.
When your ears are always entertained with a loud noise, it can cause damage to your hearing. A lot of people unknowingly damage their hearing with headphones, but hair dryers can have the same negative effect.
By choosing to purchase a quiet hair dryer, you can significantly decrease your risk of hearing loss.
Depending on the product, it might take you up to 30 minutes to finish drying your hair, and if the dryer is producing too much noise, there is a good chance that you'll sustain damage to your hearing.
With a quiet dryer, you can even have a conversation with others while drying your hair.
Our list of best Quiet Hair Dryers For African American men
1. Revlon Lightweight Quiet pro-Ionic Dryer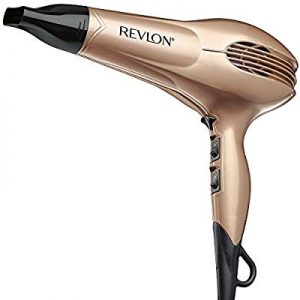 looking for a superior blow dryer and don't want to deal with excessive noise? the Revlon Lightweight Quiet Pro is worth considering.
This particular model has two separate switches, which are used to control speed and heat. Each switch offers two different settings to choose from, and the Revlon Lightweight Quiet Pro even has a cold shot button, which uses a burst of cool air to help you lock a particular style.
Decibel Level: Between 70-74db
For easier styling, this hair dryer comes with a concentrator attachment. The Revlon Lightweight Quiet Pro is made with revolutionary technology, and it's about 50 percent quieter than most competing hair dryers.
With a fan that is vertically mounted, this hair dryer delivers ultra-quiet performance. The fan has a centrifugal design, and to maximize efficiency, it has curved blades.
The Revlon Lightweight Quiet Pro lets you dry your hair quickly and shouldn't wake up your partner. The ionic technology is capable of giving you healthier hair, reduced frizz, and faster drying.
BUY ON AMAZON
$26.19
Have you seen the 13 best wedding beard styles in vogue? 
2. GHD Air Hair Dryer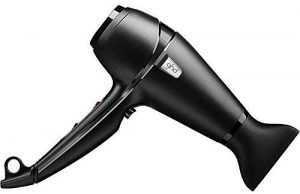 If you can spend a little extra, then this quiet hairdryer from GHD is easily the best one you'll find anywhere!
this device boasts of advanced ionic technology. Because of this technology, the device generates negative ions that nullify static and free your hair from frizz.
In this premium price bracket, it is unlikely that you'll find a quiet hair dryer better than this one from GHD.
It has virtually everything that you may need from your quiet hairdryer but it's most impressive quality is the way it delivers power without noise… This hair dryer is rated to operate at 2100 watts.
Its power rating is one of the highest in the market and the highest in this list. This is also easily one of the quietest hair dryers in the market. That is a winning combination, in our opinion.
Like all good hair dryers, this one also has a removable lint filter. As is obvious, if you clean it regularly, the device will last longer. It also has a long cord and supports multiple power systems. It can be used on 110V or 220V power systems, making it great for traveling abroad.
The device also comes with diffusers and concentrators but this is one area where the manufacturers could've done better.
Moreover, if you manage to get them on, you'll find it very difficult to take them off!
However, its weight may deter you from doing that. It is the heaviest device on this list, weighing 3.2 pounds. Its weight may even make you take breaks while styling or drying your hair. The attachments are so tight on the hairdryer that it is very difficult to put them on. Further, It has virtually everything that you may need from your quiet hairdryer but it's most impressive quality is the way it delivers power without noise.
Further, this is a premium device so it is quite expensive. However, we feel that it is more than worth what it costs, considering its numerous features and barely mentionable flaws.
This quiet hair dryer comes with 3 heat and 3-speed settings which can be manipulated through separate buttons. This means that you'll have a lot of variation to play around with.
BUY ON AMAZON
$199.00
3. MHU Professional Folding Blow Dryer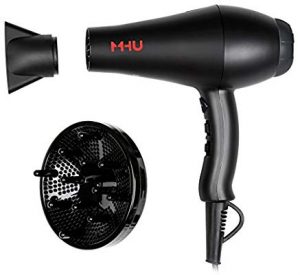 If you're looking for a budget option and travel abroad a lot, then this travel-friendly device will be perfect for you.
This is a powerful hairdryer with a rating of 1875 watts. That power allows it to dry your hair well but it also makes it noisy. In simpler words, this device could've been quieter. It is quite enough on lower settings but when maxed out, it is quite loud.
In terms of heat and speed settings, there are two only. Further, there is only one switch which limits possible variations.
This is one of few hairdryers available that can be folded. This reduces its size and bulkiness and makes it easier to pack. This is also a dual voltage device which means that it supports both, the American 110V power system and the European 220V power system.
You can switch from one to the other with minimal fuss. The manufacturer has provided a switch on the device that can be moved to switch power system compatibility.
There aren't many hair dryers in the market that are specifically designed to be travel-friendly. However, this Folding Blow Dryer from MHU is one that fits the bill perfectly.
Changing power system compatibility, however, can be a little difficult since the switch is incredibly tight.
If you operate this device on the European power system, you'll only get one setting i.e. low
Further, it only comes with a concentrator attachment and no diffusers. So, if you have curly hair, you'll have to buy the diffuser separately. At the same time, this is a very pocket-friendly device.
It comes with a one-year replacement warranty and an overall warranty of two years. Its durability reflects its cost as well i.e. it doesn't last more than a few months.
with its tourmaline ceramic technology, this hair dryer will help you deal with flyaway and frizzy hair as well. However, it isn't the easiest hairdryer to use, owing to its very short cord and the absence of a removable lint filter.
I received the blow dryer as a gift, this is by far the best blow dryer I have ever owned or used professionally.
I am a retired stylist and salon owner of 20 years. As a result of the injury I could no longer do hair professionally. I could only style a few people at a time friends and family. Prior to the injury I was a very busy stylist with the need and want of the best implements of my profession.
I had spent a $100 and more on blow dryers how wish this blow dryer at this price would've been available to me at that time.
BUY ON AMAZON
$59.99
Tips on how to store beard products 
4. Centrix Q-Zone hairdryer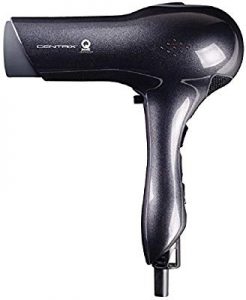 To give you healthier hair, it uses ceramic tourmaline heating technology, and the ionic technology helps to reduce drying time. Decibel Levels: 74db on low – 82db on max
This product is lightweight and comes with a concentrator accessory. When compared with most other blow dryers on the market, this product is much quieter.
When used on the lowest speed, it's very quiet, and the high speed doesn't profoundly increase the noise level. Since the sound produced by this product has a low pitch, it doesn't cause major discomfort. Unlike many other hair dryers, this product doesn't produce the high-pitched sound that many hair dryers are notorious for.
The Centrix Q-Zone hairdryer is made for salons and produces minimal noise. It uses a high-performance, two-speed motor and can deliver dual cool shot positioning.
I don't know how anyone could dislike this hair dryer! I have thick hair that holds water and instead of taking 20 minutes to get my already towel dried hair dry, this hair dryer does the job in less than 10! No, it doesn't get super hot, but super hot is not good for your hair! It blows a warm heat that is high volume and quiet.
BUY ON AMAZON
$169.23
FULL body laser hair removal to buy in 2020
5. Beautural Professional 1875W Hair Dryer Styler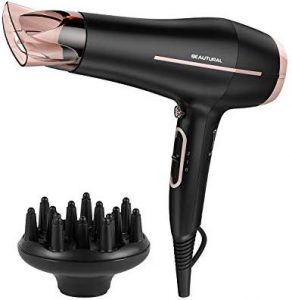 If you want maximum features and have a light grip, then this hair dryer should fit your needs well
Buttons may be this device's greatest strength but they also happen to be its greatest weakness. Their placement makes this device very difficult to operate. They're placed to the front of the handle, just about the area where your fingers will be.
It is always better to have a hair dryer with separate controls for heat and speed settings
It also boasts of ionization technology. The negative ions will minimize static, making your hair less susceptible to frizz and flyaway. Further, this device is suitable for both straight and curly-haired women since it comes with both, a concentrator and a diffuser.
According to some reports, it does tend to break down a bit too soon but the problem is not widespread. A greater problem could be its short cord. It also comes with a 30-day full refund and a 12-month warranty.
It isn't as long as what modern hair dryers tend to provide but if you have a power outlet close to your mirror, this shouldn't be a problem. This sleek hairdryer from Beautural offers three heat settings and two-speed settings through two separate switches. There's also the incredibly helpful cool shot button to fix hairstyles in place.
Please note that The device is also made for America alone. It doesn't support the 220V power system used in Europe, Asia, and Africa. So if you travel to those continents, you'll need to look elsewhere.
BUY ON AMAZON
$24.99
Best razors for shaving underarms HERE
6.

Epic Lite Negative Ionic Hair Dryer, Pro Ceramic Honeycomb Blow Dryer with Diffuser Concentrator for Fast Drying
The ONE Styling Lite Pro Hair Dryer is one of the favored quiet hair dryers on Amazon and professionals. It makes use of Ionic technology that makes it easy to style and smoothing hair. Also, the Ionic dryer makes drying of hair faster compared to other technology.
Furthermore, it features a revolutionary high-quality AC motor, making less noise. The ONE Styling Pro Hair Dryer has 3 heat speed settings and 2-speed settings. Total control over the temperature provides optimum settings needed for different hair types.
This hairdryer is amazing! I have tried every high-end hairdryer out there and this is the best. It makes my hair fuller/smoother. Looks like I had a professional blow out every time I use it. It's a little heavy to hold but worth it because the result is incredible.
7.

FoxyBae Blomance Professional Hair Dryer
If you are looking for a quiet hair dryer that can be used for almost all hair types, you should order for FoxyBae Blomance Professional Hair Dryer from Amazon.
The FoxyBae Blomance is an Ionic dryer that features Ceramic tourmaline materials, lightweight handle and a high-end motor. And you will have total control over the warmness and hotness; 3 speed and cold shot buttons that lock style in place.
Furthermore, it features high-grade salon equipment that resulting in softer, healthier hair with less static, great to use before flat iron.
Great hairdryer, definitely dries your hair faster than other hair dryers I've used. I'm pretty sure it's a knock off since it looks completely different than the one my stylist uses (and was the inspiration for my purchase), but it works well and would recommend.
8.

Ghd Professional Hair Dryer, Blow Dryer
Ghd Professional Hair Dryer is another dryer that ticks the checklist just like every other dryer on this list. It is lightweight, features a brushless motor designed for speed but quiet.
Furthermore, it makes use of aerodynamics technology that enables initiative styling due to precise control. The reviews provided by verified buyers of Ghd Professional Dryer confirmed that it worth the price it is being sold at and works just as the manufacturers promised.
I love this hairdryer. As the first expensive hair dryer I've purchased, I realize you don't need extremely high heat to dry your hair. I live and work in 2 different states and I have a cheap hair dryer at one location. Because of this, it's very easy to notice that my hair is softer, shinier and more manageable when I use this one since it's such a stark difference that happens over and over again when I return from the cheap hair dryer location. Definitely worth the purchase.
9.

Solano Forza 2000W Ultra-Fast Drying Ceramic Hair Dryer
Solano Forza 200w Ultra Fast Drying Ceramic Dryer Hair is a hairdryer that makes use of Ionic and Tourmaline technology. It does not make Noise during use due to internal silencer that is available to reduce the noise level for whisper-quiet drying.
Furthermore, it features an A/C Italian motor with 1500 lifespan. The Solano Forzza hair dryer comes with 2 precision nozzles, 2 speed, and 3 temperature settings and 9ft power cord.
---
Things to Consider when buying Quiet Hair Dryers
When shopping for a quiet hairdryer, the decibel rating is very important, but you won't be able to find a rating on every product. Since many products don't give you a decibel rating, there is another way to gauge the sound of the device. This ways include:
Check Dual Air Flow and Decibel Levels
Before you decide on a particular product, consider the decibel noise level.
Today, you'll find that most hair dryers operate with a decibel rating between 85 and 100. Unfortunately, 85 decibels is still quite loud, but a rating of 100 decibels is much worse and is what you will get if you buy some of the more powerful hairdryers on the market.
Some of the best quiet hair dryers produce no more than 80 decibels of noise, and you can also find safe models in the 50 to 70 dB range.
You'll notice that many hair dryers use dual airflow, which increases airflow and results. Since it uses a fixed space between the fan and body, this feature can reduce operating noise.
Several hairdryers on the market claim quiet operation, but you'll find that many of these products aren't truly quiet. Not too long ago, most hair dryers produced about 80 decibels of noise because the technology wasn't very efficient.
Check for the Wattage and Settings
When you have multiple settings to choose from, you have more control over the speed and noise. You'll find that most quiet hair dryers fall within the range of 1,400 to 1,600 watts. However, several models use 1,875 watts, and they're just as quiet as the low-wattage models.
To protect your hearing and get the most out of hair drying, make sure to check the speed and heat settings.
Heating Technology
If you'd like to purchase the quietest hair dryers, you'll want to consider getting products that use ionic technology because it produces the smallest amount of noise.
There are several different technologies used by modern hair dryers. Some products run on ionic technology while others use tourmaline or ceramic.
Several hair dryers are designed to use a single type of technology, but some products use a combination of the three. The ionic technology embedded within many modern blow dryers can save moisture, eliminate static and reduce frizz. It can even make your hair shiny, smooth and bouncy. The main purpose of ionic technology is to reduce the amount of time needs to dry your hair.
---
Frequently Asked Questions and Answers
Is There Such Thing A Quiet Hair Dryer?
Yes, there are any quiet hairdryers available both online and offline. The problem is that you will not find the same rating on every hairdryer tagged as quiet, however, you should check the motor used.
How Long Will It Take My Hair Dryer To Get Damaged?
Hairdryers can last for months or years. It all depends on the maintenance level and the manufacturing process. However, you can extend the lifespan by taking care of it properly.
Why Are Hair Dryers So Loud?
Hairdryers are loud because they make use of motors that needs to drive in enough air to get hair dried. However, you can find affordable hair dryers that come with the quality motor. The sound of a hairdryer isn't the sound of moving air, it's the sound of a motor.
---
So we have come to the end of this special buying guide and I'm sure you've found the perfect quiet hair dryer that you love as an African American man.
Trust you found this content helpful, let's hear your thoughts at the comment box. And do not forget to share.