Can Sandalwood oil help increase beard growth? We have numerous beard growth oils, just like sandalwood oil that is available for purchase online and physical stores.
Not so many people know what sandalwood oil is not to talk about having an idea of how sandalwood can affect beard growth.
Here's the deal! I will be explaining what sandalwood oil is, the main constituents of sandalwood oil, the benefits of sandalwood oil, and an FAQ section will be placed towards the end of the post.
What is Sandalwood Oil?
Sandalwood oil is an essential oil that can be obtained through the steam distillation of chips and billets cut. It is extracted best for use in perfumes, mild flavouring, and sacred unguents.
Being an oil, it contains more than 90% sesquiterpene alcohol.
The composition of the oil varies it depends on the species, age of the tree, the region of growth, and the season of harvest.
---
Why You Should Use Sandalwood Oil for Beard Growth
While carrying research on this topic, I was able to find a couple of answers provided by people based on their level of understanding. Making use of Quora, some health websites, and personal observation, I was able to see things from a different perspective.
One of the answers provided to this question goes as follow:
No, it doesn't affect hair growth (otherwise a lot of bald men would be rubbing it on their bald heads). But it is one of the fragrances to which some men have a skin reaction: skin turns red and hot for some minutes.
But no effect on hair growth, facial or otherwise.
How true is this?
Let's go further!
A laboratory test that was carried out includes rubbing sandalwood oil on scalp tissues and hair begin to grow in just six days, reported by Daily Mail.
Previous studies also have it that exposure to keratin can leads to the multiplication of keratin in human cells. The study does not only show that it helps in speeding up healing, but also creates an opportunity for researching the effects of sandalwood oil on hair loss.
This same research study supports the idea that sandalwood oil can aid in beard hair growth factors. "Hair growth factors" include the production of hormones and vitamins needed for the reproduction of cells.
The study was released in the Journal Nature Communications and had paved ways for the use of sandalwood for bald hair treatment.
In summary, sandalwood oil can be used for stimulation of beard growth, just like every other beard oil in Nigeria, which has contributed to the growth of beard hairs by many men out there.
Medicinal Properties of Sandalwood Essential Oil
Antimicrobial
Antiviral
Anti Aging
Chemopreventive
Prickly heat solution
---
Asides Beard Growth, What Are the Other Benefits of Sandalwood Oil
#1. Complexion Treatment
Sandalwood oil contains a constituent known as Alpha-santol, which inhibits cholinesterase and tyrosine (both are enzymes that catalyze the production of melanin pigments).
Due to the production of proteins needed for complexion types. It is used for the production of many skincare products.
Aside from being enriched with enzymes, it also contains sesquiterpenoids, acting as relaxers and coolants.
#2. Treatment of Acne
As listed, sandalwood essential oil has anti-proliferative, antimicrobial, and anti-inflammatory properties.
Hence, it is a promising way to get rid of acne and other skin problems like warts, eczema, Psoriasis, etc.
Reviews provided by verified users of sandalwood products testified to positive changes, as they saw an improvement without any side effects.
#3. Promotes Sleep
It contains sotalol, an active component of sandalwood beard growth oil that decreases waking time and increases the total non-rapid eye movement.
After using, it gets absorbed into the bloodstream via respiratory mucosa and is hence for sleep promotion. It is the perfect oil for people having a problem falling asleep.
#4. Reduce Anxiety
Sandalwood is an active ingredient used in Aromatherapy. In short, it helps reduce anxiety in women that undergoes breast biopsied, along with other oil.
#5. Fighting Inflammatory Disorder
Sandalwood oil produces oxidative enzymes that can protect against oxidative stress. Base on research, the oil suppresses further production of several pro-inflammatory compounds produced during inflammation.
#6. Antiseptic Agent
With the presence of antiseptic properties, it can be used for the treatment of cystitis, dysuria, and bronchitis.
As it is potent in antigen and antiseptic, it may be used for treatments of skin inflammation like Psoriasis.
#7. Blood Pressure Control
In a study, varieties of sandalwood can reduce blood pressure. Using sandalwood oil, along with other essential oil, can help reduce stress levels.
What Are the Other Uses of Sandalwood Essential oil
In massaging
In-Cosmetics
In Bath
#1. In Massaging
With further research, it has proven to be useful in Aromatherapy and Ayurveda Massages.
It can reduce the anxiety of patients under palliative care if treated with aromatherapy massages. Gracing the skin with this oil can also make it soft.
#2. In-Cosmetics
Looking into ancient literature, the cosmetic use of sandalwood oil was described. It has been used in the production of perfumes, soaps, and many aromatherapy products.
It contains a wide range of properties that makes it a good one for the production of skin, hair, and cosmetics products.
#

3. In Bath
Apart from reducing anxiety levels, it is known to maintain the original properties of soap. It is an essential oil with properties that can make the body smooth, prevents the skin from ageing, prevents the skin from getting dry and hydrating.
This essential oil also contains properties with excellent cleansing and toning effects.
#4. Ingestion
It has flavouring properties that make it suitable for use in cooking. It is 100% natural, and no adverse effect reported due to its consumption.
---
Reviews Of Sandalwood Oil For Beard Growth
#1.

Sandalwood Essential Oil, 100% Pure Natural Aromatherapy Sandalwood Oil for Diffuser (10ML)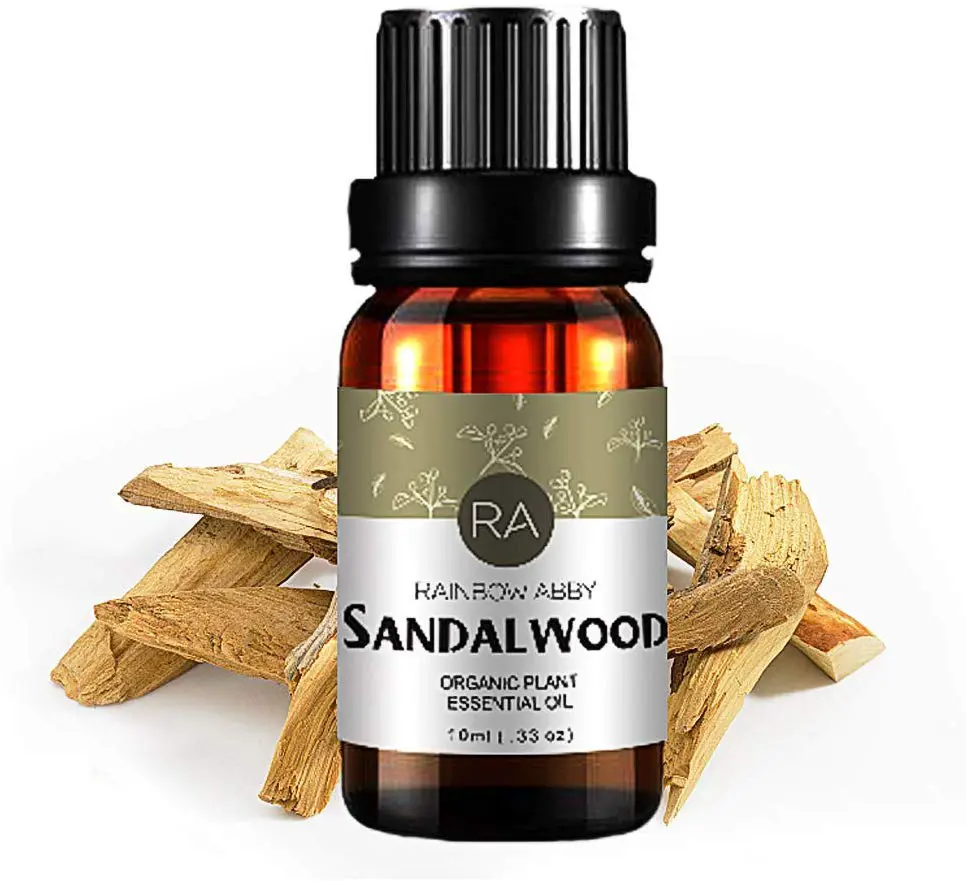 Sandalwood Essential Oil 100% Pure Natural Undiluted Steam Distilled Sandalwood oil just like every other beard oils on this list, due to its antioxidant properties can be used for the reduction of damages caused by free radicals.
It can also soothe the head nerve, promote cell regeneration and get rid of dandruff.
You can mix it with other skin or hair care, and soap.
Words from a Buyer:
I love this oil. I got the rose, jasmine, and sandalwood and I couldn't be happier with the scents. The rose scent is light, unlike other rose oils that are super pungent, and it smells like fresh-cut roses. This is my second bottle and it won't be my last. the packaging is cute too!
#2. Edens Garden Earth & Wood Essential Oil 

About product
The use of Edens Garden Earth & Wood Essential Oil will give your beard earthy aroma up front that aims to ground and inspire the senses.
The essential oil for facial hair is a perfect mixture of  Cedarwood Himalayan, Patchouli, Cedarwood Texas, Vetiver, Vanilla CO2 and Damiana. With a blend of these quality and vital materials, the best idea is to return to nature with Earth & Wood after a daily grind.
Reasons to buy
Edens Garden Earth & Wood Essential Oil is formulated from a wonderful blend of natural and raw ingredients and yet, their product remains affordable.
The oil assures both safety, quality and nothing but the best beard oil product.
Special features 
This particular product contains  100% pure therapeutic grade. Provided with the package is a free explaining 150 Ways to Use Essential Oils.
Pros 
#3. Indian Sandalwood Essential Oil in Jojoba & Argan Oil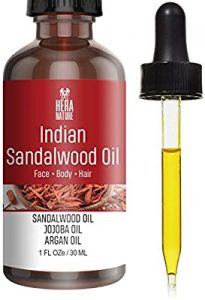 About product 
The Indian Sandalwood Essential Oil in Jojoba & Argan Oil is made from the heartwood of the Santalum tree in India.
This particular product will work powerfully when applied properly on facial hair. It also has a very sweet and enticing scent that will greet you once you open the bottle. Its source is also used to make body spray product.
The oil will contribute greatly to the health of both the skin and hair as it contains vital nutrients and fatty acids.
Reasons to buy
What this oil does on your beard is to help soften and make it fuller. It helps the facial hair in holding moisture for a longer time and will hydrate the face and facial hair.
Indian Sandalwood Essential Oil can be mixed with rose oil, geranium, wild coconut, tea tree and more to get better results.
This is made with 100% natural contents and 0% chemical. It is a great oil to replenish and moisturize facial hair. While keeping the hairs on the face healthy, it will make them shiny and thicker.
Pros
Top quality 

Outstanding scent 

With jojoba and Argan oil

All natural ingredients 

With dropper
#4. Wasserstein Aromatherapy Essential Oil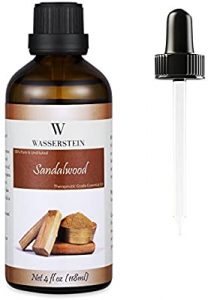 About product 
There are a lot of benefits to gain when using Wasserstein Aromatherapy Essential Oil. It is a 100% natural oil that contains vital nutrients essential for beard growth.
It is a great oil to treat your body and mind to the proven therapeutic effects.
Reasons to buy
Not only are you going to like the pleasant smell from this oil but also the quality of the oil itself. It supplies real therapeutic benefits with every whiff or application.
You can be sure not to get any form of the irritation using this oil as it is the best choice to achieve a relaxed, refreshed, stimulated, and invigorated facial hair.
This is not some basic beard oil that is likely to come with broken parts or leakage. The bottle is plastic wrap and will be delivered in a full piece.
It is also an oil you may want to consider as a gift idea to any special man in your life. Just a few drops of the Wasserstein Aromatherapy Essential can change the destiny of a damaging beard into a bloom one.
Wasserstein essential oils come in a generous 4oz UV light-blocking bottle that ensures the scent is still as potent months down the line.
Special features 
This beard oil is pure and undiluted. In other words, they are made to deliver maximum benefits which are offered by the essence of the plant.
The essential oil has long been a quintessential component to sacred practices and meditations. Apart from helping beard to grow, Sandalwood Oil is the best option to create a serene state of consciousness.
It will deliver a lot of enhancing qualities that you desire on facial hair.  It is indeed an inspiring fragrance. What are the special features of the Wasserstein Aromatherapy Essential Oil?
When it comes to aromatherapy treatments, this Sandalwood Oil is claimed to be among the most popular oils used.
It contains purifying and enhancing properties for the skin and hair. The oil will sure supply vital nutrients that will smoothen the skin and replenish the beard.
Another aim of using this oil is ensuring safety and efficiency. The product is protected against degradation from harmful UV rays by the high-quality amber glass bottle.
The package also included an orifice reducer that will help you in gaging the excess use of these oils on your beard.
You no longer need to be worried about how much oil should be applied on the beard as this product can be measured using the glass pipette provided.
In order to use the Wasserstein Aromatherapy Essential Oil properly, Add 5-7 drops (0.3mL) of essential oils to water in a vaporizer or diffuser and apply.
You can also Dilute 10 drops (0.5mL) of essential oils with Wasserstein's Fractionated Coconut Oil (ASIN: B071NFD2G9) for use in massage to minimize skin sensitivity.
The liquid must not have contact with the eyes, inner ears, and sensitive areas. Else, contact a doctor.
Pros
Completely free of additives, bases, or fillers.

Convenient dropper for hassle-free dispensing.

UV-resistant bottle for longer shelf life.

Large 4oz bottle that goes a very long way.
---
What Are the Side Effects of Sandalwood oil
Using sandalwood oil for beard growth and other purpose is generally safe for use, but some warnings and instructions should be followed.
Oil like sandalwood being essential is meant for topical use alone, and in situations, you want to consume it orally – A lot of things needs to be put into consideration. When applying on the skin, make you dilute with a carrier oil, buffering agent or lotion, soap.
It should be avoided if you are breastfeeding. Additionally, some individuals are allergic to direct application of sandalwood oil unto their beards, so skin patch tests should be carried out.
---
How to properly apply sandalwood oil on beard
The process of applying beard oil properly on facial hair may look like a hideous task but it isn't really.
The use of essential oil can contribute immensely to the health and growth of the beard and you just need to know how often and how proper it should be done.
From dispensing the oil on your palm and combing it through the hairs after application, below are the steps involved in applying Sandalwood Oil properly on beards to yield better results.
Dispensing the oil on your hand
Rubbing the hands  evenly
Applying evenly on your beards
Combing the oil through the hairs for even distribution
---
Frequently Asked Questions and Answers on Sandalwood oil for beard
Can Sandal Wood Oil Be Diluted?
Yes, sandalwood can be diluted, but it should be in a measured way. In what ratio it will be diluted depends on what you want to do with it. If you are weakening for massaging purposes, add between 9 and 18 drops of sandalwood oil to an ounce of carrier oil.
How Often Should I Use Sandal Wood Oil In a Day?
There are no limitations to the number of times you can apply sandalwood oil to your beard in a day, but it should be done with caution. If you belong to the set of people that works in a dusty environment or take part in daily activities that can easily strip your beard and skin out their natural oils, then you can make use of it daily.
Who Can Use Sandalwood Beard Oil?
Sandalwood beard oil is a perfect oil for whoever is interested in growing beards from scratch or having problems growing beards. It is also suitable for people who want to get rid of acne.
Does Sand Wood Remove Dark Spots
Yes, sandalwood oil can get rid of your dark spot by mixing one tablespoon of sandalwood oil with coconut oil and massaging it on your face, then leave it overnight.
Where Can I Get Sandalwood Beard Oil?
You can get sandalwood beard oil from different e-commerce sites and physical stores. It can be purchased from online stores like Amazon and others.
To know the best sandalwood oil for beard growth make sure to read reviews provided by others and follow your instinct.
Why Is Sandalwood So Expensive?
The main factor that makes it so expensive is the high demand low supply. Also, it takes over 15 years for a single sandalwood tree to provide a substantial amount of oil. Harvesting takes over 25-30 years.
---
Conclusion on Using Sandalwood Oil for beard growth
You've read on the use of sandalwood oil for beard growth, other benefits of sandalwood oil for beard growth, and so many others…
From being used for beard growth care to use for medicinal purposes, sandalwood oil got a lot of benefits.
I believe there are more discoveries to be made on benefits on sandalwood oil, and with more research, they can get unravel.
Do you have a thing to ask on sandalwood beard oil, benefits of sandalwood oil, and others? Kindly make use of the comment box.
Note For external use only. Other than aromatherapy, dilute with a carrier oil. For topical use, rub a very small diluted amount on the inside of your elbow area to test for any allergic reaction before use. Discontinue use if any allergic reaction occurs. Keep out of the reach of pets. Avoid contact with eyes, keep out of the reach of children. If pregnant, consult with your health care provider.
You should check out some of our amazing posts:
Does Jojoba Oil Help Beard Growth?
Does Vaseline Help Beard Growth?
How To Apply Olive Oil For Beard Growth
Does Onion Juice For Beard Growth Work?