Nowadays, many guys are reaching out for vitamin E oil for beard maintenance. Well, this is great, I must say.
What is Vitamin E
Vitamin E is a vitamin that dissolves in fat. Many foods contain vitamin E, such as vegetable oils, cereals, meat, fruits, eggs, wheat germ oil, and the vegetable itself.
Vitamin E deficiency can be treated using vitamin E, and it is not common. Still, it can happen to people that have certain genetic disorders and in premature infants that have little weight. Vitamin E is also useful in many other areas, but these other areas have no sound scientific proof.
Vitamin E alludes to the group of compounds comprising of both tocotrienols and tocopherols.
We have eight different chemical types of vitamins E, but gamma-tocopherol (a.k.a Y-tocopherol) is the most familiar type, usually found in the diets of the North Americans. It can also be found in margarine, corn oil, sunflower seeds, almond, and many more.
The second most familiar type of Vitamin E is alpha-tocopherol (a.k.a a-tocopherol); it is a naturally existing type. Also considered a fat-soluble with potent antioxidant properties. It can be found in wheat germ oil, safflower, and many more.
Generally, vegetable oils are the most abundant sources of vitamin E, such as olive oil, corn, sunflowers, palm oil, nuts, and many more.
What Make Vitamin E Oil Good for Beard Growth
I have come across lots of things concerning how to grow a thicker and better beard hair, which are violating morality or decency. I have seen abnormal, unusual recommendations, and they don't even have a scientific backup. Other vitamin E benefits that a lot of men with beards are not aware of have been revealed by recent scientific research.
So, below are the detailed lists of how vitamin E can be beneficial for your beard.
#1. Vitamin E Oil Is A Good Medication For Dandruff
Published research pointed out that vitamin E oil hydrates deeply and conditions your hair and skin, treating conditions like beard dandruff. I guarantee that your beard will be free of dandruff if you use vitamin E oil daily.
#2. It Is An Effective Treatment For Beards Split Ends
Dermatologists confirmed that vitamin E is an excellent remedy in the case of beards with split ends. Dying beards, using head shampoo on your beards, not treating your beards properly, and so many more; these can cause beard split ends. Using vitamin E oil on your beard regularly will make sure it remains moisturized and smooth.
#3. It Stimulates Hair Beard Growth
Using vitamin E oil to rub your beards will help increase blood circulations to that particular area of your body.
Healthy and regular circulation of blood to the face stimulates beard hair growth. Vitamin E oil is well-known for its ability to prevent your beards from premature greying, thanks to its nourishing properties.
#4. It Improves The Thickness of The Beard Hairs
Vitamin E oil assists in the reduction of environmental damages that the beard may get exposed to, thanks to its antioxidants. Using vitamin E oil, your skin will not become flaky and dry. It will make your hair look fresher and healthier. I would say it is better to apply a couple of drops on your beard daily, most notably when it is looking dull and dry.
---
Reviews of Vitamin E Oil for Beard Products
Attention: The internal data of table "45" is corrupted!
#1. Vitamin E Serum by Leven Rose 100% Pure Organic All Natural Face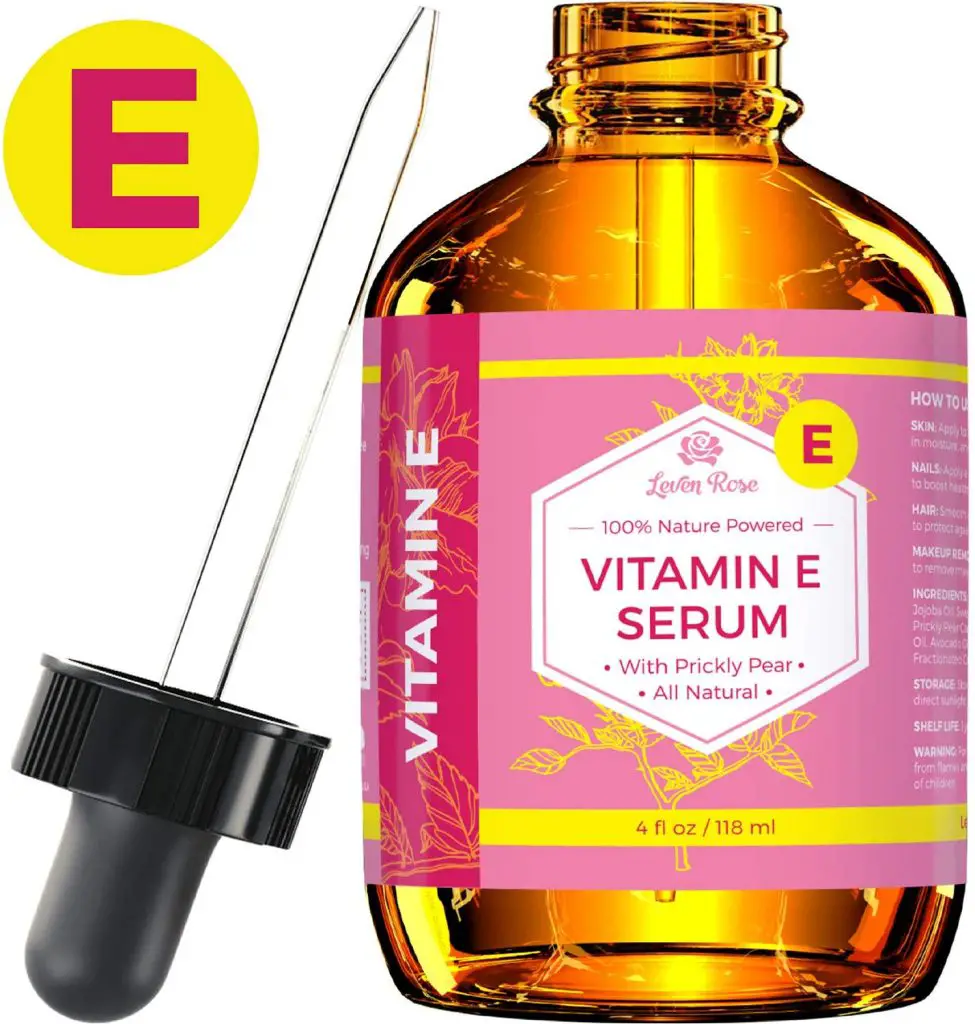 Vitamin E Serum by Leven Rose is a pressed beard oil, chemical-free. It helps heal itchy skin, brittle yellow nails, scars, psoriasis and beard growth. Aside from containing vitamin E Oil, it is cold-pressed with other best oil for beard growth such as Jojoba Oil, Apricot fractioned oil, Avocado oil e.t.c. So buying this product will definitely give you results that all the mixed oil can give.
#2.Vitamin E Oil By Kate Blanc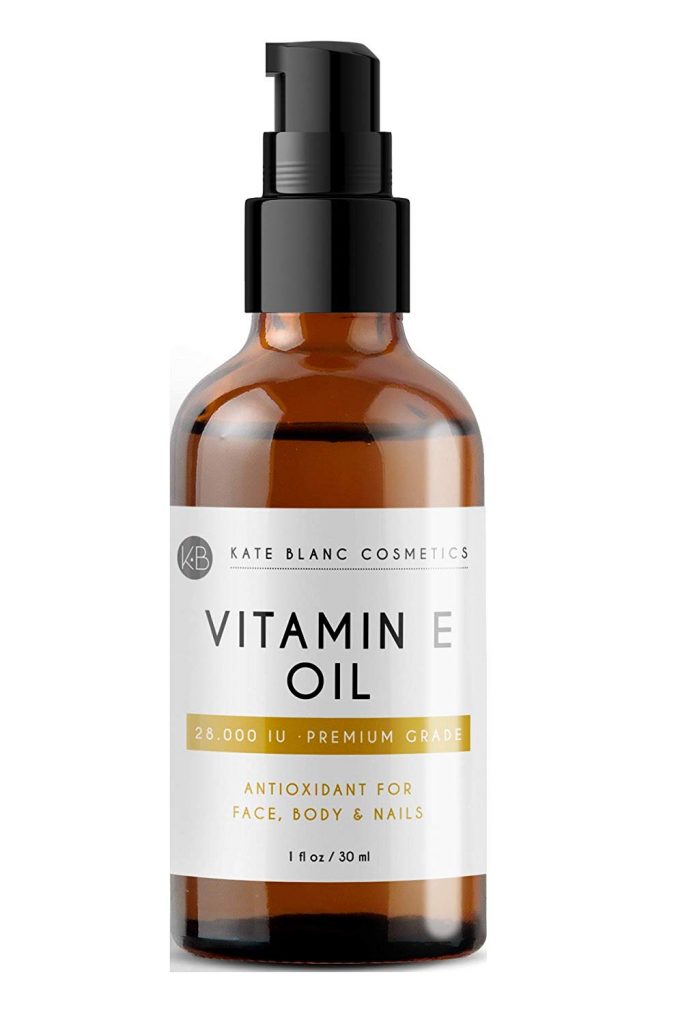 If you're looking for a moisturizing oil to revitalize your skin and give it a radiant and vibrant look, Kate Blanc's Vitamin E Oil is a Godsent.
Because Kate Blanc's Vitamin E Oil is 100% pure, it is thick like honey. However, it won't clog pores nor cause breakouts, leaving you looking fabulous. You can add Vitamin E Oil to your daily moisturizers and cream to promote soft and smooth skin. Kate's Vitamin E Oil comes in an amber glass bottle to protect from harmful UV light and it also includes a glass dropper. The bottle is pure Vitamin E Oil with other ingredients added.
#3. OneDTQ Energy Beard Oil w/ Vitamin E – 2 FL OZ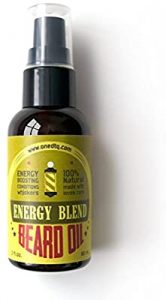 About product 
The essence of this vitamin E beard oil is to refresh and revitalize the facial hair. It is an ideal beard care product for both beard and mustache care. .
Reasons to buy
 The use of the OneDTQ Energy Beard Oil w/ Vitamin E will help keep the beard  moisturized, smooth & smelling good. The product also contributes to the rapid growth of beard as it contains Grapefruit & peppermint oils that stimulate hair follicles underneath the skin. It is a very good source for moisturizing the hair and keeping the face far from dry.
This will help your beard look more fresher and professional. 
Pros
Beard condition inclusive 

Good guarantee

OneDTQ best beard grooming with vitamin 

Contributes to beard growth. 
#4. Arlo's Beard Oil with Vitamin E, 2.5 Fluid Ounce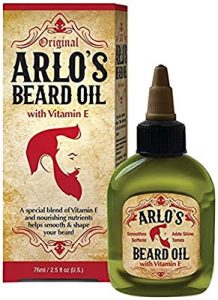 About product
Buying the Arlo's Original Beard Oils will be a great value to you as it is made with quality ingredients that will deliver a professional solution. 
This is among the Best vitamin E oil to use in order to keep the beard strong and protected. It also hydrates facial hair. 
All you need to do is to Just apply a few drops onto palms and work the oil into your beard and skin. Expect an outstanding result after proper regular application. 
Reasons to buy
Not only is the beard oil made of top quality that will tame your mane, using the Arlo's Beard Oil with Argan Oil
Arlo's premium quality beard oil can help the beard become softer and look fresh.
It is a good source for beard moisturizer and will keep the facial hair hydrated. While it is easy to use, the natural oil delivers professional results and helps the beard to absorb the liquid easily. 
Special features 
Contains premium quality ingredients

Helps soften beards and mustaches

Helps manage beard texture

Conditions and moisturizes

Promotes healthy growth

Easy to Use 

Contains  a powerful blend that will stimulate your beard hair growth

Boost your beard's hair growth 
Pros
Light moisturizer that can be applied to your beard quickly and easily

Conditions and moisturizes to keep your beard soft, thick, and great looking

Repels dandruff
#5. Spartans Den Premium Beard Oil | Vitamin E & Jojoba Oil Enriched| 

About product 
The essence of using the Spartans Den Premium Beard Oil  that is enriched with vitamin E and other quality ingredients is that it helps the beard be at its best looking state. 
Using this product gives no rook. For dry, stiff or damaged facial hair. 
 Spartans Den Premium Beard Oil is a great value and perfect addition to your beard care routine as they supply loads of  benefits when applied to facial hair. Among these benefits is that they help in beard growth and make it look better. 
Reasons to buy
You would want a beard oil that conditions and hydrates your facial hair and at the same time, softens and enhances the shine. This is every reason why you should not look past the Spartans Den Premium Beard Oil as it delivers all the needs of a bearded man. 
It can be mixed with other relevant grooming products to get the best results.  What makes this product special is that it is made of special quality content which includes  anti-inflammatory antioxidants, Vitamin E and moisturizing Jojoba oil.
This is a perfect option to achieve perfect healthy beard growth as well as repairs of damage in beard growth such as patchy beards. 
Apart from the enticing scent that comes from the oil, it is very soft on the skin and will prevent dryness or irritation. 
To vouch for the product efficiency, the manufacturer says
"If you don't agree that Spartans Den is the best beard oil, return it within 30 days for a full refund!"
Special features 
Multi tasking formula 

Satisfaction guaranteed 

A scent that delights 

Support beard and skin health

Luscious ingredients 
Pros
Conditions and moisturizes to keep hair silky and manageable

Softens whiskers and reduces frizz

Amplifies shine to make your beard look healthy

Repairs damage and strengthens weak growth

Acts as a beard growth oil to promote healthy, full growth

Calms skin irritation to ease itching

Hydrates the skin to improve the health of your complexion
---
How to Apply Vitamin E Oil to Your Beard
It is pretty simple. Frequently, most oils come with an eyedropper, which can be used to pull the amount of fat you need.
Begin with pouring 2 to 3 drops in your palm and rub together for few seconds. Once it heats up and then spread it across your beard.
Start by applying at the bottom and make sure that you adequately cover your skin first.
Afterward, draw it down to the tip of your beard. Once the oil is well coated with your beard, then you should use a comb or brush to draw it further.
Applying vitamin E oil would be a lot easier if you have a short beard. As long as your beard is more than half an inch long, then vitamin E oil is the best option.
How You Should Groom Your Beard With Vitamin E Oil
Wash your beards daily but do not over wash
Wipe your beard dry after a shower (do not wipe hard)
Comb your beard to straighten it
Then apply vitamin E oil
Finally, smoothly comb again so that the oil can be spread thoroughly
Vitamin E Oil Features
Its viscosity is sticky and thick
You can have your money back 100% guarantee
It offers skin protection (due to the antioxidants it possesses it to assist in fighting early signs of ageing)
The product is 100% obtained from natural rich vitamin E plants
Pros and Cons of the product
Pros:
An excellent skin moisturizer
Affordable (not too costly)
Can be applied on the skin nails and hair
It reduces any acne scars and will great under your makeup
Natural homemade hand cleaners can be obtained from it
If it is used as homemade soap, it will make your hands feel soft and smooth
Cons:
The odor is not pleasant, and it might be too intense for some people
It might seem a little bit drippy
Frequently Asked Questions and Answers on Vitamin E Oil for Beard
Will Your Facial Hair Grow If You Apply Vitamin E Oil?
No, applying vitamin e oil to your beard countless times won't increase or cause beard growth one bit. Genes and hormones are the factors that determine the chances of growing beard hairs. Vitamin E oil contains supportive ingredients but can't help hair grow. So, there is no reason to be applying vitamin e oil to your beard while your genes and hormones are not supportive. Let's take, for example, your father and mother's family line find it difficult growing beard hairs, applying dozens of vitamin e oil to your scalp won't make it become a strand.
Where Can I Buy Vitamin E Oil?
You can get your bottle of vitamin e oil from Amazon or a local store close to you. Before buying on Amazon, make sure to check for reviews provided by others.
Can Apply Vitamin E Oil To My Beard Every Day?
Applying vitamin oil to your facial hair every day can constitute a lot of nuisance, especially if you are the type with oily skin, but for someone with dry skin, you can apply to make your beard hair shiny.
Does Vitamin Oil Work For Beard Growth

?
Yes, vitamin E oil for beard growth. Many of the reviews provided by those who bought the products were positive and below are few of their feedbacks
I've been using it every night for two weeks now and I love it. I was a little hesitant at first because I did not expect it to be so thick and I thought it might make me breakout…But it was the exact opposite my skin is so soft, clear, and brightened! I will absolutely be ordering more. Also, Kate is very attentive and makes sure you are satisfied with the product and that there are no problems so that another huge reason you should get this product.
The first night I used this I woke up and my acne scars were so small already I do have acne-prone skin too and I woke up with no pimples this is an amazing product
---
Conclusion
Here we have looked into what vitamin E oil, the benefits of vitamin E oil the pros and cons of using vitamin E for whatever reason. Vitamin E oil is one of the best oil that hands can ever be lay on, to the majority it can only be used for cooking and use on skin. However, the uses of vitamin E oil go beyond that as it can be used for dandruff clearing and many others.
Buying vitamin E oil from Amazon you will be able to get rid of dry skin – make your dry skin and dull beard hairs shine again. Although there are words going around concerning side effects, you should not be bothered by this once you follow the instructions. Side effects of Vitamin E oil are not severe such as unpleasant odour and it rare to find someone makes complaints regarding that.
Other vitamins that helps beard growth 
1. Vitamin B7/ Biotin
Apart from vitamin E that we have extensively looked into in this article, here is another significant vitamin that is useful for beard growth and even hair growth in general. 
If you want to rapidly grow facial hair in particular, the vitamin b7 or biotin is a very essential vitamin for the beard. 
Ensure that the vitamin becomes part of your daily diet or beard care routine. It is greatly enriched with ingredients that will synthesize keratin which is a hair protein. A good way to get vitamin B7 is from food items like Oysters, wheat germ, beans, breads, legumes, fish, egg yolk. 
2. Vitamin A
In order to maintain the health of your beard and its constant growth, you need to make proper use of vitamin A. 
It is a great vitamin that will help facial hair product enough  sebum – a natural lubricant secreted by the skin that helps to keep hairs properly moisturized and lustrous.
There are various sources and food items that are greatly enriched with vitamin A. Items such as  carrots, liver, carrots, milk, green leafy vegetables, egg yolk, broccoli, tomatoes, cabbage, papaya and mango contain this vitamin. 
3. Vitamin B3/ Niacin
Vitamin B3 otherwise called Niacin can prompt facial hair growth by helping in the stimulation of blood vessels in the hair follicles of facial hair. This will in turn help beard growth. 
It is also a great option to include in your diet when you are experiencing beard hair loss. It also helps in the product of other hormones in the body responsible for hair growth. You can get niacin from food items such as  oily fish, pork, chicken, liver, peanuts as well as strawberry.
Do you have anything to ask on Using Vitamin E Oil For Beard Growth, benefits of Vitamin E oil or have an experience to share on beard growth, lifestyle as someone growing beard hairs or a couple of products you have used in the past? Kindly make use of the comment box.
Check out some other interesting articles we have for you
Does Jojoba Oil Help Beard Growth?
Does Vaseline Help Beard Growth?
How To Apply Olive Oil For Beard Growth
Does Onion Juice For Beard Growth Work?