Are you without beards on that cute face of yours? Have you looked at your peers and ask yourself this question, "Will I ever be able to grow a beard". We've learnt not to question nature. Growing beards is a natural phenomenon and yours shouldn't be any different from the others.
Firstly, Get rid of that negative stereotype that Men without Beards are unmanly and don't deserve seats in the midst of so-called Manly bearded men. I've had to settle scores with a friend that thought low of himself because he didn't have facial hairs like the rest of his peers did. In all having beards or not doesn't really matter anyway.
Get rid of that mindset that you are any less of a Man because you don't have beards. So your reason for this question: "Will I ever be able to grow a beard"  should be from a place curiosity and not bowing to stereotypes.
There is nothing more mentally regressing than having to deal with the struggles and frustration of sporting your beards. Like stubborn children. They rarely follow the guide and criteria's you have taken. It cant be the same for everybody. So if you are under the Misfortunates keep reading this Article for liberation.
Will I ever be able to grow a beard: See Factors that Facilitate the growing of beards (facial hairs)
If sporting beards were as easy as tussling a Magic wand to achieve it or it was as easy as swallowing pills for beard growth and watching your beards grow. There won't be a need for this Article.
Growing a beard is not as easy as growing your pubic hairs. If you are having a hard time. (Certainly, you will while growing a beard at first) don't blame yourself if it doesn't work. Don't do that!
Lets quickly venture sporadically into factors that facilitate the growing of beards (facial hairs).
The Genetics of Beards (Facial Hairs)
Considering the Genetics of Beards (Facial Hairs) growing a beard is all about Genetics to a larger extent and hormonal levels to some extent.
Usually, An average male start growing Facial hairs between the age of 15–19 years, and a very few may grow beard later but have a hard time in growing beard.
My candid suggestion is using a popular beard product named minoxidil (a medicine that is treated usually for hair loss) and it is often said it was scientifically proven one and may help 30% to grow a beard. But hey its a suggestion. You can choose to follow it or not.
Well, I trust you sometimes ask yourself questions. questions like; "what it is that these guys have that give them the ability to flawlessly grow incredible beards without trying" The answer is simply a lucky and fortunate combination of genes for these guys.
What I mean is that you are born with hair follicles all over your body, Including your face. These follicles are activated as you grow older. As it happens, the hair follicles on your face are the last ones to be activated, and this occurs when you hit puberty.
These hair follicles or should I say beard growing agents have everything to do with how quickly your facial hair grows. What this means is that if your  Father who happens to be a beard enthusiast has a pretty rocking beard, you can probably count on having the same too.
So before this question; "Will I ever be able to grow a beard" you should probably take time to observe. to look around you. Your Dads beards, that of your granddad, Uncle. You can actually grow beards if you got it in your gene.
So if your dad has got a lush beard. trust me you too will also have yours. If they Don't?  Continue reading this Article.
Hormones
Your Hormones is another factor that facilitates facial hair growth. More precisely, testosterone and dihydrotestosterone or DHT.
However, You may have it all, I mean all of the above but unfortunately, your hair follicles need testosterone to get to their maximum potential. If your body is less sensitive to testosterone, you may be stuck with a hairless chin. stuck for a very long time if not forever.
Don't lose interest in this Article yet, There is Hope. There is a solution because there are plenty of Organic ways in which you can increase this hormone in your body and raise your chances of developing that beard you've been dreaming of.
Testosterone apparently starts off once you hit puberty and if you have noticed your first few facial hairs around that time, be patient as your full beard might soon start sprouting.
Keep in mind though that it's possible your body has lower testosterone levels than it should and be prepared to do your best to change that. So have patience.
For what it's worth, although the lack of dihydrotestosterone (DHI) means that you might never develop a thick facial hair, it also means that you won't get bald.
Injecting testosterone in your body is just not worth it if you don't have the necessary genes for beard growth.
After all, there are a lot of natural ways you can pursue to boost this hormone in your body. there is hope you can actually grow beards.
Age
Do you know that Age is another factor that facilitates beards growth? Yes, its a factor. Your Age Matters.
There are a lot of things dihydrotestosterone has to take care of before activating the follicles of your facial hair.
Putting into consideration, the fact that people are different. Men are different,  so are their beards. It is safe to say that some are lucky if they have their beard fully developed in their early 20s, while late bloomers have to wait for their 30s for the beard to finally come in.
Apparently, Growing a beard is a never-ending process that requires your time, patience and a lot of care. So truly you can still grow a beard. If you have the hormones in abundance.
Stress
You never know this. I bet you never knew stressing yourself could be one of the tiniest reason you have got a smooth chin all this while. Stress affects many things in your body, including the growth of your facial hairs.
Try to avoid stressful situations as much as you can. You simply can't run away from stress. But you can dodge unnecessary stress.
If avoiding stress fail to work out, try talking to a professional or a close friend. That can be yet another solution that will help your entire well-being and ultimately lead to increased beard growth.
Health Conditions
Certain sickness and medical conditions can also affect the growth of your facial hair's. Fortunately, most of them are not dangerous and can successfully face treatment in one way or another.
Well, some of these health conditions that can be responsible for the lack of your beards are alopecia, anaemia, and hypothyroidism.
Alopecia
Alopecia is an auto-immune disorder that causes your immune system to attack your hair and cause it to fall off. Although this condition won't damage your hair follicles permanently, it must be treated the right way.
Anaemia & Hypothyroidism
Both anaemia and hypothyroidism are the cause of slower beard growth. You might be suffering from low beard growth. The second Medical condition can be managed with medications, while anaemia is dealt with infusions and supplement.
Above all else, if you doubt that the reason why you can't grow a beard is due to some medical condition, you must consult your doctor and dermatologist as this requires medical intervention.
Living a Healthy Lifestyle: Giving your Beards a Rich Environment
On the bright side, there are some things you can do to give your beards a push and help it grow faster. Living a healthy lifestyle. Giving your facial hairs and enriching environment to grow.
Let's look into some of the options that you could implement to see a massive increase in your beard growth.
1. Pay Attention to Your Diet
Paying Attention to your diet is one of the contemporary methods of growing your beards. aiding beard growth precisely.
Eating the right foods enables beard growth too! One of the ingredients essential to healthy and effective hair growth is folic acid. A handful of these supplements facilitate hair growth.
So your question; "Will I ever be able to grow a beard" has got an answer. Yes, you will grow beards on the premise you consider what you take in.
In regards to diet, you should consider plenty of whole-grain cereals and bread in your diet, as well as leafy green vegetables, nuts, and peas.
2. Exercise
You will be able to grow beards if you engage your self in periodic exercise and sporting activities. sporting activities like basketball and soccer.
3. Sleep
Proper sleep facilitates beard growth. you can grow beards if you engage in a proper sleeping plan. Lack of sleep delays beard growth.
Healthy habits and lifestyle changes are essential things that can eliminate things that take a toll on your beard growth and decide whether you will grow a beard you've been dreaming of for so long.
Products you Can Use to Grow your Beards
1. Beardlizer value Pack: Dietary Supplement 90 caps. + beard growth spray 4 oz + beard growth conditioner + softener cream 4 oz and all-natural beard wax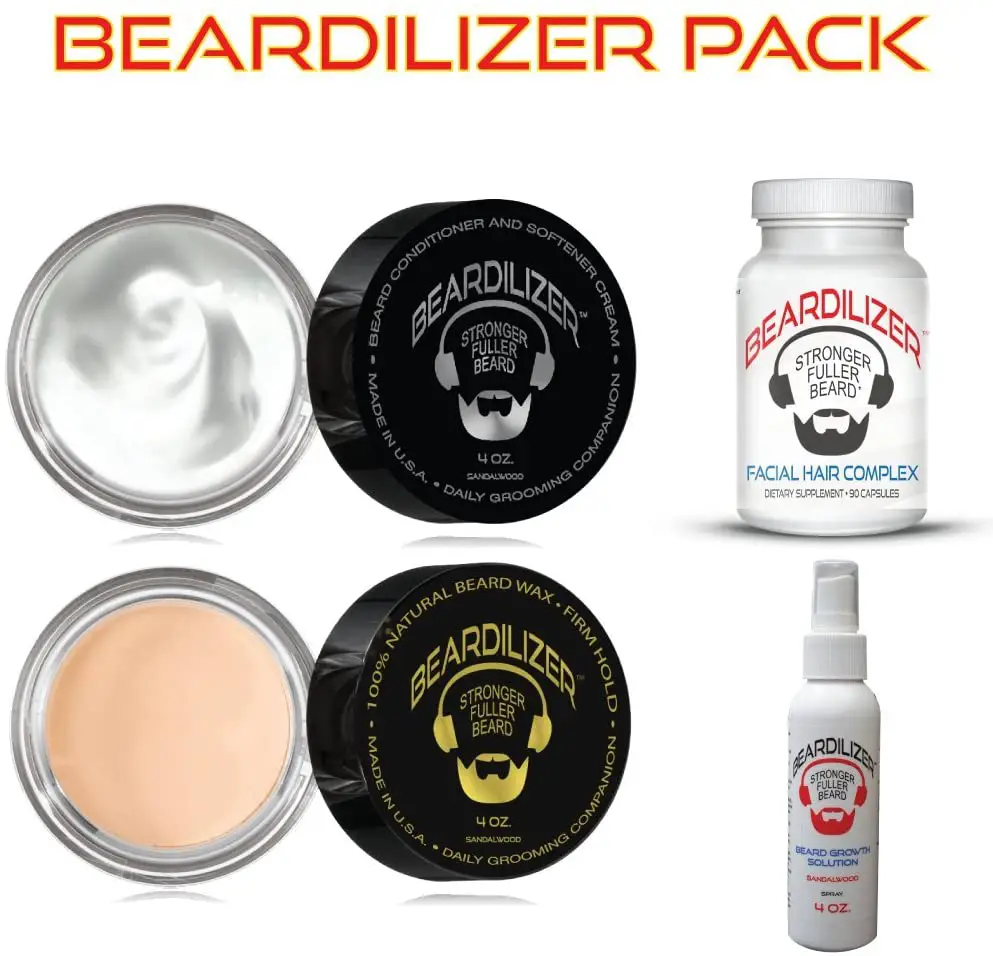 The beardilizer value pack is essential because it contains a pack of dietary supplements (90 capsules), beard growth spray, beard growth conditioner, softener cream as well as an all-natural beard wax. If you are finding it difficult to grow a beard then this beardilizer value pack is your best option for growing a thick and soft beard.
The features of the beardilizer value pack that makes it exceptionally effective are;
It is professionally formulated skin and facial hair growth spray, a dietary supplement for men, beard growth conditioner, softener and natural beard wax.
It is an all-in-one ultimate package
It provides growth conditioning, softening and shaping solutions to dry and itchy beard and moustache.
2. Badass Beard Care, the Bearded Canvas Travel Bag Feature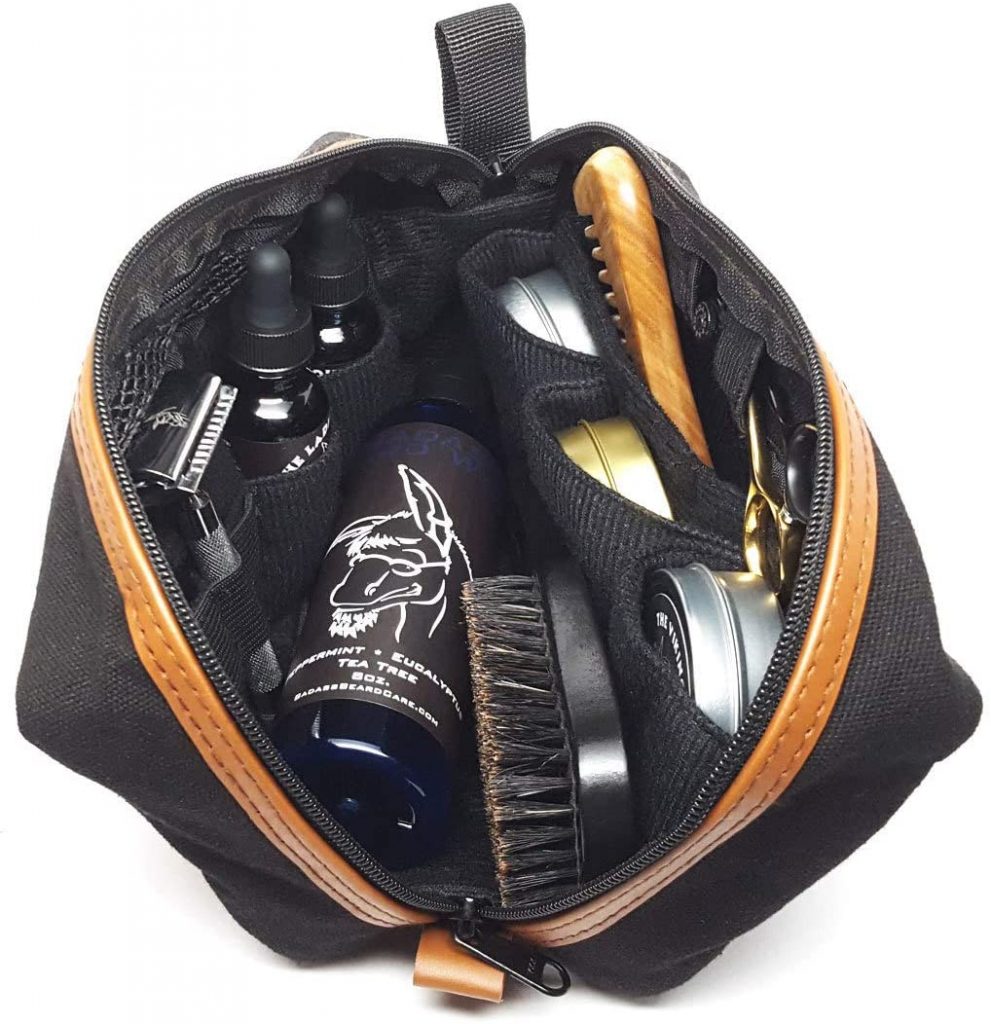 The loaded badass canvas travel bag features our canvas travel with leather accents ( Dopp/toiletry kit) includes all of the following products
Choice of 1 Oz beard cream
Choice of 2 Oz beard balm
Choice of boars hairbrush
Choice of beard and moustache scissors
Guitar prick and instructional card
The canvass loaded has got you covered on all your beard care and beard growth needs. Whether you are always on the road for work and need a durable and feature-loaded Dopp kit or are just in need of some organization and protection of your products, this canvas travel bag with leather accents has got you covered.
The travel canvas is designed to provide the maximum assistance towards your beard growth journey.
The features of this product that makes it exceptional among other products are;
The loaded badass canvas travel consists of a guitar pick, 1 Oz of beard oil, 2 Oz of beard balm or 2 Oz of beard wax, comb, boars hair brush, beard and moustache scissors of your choice
The bag is made with waxed canvas and leather
It features custom padded pockets
It offers you a 100% satisfaction
3. Hizzi Grooming Kit- Skincare essential kit for beards promotes beard growth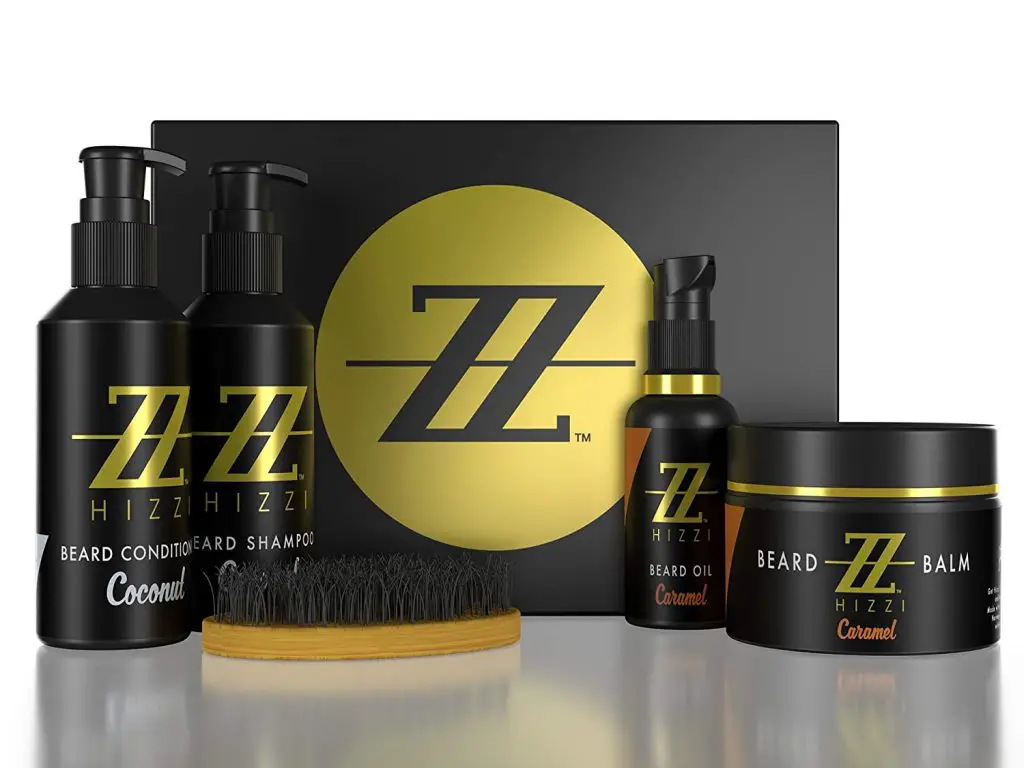 When it comes to beard grooming and beard growth, nothing is more important than the use of the right product. The Hizzi grooming kit contains everything a man could ever need in order to make sure his beard look flawless no matter the texture of his moustache.
The Hizzi complete set contains one handmade brush, a shampoo and conditioner set and a caramel scented balm and oil blend duo that will hydrate your skin and eliminate itchiness and dandruff at the same time leaving you with a perfectly looking beard and a nice, caramel or coconut scent.
The amazing features of the Hizzi grooming kit are;
Complete grooming set
Long-lasting products
It is easy to use
Handmade brush with boar bristles
Reduces dryness
Anti- irritation
The beard oil and balm in this grooming kit are lightweight grooming treatment that locks in moisture, offering superior hydration for your face and beard leaving you and your facial hair with a healthy natural glow that everyone will envy.
4. The beard struggle- Ragnarok Finale Beardman's Essential Kit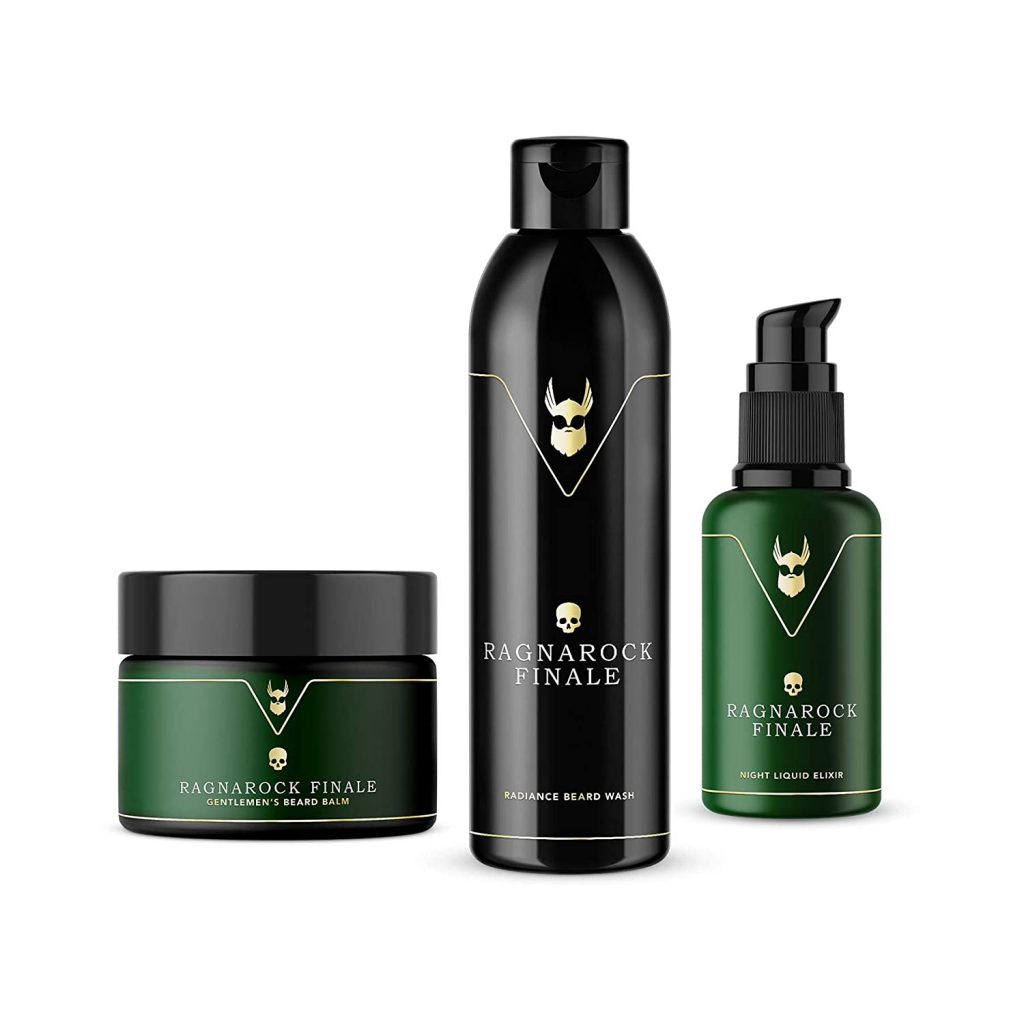 The Ragnarok finale is made with 100% natural organic ingredients. The classic balm keeps your beard looking its best by moisturizing and protecting the hair. The refreshing scent will keep the beard energized and smelling nice giving you that out of the shower feeling fresh all day long.
The benefits of the beard struggle Ragnarok finale are;
Seal moisture into the follicles stopping itch
Prevents hair loss by strengthening hair
Inject the nutrients into surfaces promoting growth
Protects the beard from bacteria
Locks in moisture
It softens hair
Suitable for all hair types.
Ingredients
Scorched armour balm
Rice bran oil
Shea butter
Macadamia oil
Almond oil
Avocado oil
Sunflower oil
Argan oil
Jojoba oil
Apricot kernel oil
Beeswax
Essential oil
Night gold elixir
Balm free of parabens
Petrochemicals
Synthetic fragrances
Colours
5. Men's Rogaine 5% Minoxidil Foam for Hair Loss and Hair Regrowth Topical Treatment for Thinning Hair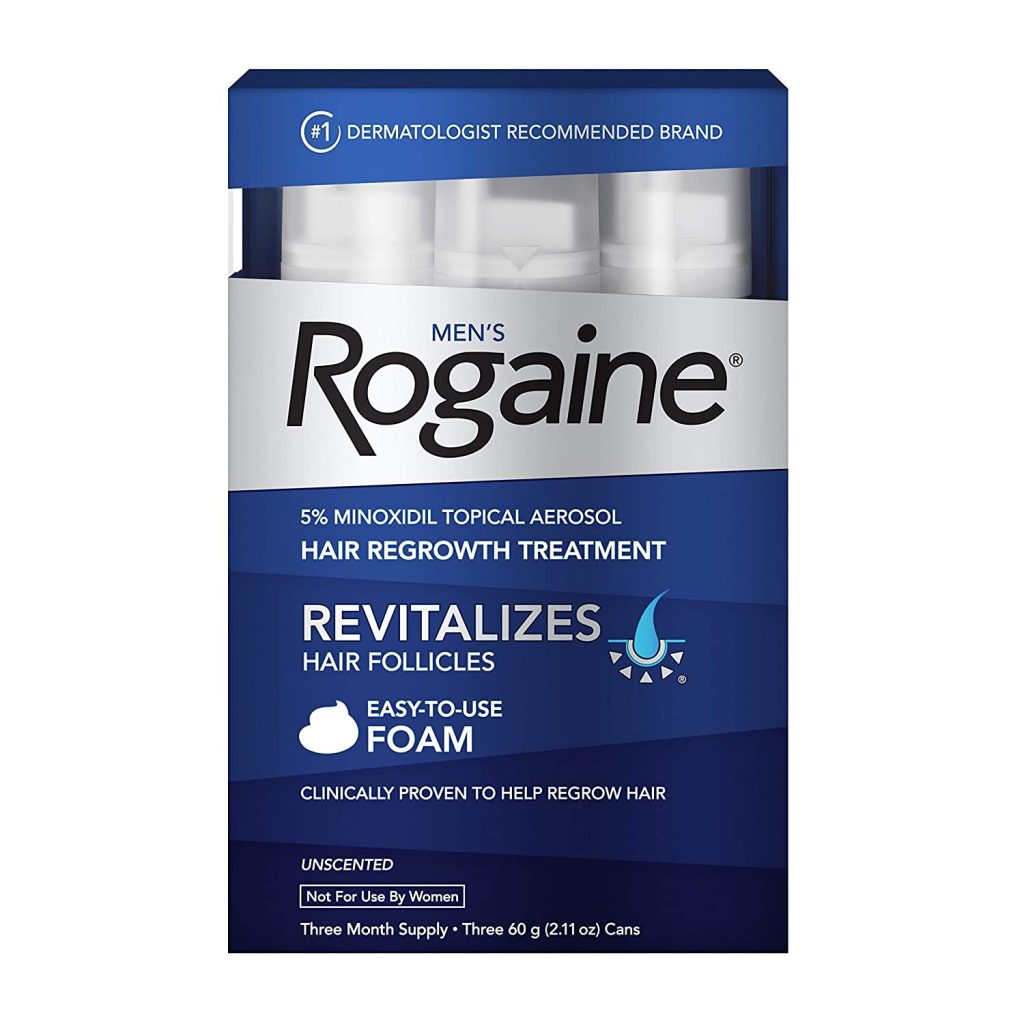 The Rogaine foam penetrates into the scalp to regrow fuller, thicker hair. It revives shrunken hair follicles and helps maintain hair density over time.
It is an FDA approved formula with tricho-prime technology that starts to work on contact. It helps treat hair loss and regrow fuller hair. It is ideal that you use this formula at the early stages of hair thinning. It is clinically proven to regrow up to 25% more hair in 12 weeks.
Unlike hair loss shampoos and hair thickening products that temporarily plump hair from the outside, Rogaine penetrates the scalp to reactivate shrunken hair follicles allowing for regrowth of hair. The 5% minoxidil formula works to boost hair follicles allowing for regrowth of hair follicle activity and hair protein production.
The features of the Rogaine minoxidil 5% formula is;
3- month supply of men's Rogaine 5% minoxidil foam hair growth treatment to help treat hair loss, maintain hair density and allow for the regrowth of fuller hair
It is formulated with 5% minoxidil, the fast-working hair regrowth treatment works to boost hair follicle activity and hair protein production and is clinically proven to regrow up to 25% more hair
Men's hair growth treatment also contains botanical extracts and emollient to help maintain a healthy conditioned scalp
It dermatologically recommended and is ideal for use at the early stages of hair thinning and features tricho-prime technology and works on contact to create a healthy hair regrowth environment.
It delivers clinically visible results in as little as 12 weeks and comes in an easy to apply foam specially designed to fit into your daily routine.
FINAL SAY
In all questions like, "Will I ever be able to grow a beard" should be considered rhetorical. Because it's like asking yourself if you will ever breathe.
Consider the factors above and answer your question. I know for sure that you will certainly achieve your dream beards if you look into any of the above factors
An attempt to refresh your memory, consider doing the following;
Eat nutritious foods that promote beard growth and avoid those that inhibit it
Exercise regularly
Get some rest by going to bed and waking up at the same time every day
Take proper care of your face skin
Try Rogaine (Minoxidil)
Got any questions for us? Hit us up in the comments below.