One of the most disputed topics is "Do Electric Shavers Cause Less Irritation". A number of bearded men also argue on the effectiveness of electric shavers over the traditional method of shaving.
There are undeniable benefits of using electric shavers, however, certain people still get irritation when they make use of even the Best Electric Shaver of 2020. Since the topic is focused on the tendency of Electric shavers causing less irritation, I will be focusing on that alone in this blog post.
In this article, I'll take a step back and present an objective view of Electric Shavers causing less irritation, the benefits of electric shavers over the traditional method, cons of electric shaving, reviews of electric shavers that won't cause irritation and then a FAQs sections will be placed towards the end of the post.
Do Electric Shavers Cause Less Irritation
The answer to your question is "Yes, Electric shavers can cause less irritation". Note that the case of skin irritation after shaving is yet to die down entirely, but there are electric shavers or clippers available online that won't cause skin irritation like the traditional method of hair shaving.
You need to know that getting irritated after each haircut is an effect that has become a norm. With the invention of electric shavers, the tone has changed.
Let's look into the pros of using Electric shavers for beard shaving.
Advantages of Using Electric Shavers
#1. Convenience and Speed
One of the ideal reasons why you should own an electric shaver is the convenience and speed: no more lengths or thorough work that takes hours to complete, no more hassle to clean and take care and other kits.
With one great Electric Shaver, you can get all jobs pertaining to shaving done at X2 speed compared to the traditional method of shaving. Some electric shavers even have automatic self-sharpening features and automatic cleaning stations and the ones that do not have can easily be rinsed under the tap.
#2. Comfort
The use of the traditional methods of hair shaving comes with some risk; using electric shavers can reduce such risk that using a shaving blade can't guarantee.
Using electric shaver provides comfort, less irritation, and no cuts.
#3. Electric Shavers can be Economical
Electric Shavers are a little bit expensive, but there are affordable shavers online that are definitely worth it in the long run.
With proper care and maintenance, an electric shaver can last for many years compare to blades. Although replacing of foils is needed.
Cons of Using Electric Shavers
#1. Electric Shavers Don't Shave Close
We have electric shavers that won't get very close to the skin, although, there are other high-performance electric shavers like Panasonic Arc 5 and a few others that can get very close to the skin.
#2. It Takes Time for Adaptation
When the electric shaver is used for the first time, it might be strange to the body system and the reaction won't be a good one. You may experience razor burn or patchy of hair left behind.
Though, before you think of going back to the use of the traditional methods, you should give it time to adapt before making your decision.
Factors to Consider Before Buying Electric Shavers

Buying the right electric shaver is not rocket science, by knowing the factors to consider you can choose the right electric shavers that can meet up with your needs and specifications. And that is exactly what I will be providing you here.
#1. Reviews
One of the reasons why many buy sub-standard electric shavers that cause irritation is caused by failure to follow a simple process such as reading reviews when you read reviews you are saving yourself from stress and waste of financial resources.
Reading reviews that can be found under the product description section can save you from buying products that are not worth the price. However, some of the reviews might be purchased but recognizing them is not a hard task as they are mostly different from the topic or product.
#2. Presence of Accessories
Just like every other factors matter, you should have this in mind. Buying electric shavers with the right accessories that you need will enable an easy shaving process that won't cause pain.
A good shaver should come with an instructional manual, shaver oil, warranty, amongst others.
Reviews of Best Electric Shavers That Won't Get You Irritated
MyBeardGang has carried out a series of research. You don't have to move from a web page to another or make use of the trial and error approach when you can just choose from any of the products I will be reviewing here.
There are dozens of affordable electric shavers, best electric shavers with travel cases online, but the reality is that not all are good or worthy of the price they are being sold at.
In order to make your decision-making process fast and accurate, below are the reviews of the best electric shavers that won't get your skin irritated.
Now let's get down to the review aspect of this blog post!
#1. Panasonic Arc5 Wet/Dry Electric Shaver & Trimmer for Men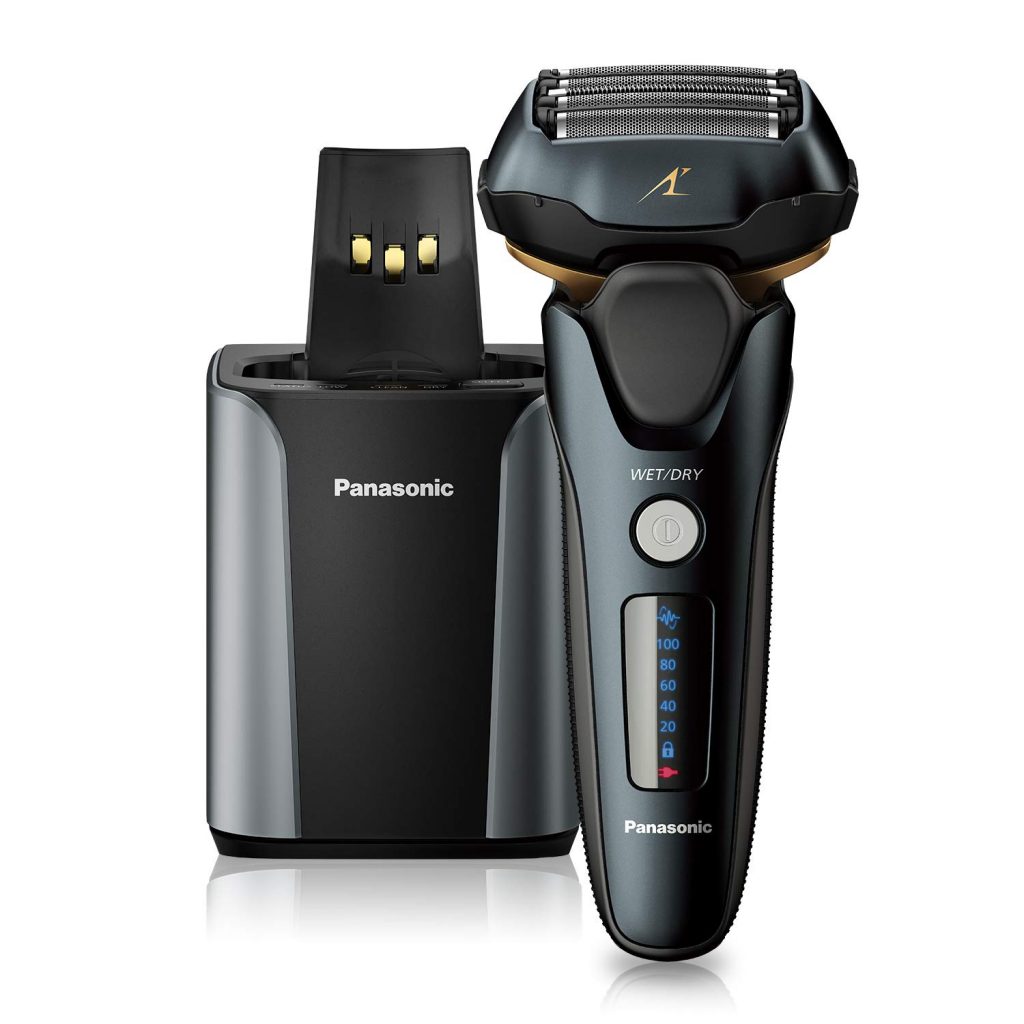 Panasonic Arc5 is a premium electric shaver that won't get you irritated, it makes use of the premium E5-LV97-K motor, which makes shaving and trimming quicker, efficient and smoother than before. It makes use of a motor with 14,000 powers and can deliver up to 70,000 cross-cuts per minute.
Making use of Panasonic Arc5 ensures that the facial hair gets cut from the base. As you shave, the intelligent shaving sensor that comes with it senses the varying hair density 220 times/seconds to increase and decrease power ensuring smooth and efficient results.
Another advantage is the ES-LV97 –K electric shaver has over others is; it can be used dry when you need to shave. Also, it can be used wet with foam or shaving gel over the sink or in the bathroom.
This premium electric shaver is 100% waterproof, which implies that you can use it in the bathroom and under running water. To clean, all you need to do is remove the outer foil section, and then hold underwater for quick cleansing.
Reasons to Buy
It makes use of a fast and powerful motor that can deliver up to 70,000 cross-cut per minute.
Water-proof that lets you conveniently trim in the shower.
The design is sleek and comes with a premium automatic cleaning charging system.
Features cleaning/charging station.
It can be used for either wet or dry shaving.
Presence of bright red to show charging and power status.
Makes use of Lithium-ion battery.
It is washable and easy to clean.
Reasons not to Buy
No negative reviews from previous buyers.
Words from a Buyer
I've been using a competitor's linear shaver for years. This beats the pants off it. With the other; I'd have to press rather hard, stretch the skin, and go over the same area multiple times to get a close shave. Not this one. This one gets close in a few passes and closely follows the contours of my face, it doesn't seem to struggle or lose power, either. Highly recommended.
#2. Remington HF900 Heritage Series Shaver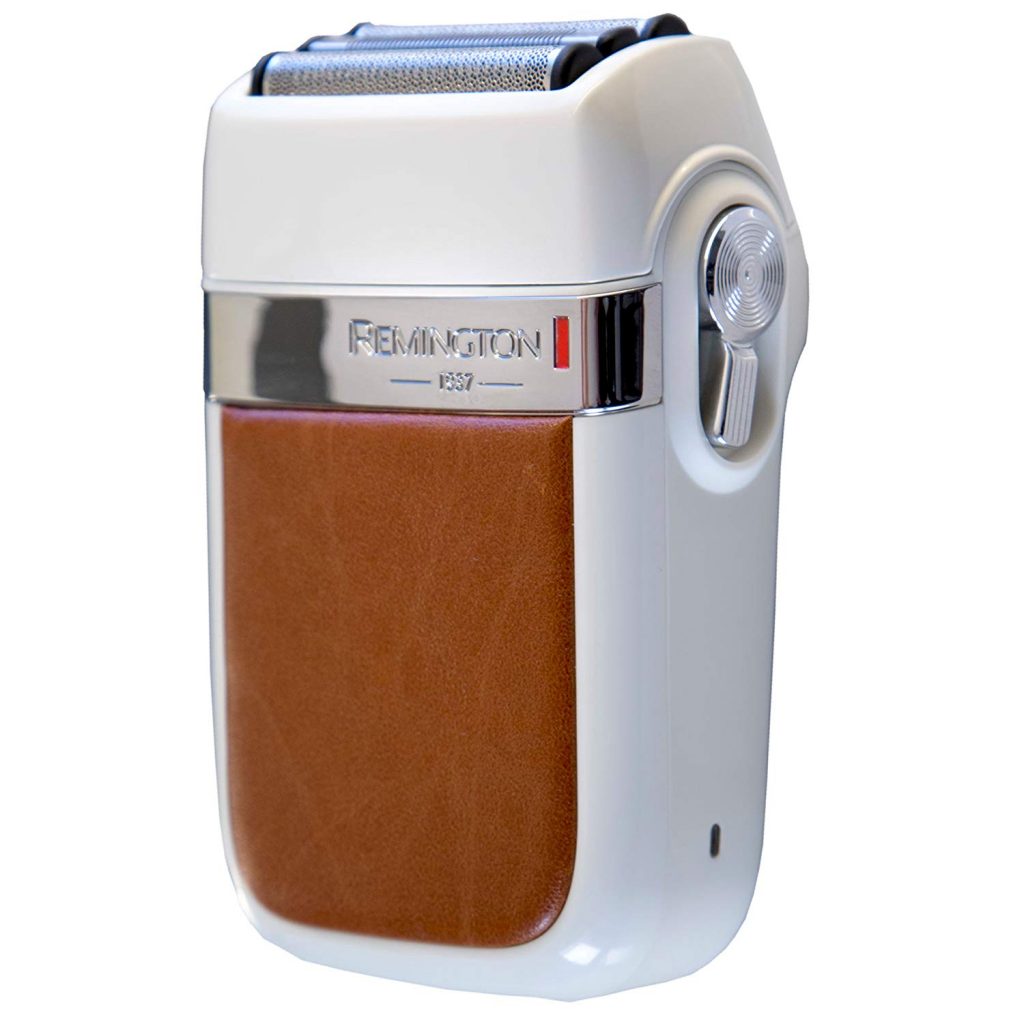 If you are looking for the Best Electric Shavers that won't cause you pains, get yourself a Remington HF900 Heritage Series Shaver.
It is an electric shaver inspired by tradition, which is obvious in the compactness and design.
The modern feature makes it unique, coupled with the logic foils to capture hairs growing from multiple angles. Also, it can be used wet/dry to suit your taste and comfort.
Remington HF900 Heritage is fully washable, you easily wash under the faucet and the cutting assembly can be removed for better cleaning.
Reasons to Buy
Presence of Lithium rechargeable battery.
It can be used for 60 minutes without cord.
Features USB charging.
Lift Logic shaving allows hairs to be captures at a variety of angles.
It is washable.
Easy to use and maintain.
Perfect to take along while travelling.
Reasons not to Buy
Words from a Buyer
I have only purchased the Remington Brand Electric Razor for my husband. Saw this one on Amazon and decided to give it a try. He has had a stroke and several mini-strokes. This shaver has been perfect for him. Easy to use, and he is happy to be able to shave himself. This is a great buy.
#3. Braun Electric Razor for Men, Series 7 7893s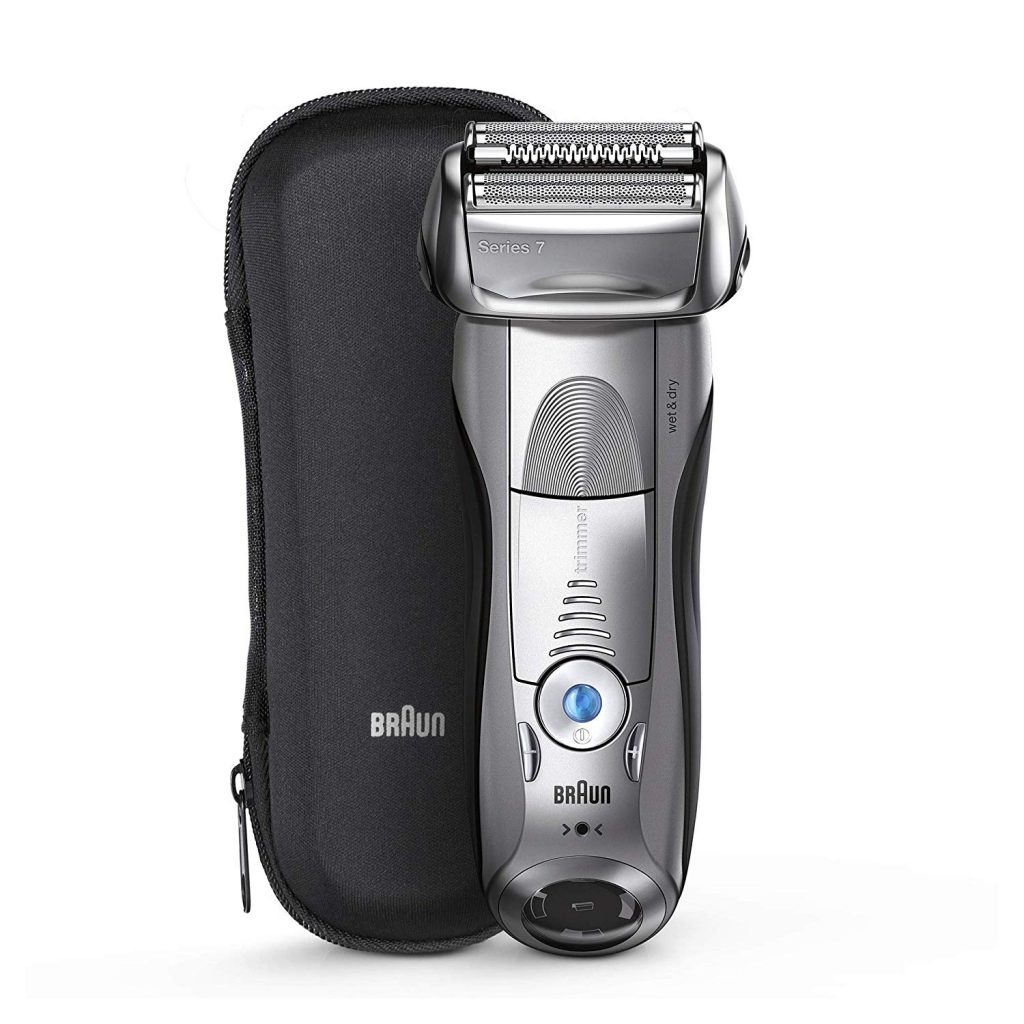 Braun Electric Razor for Men can be considered the smartest on this list that can give a close shaving without compromise. It makes use of innovative technology with intelligence to uproot more hairs in one sweep.
It has four shaving elements; 3 cutting elements and 1 skin guard that works together. Also, Braun Electric Razor features an intelligent sonic and Autosense technology with 10,000 micro-vibrations and an adaptive motor that helps capture more hairs in a sweep, even for dense hairs. You can also choose between 5 Turbo shaving modes for extra power at the push of a button.
Reason to Buy
It is waterproof up to 5 meters, so you can use it inside the bathroom or rinse under running water.
Presence of sonic technology to reduce friction.
Features advances LED display with a 9-min battery count down.
Five personalized shaving modes that allow you to adjust base on skin type and shaving styles.
It has built-in responsive intelligence that automatically adapts to the shape of the face.
It can be used by children 8- above.
Reasons not to Buy
Not good for children below 8.
Words from a Buyer
It feels solid and comfortable in the hand. The head can rotate or be locked in position. For me, this is very close shave, including the neck which seems to be a problem area for many. You get what you pay for and I am overwhelmingly satisfies with this product.
#4. Panasonic Arc4 Electric Razor for Men with Pop-up Beard Trimmer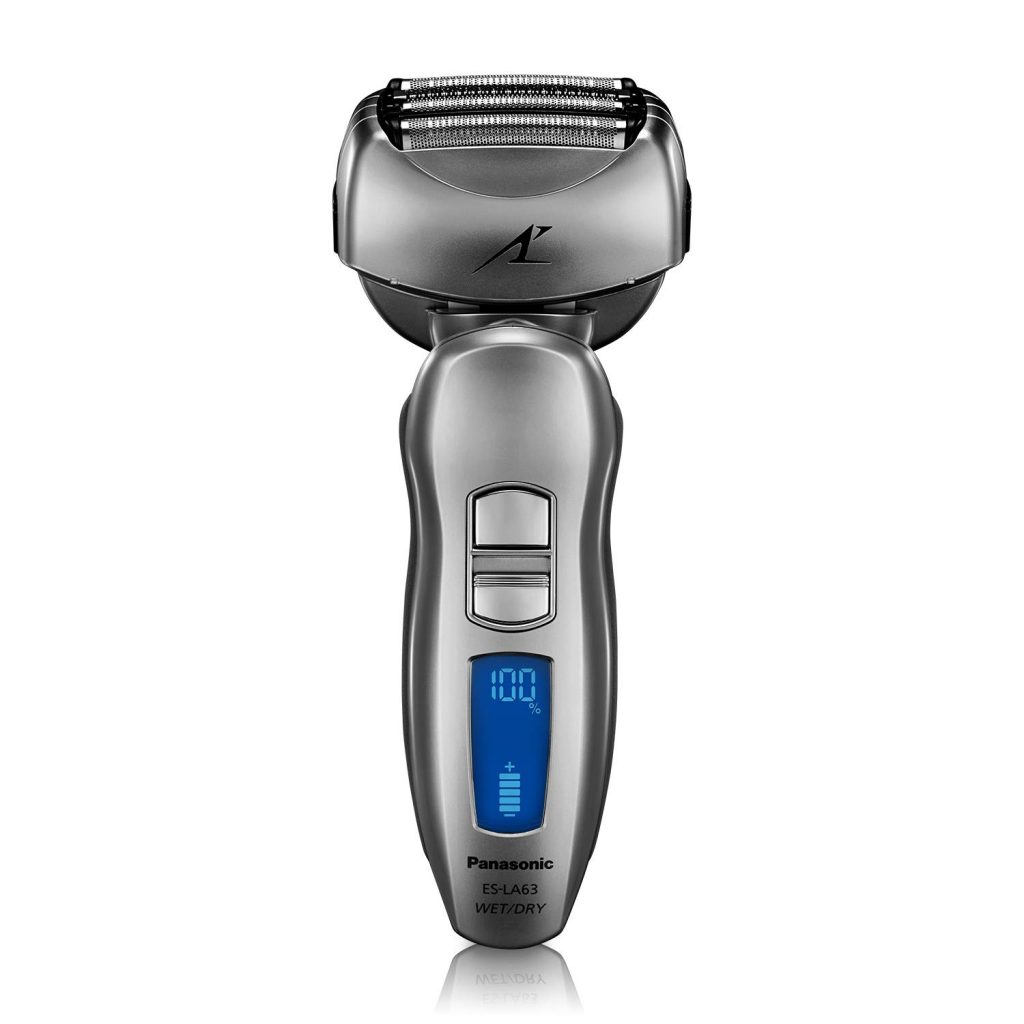 Panasonic Arc4 Electric Razor for men is one of the top-rated electric shavers for men, it is an affordable electric shaver with a nanotech 4-blade cutting system that can shave hairs close, shave beards, head or skin with the four ultra blade cutting system. Each blade's that comes with Panasonic Arc4 are with high precision.
Aside from having a four ultra blade cutting system, the high-efficiency Arc4 linear drive motor helps maintain full, continuous power to end of button charge. It is 100% waterproof and can be used in the shower. It features a 10-stage blue LCD that shows battery power status, replacement reminder, cleaning and charge indicator when fully charged it can be used for 45 minutes.
Reasons to Buy
Presence of Blue Illuminated LCD that shows shave timer, cleaning reminder, battery charge indicator, and blade replacement timer.
It features shaving that maintains a difference in beard densities and can easily adjust cutting power.
Travel pouch.
AC adapter/charger is available.
It is waterproof.
You can use it on the go.
Reasons not to Buy
Words from a Buyer
It renders a closer shave than Braun Razors and at a fraction of the cost. I use it as a woman for my legs, underarms and bikini area with no problems. I noticed my hair growing back finer and much slower than using Veet. Would recommend and hopefully it last for a very long time.
---
Factors to Know Before Choosing Electric Shavers
#1. The Cost
There are different models of electric shavers available on the internet and not everyone can afford the same type of models and brand as a result of financial capacity. And this is why you should only buy electric shavers that you can afford, but also of standard and can get your job done.
#2. Corded or Cordless
Electric shavers now come in two varieties, corded and cordless. If you find both attractive, you can go for electric shavers with corded and cordless features.
Cordless electric shavers provide freedom and convenience, however, the problem of cordless electric shavers is the battery life span as you will need to recharge frequently. In short, you should decide after putting some factors into consideration.
#3. Your Lifestyle
Different electric shavers come with their own requirements and maintenance. Some need to be cleaned every day, while others don't need daily cleansing. So, make sure you choose an electric shaver that suits perfectly into your lifestyle or chooses the one with little maintenance.
#4. Accessories
What are the accessories included in the package and how important is it to you? Let's take, for example, you travel a lot and you are looking for an affordable electric shaver in 2020, you should be looking for electric shavers with a travel pouch that will allow you to move around easily.
#5. Battery Life Span
If you are buying a cordless electric shaver, you should pay attention to how long the battery can last. Pay attention to how long it takes the battery to get drained.
#6. LED or LCD Interface
As electric shavers become more advanced, more and more standard interfaces or panels are getting used. Although they are not necessarily important, they can be beneficial.
Tips on How to Take Care of Your Electric Shavers
Maintaining your electric shavers in the right condition is great for you and helps reduce major financial decision on buying shavers. Even if the price is low or cheap, adopting proper maintenance will save you from a lot.
If you take care of your electric shavers properly, it can last for years. And with the few proven tips provided here, you can achieve that.
Below are the proven tips to maintain your electric shavers properly:
#1. Clean the Razor
When you clean your electric shavers properly, you are a step close to making your device last for years. Nothing gets electric shavers quickly than a pile of dirt and other nasty things forming an environment where bacteria can thrive.
The accumulated dirt and debris will later clog the shaver razor, putting more stress on the motor, which can lead to a decrease in the shaver efficiency or performance.
But having a clean and well-sanitized razor will give you smoother shaves that won't get you irritated. If you find it difficult cleaning the razor, you should consider buying electric razors with an automatic cleaning station.
#2. Handle with Care
It is right to think "I bought them with my money". Yes, you bought them with your money, but that does not mean they should not be handle with care.
Although quite a lot of the electric shavers are made to be strong, their cutting assembly can be fragile and can get damaged when they fall.
The blades and foils of electric shavers can be very sensitive to mechanical shocks, so always make use of a protective cap or keep away from the hard surfaces that can get hit.
#2. Replace the foils and blades
Failing to replace the foils and blades as they wear out can get the shaver damages. Never try to make use of dull blades or foils.  Depending on how consistent you use it, this part should be replaced once in four months or yearly. Also, make sure you buy the original recommended part for the particular razor.
#3. Make use of Spray & Lubricant

         
Electric shavers make use of metal and it recommends applying lubricant to ensure the parts work accordingly. Applying lubricants and spray will help clean and break down deposits of hard waters.
Frequently Asked Questions and Answers on Electric Shavers

How Long Do Electric Razors last?
How long electric razors can last depends on the brand, the quality, and level of maintenance. If you are good at maintenance, buy from a notable brand, it can last for 2- 5 years, but if you lack maintenance culture it could last for only 2-4 months.
Do Electric Shavers Wear Out?
Yes, the razor used by electric shavers can wear out pretty fast. So, make sure to replace then when you start noticing this. When the razor starts wearing out, the battery will be fully charged but the device won't be performing as it used to.
How Often Should Electric Shavers Blade Be Replaced?
Replacement of electric shavers' blade is determined by the model of the electric shavers.
Some electric shavers come with an instructions manual that will specify how often you need to change the blades.
Are Electric Shavers Hard To Clean?
Electric shavers are not hard to clean, now that waterproof electric shavers are available. Cleaning an electric shaver is no more a difficult task, all you need to do is remove the head and gently place under the tap and inspect to ensure all dirt has been removed.
How Long Do Braun Shaver Heads Last?
The number of months or days a Braun shaver can last for 8-18 months depending on your beard type, shaving methods, and maintenance culture.
Where Can I Get Electric Shavers From?
There are dozens of places where you can get the best electric shavers that won't get you irritated online and physical stores. By following the product links provided in between our content you can buy any of the products reviewed above.
From all you have read on here, deciding on whether an electric shaver is the right one won't be difficult.
Also, you've read reviews of the best electric shavers that won't cause irritation backed up with feedback from different buyers. Now the final decision on which of the products to buy is left to you to make, the best for you is the one that meets up with your needs and budget.
Note that we are going to earn a commission from any products you purchased through any of the links in this blog post without no additional charges to what you are going to pay.
Do electric shavers cause less irritation? We are sure you wouldn't need answers to this question anymore. Right?
Do you have anything to ask on Best electric shavers that won't cause irritation? Let us know what you think in the comment section.
Read our other articles below:
Difference Between A Trimmer And A Clipper
Can A Beard Trimmer Shave My Head?
Best Beard Gift Set 2020 For A Bearded Man
How to Take Care of Black Male Hair
Which Razor is Best for Shaving UnderArms?
Can You Use Beard Trimmer To Shave Pubic Hair