Dear Coconut Oil Beard Balm Lovers, This Article is for you. Especially for those of you looking forward to making your coconut beard balm yourself, this tutorial will guide you on How to make coconut oil beard balm.
Beard balms and beard waxes are quite similar but are different in the sense of how well they hold your facial hair in place.
Comparing Balm and Wax to oil, they tend to provide much more of hold for styling and taming unruliness. Many times, these two are interchangeable.
A balm generally won't contain as much beeswax as a beard wax. Beeswax is a natural ingredient that has the most hold compared to shea butter and cocoa butter, which are more for spread than hold.
Waxes contain more beeswax and We'd go as far as to say that they will have this ingredient 100% of the time, even if there's an inclusion of carnauba wax, which can technically be used for the same purpose of a hold.
A balm is a more popular search term in search engines and sites like Amazon, so labeling a product as such tends to be the go-to, even if it may have the same amount of hold as a product labeled as wax. (Basically, there are no outlined standards).
Beard balms and waxes usually come in small containers with pop- or twist-off caps. Some opt to use amber glass containers with plastic screw-off caps, however. In general, glass items will be more expensive than tin.
Lastly, Don't ever confuse a beard balm with a moustache wax, however. While they can contain some of the same ingredients, a moustache wax needs a stronger hold than a beard wax.
As such, it will contain an even larger percentage of beeswax, or alternative and possibly non-natural ingredients altogether.
Coconut Oil Beard Balm: Introduction
Let's do a brief introduction on how to make Coconut Beard Balm. Well, Coconut oil has become the most well-publicized beauty secret in years. Add a little essential oil and you have instant beard balm.
The amounts and oils in this example are for creating a nice smelling and soothing coconut beard balm, but you feel free to experiment with other essential oils.
Coconut beard oil also has antibacterial and anti-fungal properties which help ward off skin infections like ringworm or tinea. Amazing right? Yes!
This is the main reason why many men with beards (beard enthusiasts) can benefit greatly from regular use of coconut oil beard oil recipes.
Not only can coconut oil combat itching and hair fall, but it will also keep the facial fuzz looking smooth and sleek.
In this article, we will discuss some of the best essential oils and Ingredients for beard growth which can be mixed with coconut oil to condition, hydrate, soothe and nourish the beard.
What is Beard Balm
Before we ride on today's roller coaster, let's quickly establish  What a Beard Balm is. So the question; "What is Beard Balm" will get an answer in the next paragraph.
Beard Balm is a buttery product that you use to moisturize and tame your beard while giving it a slight hold, which makes it easier to style your facial hair.

or you can say;

Beard balm is simply a leave-in conditioner that moisturizes, conditions soften and help style your beard.
Do you understand now? Okay!
Coconut Beard Oil: Things to Consider Before Making
In making coconut beard oil, the following are things you should consider;
Storage: Before making a Coconut beard oil. storage should be considered. Properly storing your beard oil is essential in preserving it for as long as possible. For best results, it is recommended to use an amber glass bottle with a glass dropper for extraction. Luckily, these are very inexpensive and quite easy to find. They go for about $1 per bottle.
Conveying: In other words, transferring should also be considered when making your beard balm.
Many people like to use a funnel for pouring finished balms into the bottle. Trust, it's very frustrating when you've prepared a great beard balm, but you spill more of it all over the counter as you're trying to get it into its bottle. You can get 6 of these for only $2 and you'll be really glad you got them.
Ingredients: Most important of all when making beard balms are the ingredients that you use. Amazon has by far the most extensive selection of carrier and essential oils. In fact, you might find the vast array of different brands a little overwhelming. But the great thing about Amazon is that you can read real customer reviews for every item. So you safe from Mislead. When in doubt, look for the best sellers (they're usually popular for a reason) and read through the reviews to make sure that previous customers have been satisfied with that product.
How to make coconut oil beard balm: Benefits
The following are factly benefits of making your own Homemade coconut beard balm suitable for your facial hairs.
Reduce Expenses: Compared to the sum you pay for Coconut beard balms on E-Commerce websites. Mostly $20.00 or £10.00 You can get more than what you pay for online by making your own coconut facial hair balm.
Quality: Making your own Coconut beard balm enables you to guarantee the quality of your facial hair balm. It also guarantees you safety from sellers of substandard coconut beard balms that can do little or nothing at all. You will also know exactly, the ingredients you are applying on your facial hair.
Quantity: you can determine the quantity of the ingredients you want to use. it depends on if you are making the balm for personal use or gifting them out.
Duration: Homemade Coconut beard balm tends to last longer than the one you purchase online.
Also know that just One batch of a balm, it will last for two years even when used daily.
How to make Coconut Beard Balm: Disadvantages
Yea! Please note that this is not in any way trying to scare you. It is only encouraging you to take instructions seriously. A disadvantage of making a coconut beard balm yourself is:
Inadequate Quantity: If you don't follow the guide simultaneously you might certainly lose calculations of the number of ingredients you need. This can, in turn, ruin the outcome of the beard balm. So you have to be very careful.
Coconut Beard Balm: Ingredients
Before you can acquire knowledge of how to make a beard balm, it is essential that you first gather some important ingredients.
There are four essential ingredients for making coconut beard balm, they are; the beeswax, the butter, the carrier oils, and the essential oils.
Those Ingredients are for making a standard beard balm. while to be specific on ingredients you need in making a coconut beard balm they are;
Coconut Oil
Essential Oils
And a smaller container for the finished product
In light of the foregoing, Coconut Oil is the essential ingredients in making a Coconut Beard Balm.
Essential Oils, on the other hand, helps give your balm a pleasant scent, you will certainly need to add some essential oils.
These oils are used very infrequently, as you do not want to overwhelm people around you with a strong odour. Some people around you might be very sensitive to smell you should consider that too.
For a masculine smell, consider using sandalwood, cedar, or pine oils. These Tree oils are essential in reducing flakes and dandruff, and vanilla, benzoin, and Peru all have warm and calmly smells.
It is already said that essential oils have a strong smell, which means that you should use only a few drops of each one.
Also, avoid mixing different kinds of essential oils. This way you can ruin the scent of your oils, and the result will surely be an entirely different smell than you wanted it to be. So be careful.
How to make Coconut Beard Balm
In making a coconut beard balm, your Coconut Oil should be present. Coconut Oil is one of the most sought after ingredient for among Men who are beard enthusiasts.
Online reports reveal it is often the favourite organic oil among men. Therefore, this is an extra added bonus for coconut oil lovers. for the Love of Coconut Oil lets keep on going.
For additional items, you are going to need a heatproof bowl and a small container with a leak-proof lid to store your item later.
STEP ONE: Bring Together Your Ingredients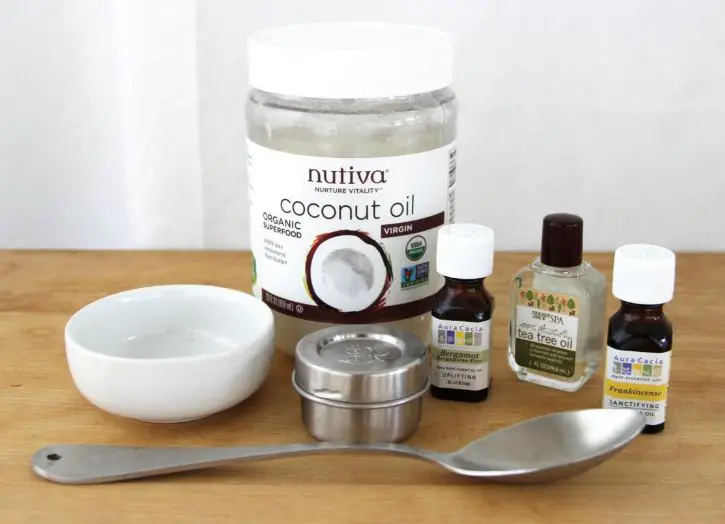 Before you can proceed to make your Homemade Coconut Oil Beard Balm consider bringing together the above Ingredients and pieces of equipment.
STEP TWO: Measure your Coconut Oil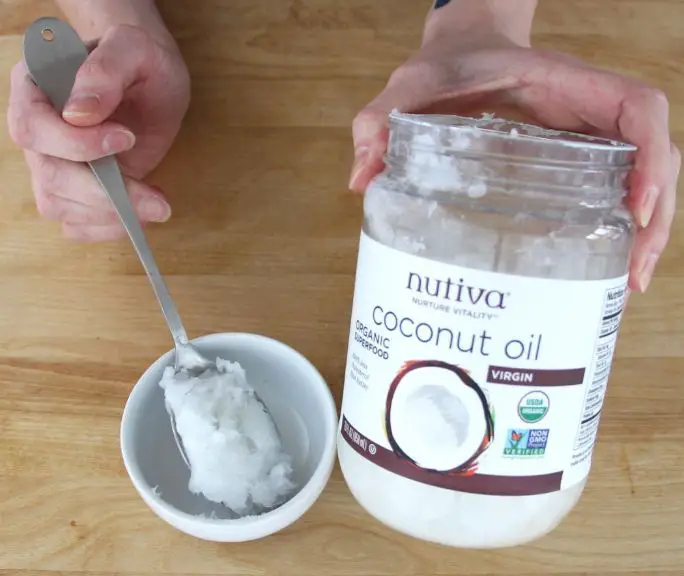 Kindly measure two tablespoons full of your Coconut Oil into a small mixing bowl and melt. Mind you this small bowel will cover all that is to be mixed.
STEP THREE: Add Essential Oils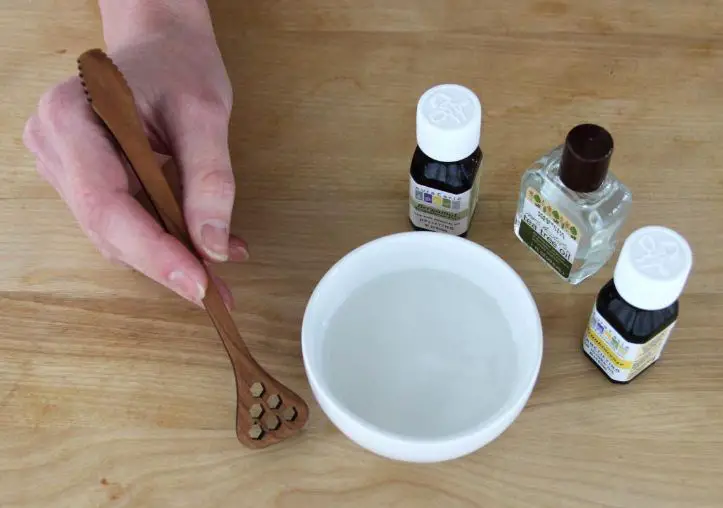 Now. For the want of giving that potential beard balm a nice scent, Add essential oils.
Sincerely Many people are familiar with mixing a tea tree, bergamot, and frankincense.
Keep in mind that coconut oil has a stronger smell than other carrier oils, so it's best to choose essential oil scents that either work with the coconut, or are strong enough to hide it.
The mix we used results in a clean, spicy, slightly sweet scent.
STEP FOUR: Pour Mixture and Cool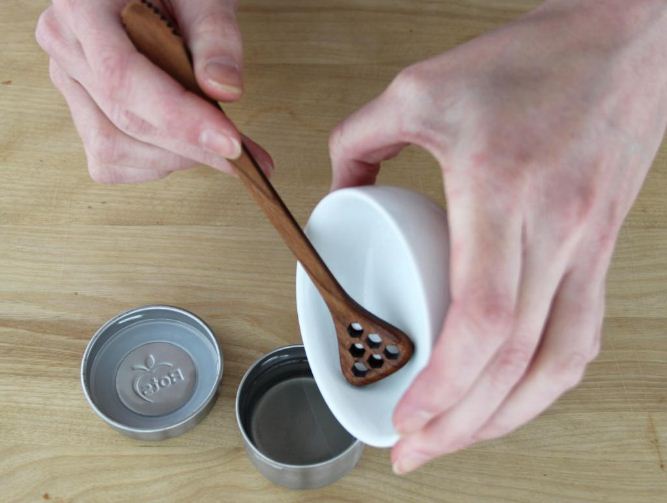 Finally, we are here. Now pour the mixture into your container and allow it to come to room temperature, at which point, it will solidify.
Making Coconut Beard Balm will certainly turn to be very easy for you if you follow the above steps. Kindly share this article if you've learned something.
---
Frequently Asked Questions and Answers on How to Make Coconut Oil Beard Balm
What Are The Benefits of Coconut Oil To Beard?
Just like every other beard oil, we have talked about on our site, many don't really know the health benefits of coconut oil to the beard hair. And that is exactly what we are going to list here. Below are the reasons why your hair needs coconut oils.
Simple and Natural:
The desire of every man growing a beard is to have it attractive and shiny, regardless of whether the hair is thin or thick, stubble or full. However, many in this race of grooming and promoting beards has forgotten that ingredients applied to their beard should be simple. Instead of buying harmful ingredients for beards hair promotion and growth, using coconut oil for beard growth will go along way.
Other benefits of coconut oil for beard hair are:
it stimulates hair growth, that is because it penetrates the hair follicles area compare to other types of hair for beard growth.
It moisturizes dry beard hair.
Applying coconut oil to your beard hair will prevent hair breakage and split, which contributes to hair length.
Adding the application of coconut oil to your beard as part of the daily routine slows down hair loss.
Coconut oil makes the hair shiny and soft for easy maintenance
And also promotes scalp health against problems such as lice and dandruff.
Is Coconut Oil Good For Beard?
The authenticity of and importance of coconut oil as one of the needed beard care ingredients can't just be overlooked, and from reviews dropped by people who have used coconut oil in its raw form and products made with it; it can be referred to as a good one.
How Can I Use Coconut Oil For Maximum Results?
To get the best out of coconut oil beard balm It should be applied over the hair and scalp. After applying to beard and scalp, make sure to comb it through your hair, so that every hair strand can be reached. It is also advisable that the balm should be slightly warm before applying. It can be applied at night before going to bed and wash off in the morning before going to bed.
Can Coconut Oil Balm Be Applied To Hair Everyday?
It is not recommended that coconut oil balm should be applied to the beard scalp every day as it might clog up the pores. For maximum results, applying coconut oil beard to beard scalp 2-3 times in a week is the best thing to do.
Can Coconut Oil Make Your Hair Grow Back?
Coconut oil is known to penetrate the hair shaft, then protect the shaft from excess heat and environmental impurities. Coconut oil contains natural anti-oxidants and nutrients such as Vitamin K and E needed for hair growth boost and regrowth.