Hello everyone! Emmanuel is here again. This post is a guide on the best quiet hair dryers to buy as well as their reviews. As always, I advise people on how to buy the best hair product in the market. This article will be no exception as I hope to take you on that journey to buying that quiet hair dryer that you will love.
Ready?
First and foremost, I will explain what a quiet hairdryer is and why you will need one in your salon or home for personal use. I will also list out the benefits and the top 5 products in the market. Afterward, We'll dive into the ultimate buyer's guide that I've provided for you.
 Spoiler alert: there is just one significant disadvantage, and that is their price.
My article would not have been satisfactory if I had not included a list of the best quiet hair dryers on the market.
BUY beard cream in Nigeria to grow your beard like magic
What is a quiet hairdryer and why do you need one?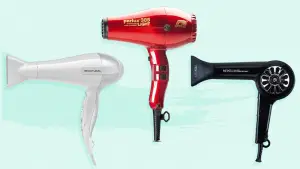 The primary function of a quiet hairdryer is to help alleviate some noisy issues as well as providing some other added benefits to your health – which we shall be discussing in a bit.
Imagine when you want to style your hair, and everyone is asleep. You might feel guilty of disturbance as the regular hair dryer may be emitting a lot of noise.
Quiet hair dryers are, in no doubt, quieter than the regular hair dryers you have at home, that's true. You probably wonder what a quiet hair dryer is after all. Isn't it just a regular blow dryer? Actually, yes. But with one unique difference, you find it in the name. "quiet"!
Quiet hair dryers:

What Are the Benefits?
Using a regular blow dryer on a daily basis may be uncomfortable and annoying for you and your home-folks. But even more pressing issue is that it can actually cause damage to your ears. You see, anything with more than 80-90 decibels is classified as sounds that can cause permanent hearing loss.
Who else but a mom of a newborn baby desperately needs a quiet hair dryer? There is no need to give up on styling as long as you have a super quiet hair dryer. It's a challenge to calm a crying child or put him to sleep in the first place. And when he wakes up because of the noise of the hair dryer, all of your efforts go up in smoke.
Being woken up by the sound of a working hair dryer isn't that much of a pleasure. And that is definitely not a pleasant start of the day. Even if you live in a big house, there is still a chance that your blow dryer may disturb other family members. Everyone who lives with a family, a partner or a roommate will also understand what I'm talking about.
When there is more than one stylist in the limited space, say, beauty parlor, one working hair dryer is more than enough. And when there are two of them or even more… It sounds almost like a takeoff runway, and it's impossible to hear anything else.
So, at this juncture, you can now see why I say a quiet a dryer is important.
The noise level of four hair dryers in a small place can reach a deafening 250 decibels! So, it's time to do something about it, yeah?
Whether you are a stylist or not, getting a quiet hair dryer is a great solution. If you are ready to get one, let me show you the best 5 products you can choose from in the market today.
Best Quiet Hair Dryers To Buy: Our Comprehensive List
So, let's cut the chase and explore these best quiet hair dryers on the market so far. These are products you can trust as I've picked them based on my own experience, my clients' opinions, and quiet hair dryer reviews on Amazon.
1. Conair 1875 Watt Turbo Hair Dryer, Blue / Black

– 3 attachments for various hairstyles
About product
The package includes two concentrators and a diffuser, so the tool is truly customizable in terms of styling. This Whisper quiet hair dryer features ceramic tourmaline ionic technology for reducing frizz and leaving you with shiny and smooth results.
What I like
The 1875 motor provides fast-drying, yet this hair dryer isn't exactly «whisper» quiet. Still, it's significantly quieter than regular blow dryers – nothing can alter that. What I like about this Whisper Quiet Lite hair dryer is that it has as many as 4 heat settings – more than many other models have.
What I don't like
Although it has up to three attachments for a different hairstyle, on the other hand, these attachments may be too hard to put on and take off for some people
Pros
the ceramic tourmaline ionic technology that is good for your hair health
4 heat settings and 2-speed modes
3 attachments for various hairstyles
removable lint filter
lightweight and compact.
Cons
for some people, the attachments can be hard to put on and take off.
This is the only dryer that I've found (and similar Conair ones) that gives you a ton of gentle heat which makes drying SO MUCH BETTER. Honestly it's easier to control, easier to get volume, and WAY faster drying time! I love that this one has the warm/hot as well as high/low so you can really customize exactly what you want. HIGHLY RECOMMEND.
2. MHU Professional Hair Dryer

– Employing the Far-Infrared Heat and Ionic Technology
About product
Employing far-infrared heat and ionic technology, this quiet hair dryer helps eliminate frizz, smooth hair, and reduce the risk of damage. This quiet hair dryer is actually quieter than regular blow dryers, so it lives up to its name.
What I like
The package includes a concentrator and a diffuser that will come in handy if you don't want to stick to the same hairstyle every day. Also, there is a cool shot button to lock in your style. In a nutshell, it's a decent quiet hair dryer that gets the job done.
What I don't like
One thing that can frustrate you when using a hairdryer generally is the inappropriate placing of the control button. The same story goes to MHU Professional Hair Dryer. You get the less noise, while you may accidentally change setting while styling your hair.
Pros
has 3 heat and 2-speed settings
employs far-infrared heat and negative ion technologies that are good for your hair health
two attachments for various hairstyles;
removable lint filter
hanging hook.
Cons
quite heavy
the buttons are located exactly where your fingers hold the tool, so it's easy to change the settings when styling accidentally.
I received the blow dryer as a gift, this is by far the best blow dryer I have ever owned or used professionally.
I am a retired stylist and salon owner of 20 years. As a result of the injury I could no longer do hair professionally. I could only style a few people at a time friends and family. Prior to the injury I was a very busy stylist with the need and want of the best implements of my profession.
I had spent a $100 and more on blow dryers how wish this blow dryer at this price would've been available to me at that time.
3. Revlon Lightweight Quiet Hair Dryer

– Featuring Triple Ceramic Coating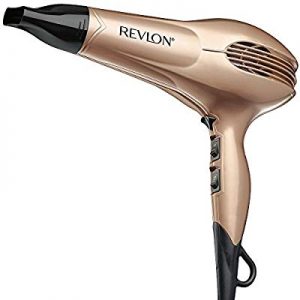 It comes with a smoothing concentrator for precise hair drying and styling. The only thing is, this attachment keeps falling off which may be really annoying. Overall, this quiet hair dryer does the trick, and the price is reasonable.
What I like
This quiet hair dryer features as many as three layers of ceramic coating that provides even heat distribution and drying hair from the inside out, hence less damage. Boosted with ionic technology, this helps enhance shine, eliminate frizz, and make your hair smooth. 2 heat and 2-speed settings give you some versatility in terms of styling, and there is the air dry setting which is supposed to dry hair without heat.
It runs only at 70 – 74 decibels which means it's pretty quiet even on the high-speed setting. The unique fan design is claimed to make its contribution to noise control.
What I don't like
The tool itself is lightweight but rather large, so it's inconvenient to take it with you. Also, you have to push and continually hold down the button if you want to use the air dry setting,
Pros
quieter than many other hair dryers
the negative ion technology
includes a concentrator
lightweight
hanging hook.
Cons
too large, not good for traveling
if you want to use the air dry setting, you have to push and continually hold down the button.
I have hypracusis and tinnitus so noise is a major issue for me. This hairdryer is very quiet but only 5 to 7 decibels lower than my other Revlon hairdryer (used a decibel meter). It works great, lightweight, easy to hold. I like the on and off buttons much better than my old hairdryer.
4. Dyson Supersonic Hair Dryer

– Innovation is the key ingredient in the Dyson Supersonic Hair Dryer.
About product
The attachments to the Dyson are magnetic, making adjustments to the unit easier and quicker, and the microprocessor of this unit regulates air temperature 20 times every second providing exquisite temperature control.
You want a highly innovative and quiet hair dryer, but money is not a concern. If you live on a budget, you will dash past this unit wondering what it would be like to live like the other half. Its V9 motor goes up to 110,000 rpm at an inaudible frequency making it work faster and quieter than other motors.
By putting the motor in the handle, the weight and balance of this hair dryer is completely different.
What I like
Placing the motor in the handle of this hair dryer certainly improves the noise level by insulating it some. The frequency level is also improved to make it much less damaging. The weight and balance of this hairdryer are also special features to keep in mind.
What I don't like
The design of this unit makes it possible for there to be more heat in your hand, but given this unit's price tag, that probably won't as much of a concern as justifying the purchase of the hairdryer.
Pros
Improved frequency level
Compact and light in weight
Magnetic to make adjustments easier
Cons
Inappropriateness in control button
Less heat in your head
Wife says it the best, lightness most powerful and versatile hairdryer she has ever had (and she's had a few!)
Only downside expensive but you get what you pay for. A sound investment if you are going to use it most days.
5. Revlon Lightweight Quiet Hair Dryer

– Increased control with quieter operation
About product
3x ceramic coating helps make this hair dryer more efficient and dual air flow allows it to be quieter at a higher degree of heat output. You are on a budget and want a quieter hair dryer. If you are in a hurry and have a lot of hair to dry in a short time, this dryer will be a disappointment.
The fan in this unit is also vertically mounted to reduce noise and the curved blades of the centrifugal designed fan are also more highly efficient.
What I like
Three layers of ceramic coating help to distribute heat evenly to prevent damage. This unit is almost 50 percent quieter than other hair dryers. A vertically mounted fan helps to reduce noise while providing plenty of drying power.
Increased control with the quieter operation is the highlight of the Revlon Lightweight Quiet Hair Dryer.
The lightweight body of this unit allows you more control and makes styling more comfortable.
What I don't like
The fan in this unit is not quite powerful enough to produce the airflow many expect, which is part of the reason it is a quieter hairdryer
6. Centrix Q-Zone Dryer

– The motor operates on a lower frequency than most hair dryers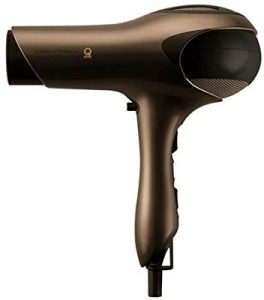 About product
You looking for a lighter weight hairdryer with a cooler temperature and don't mind paying a little bit more for those features. You really won't achieve the noise reduction you are expecting.
Those with a sensitive scalp or hair that is extremely sensitive to heat damage with appreciate this hairdryer. The motor operates on a lower frequency than most hair dryers, which makes it sound quieter and at a less irritating pitch. Its ceramic tourmaline heating adds ionic technology to the mix.
Have you seen the best beard trimmer? 
What I like
The Centrix Q-Zone Dryer stays at a cooler temperature for those whose scalp is a bit more sensitive. This unit was designed to be used in salons where keeping hairdryer noise down is of some importance and operates at a reduced frequency. It utilizes a two-speed motor, is lightweight and uses ceramic tourmaline heating as well as ionic technology to help decrease drying time.
What I don't like
Though the frequency is lower, the actual decibel level is still pretty high and it has sort of a clunky sound present as well. Users also stated that the handle gets hot while in use.
Pros
cooler temperature
compact and lightweight
ceramic tourmaline heating
Cons
the pretty high decibel level
hot handle while in use
presence of clunky sound
I bought this dryer because, at age 62, I am beginning to have some hearing loss and my Wal-Mart dryer is way too loud. This one fit the bill — very quiet and dries my hair quickly. BUT, I cannot believe the difference in my hair! You can see from the pix that my hair is dyed and highlighted which leaves it so dry and fly-way…until I used the Centrix Q. I cannot believe the difference — same shampoo, conditioner, brush, et
7.

Pibbs TTECO8029 Twin Turbo 3800 Professional Ionic and Ceramic Hair Dryer, Red, 2100 Watt
Pibbs TTECO0-029 TWIN Turbo is a low noise hair dryer that is ozone friendly. It has 2 speed 4 temperature settings that give total control over how hot and cold it should be.
 This hairdryer FAR EXCEEDS any other I have had in my lifetime. And, for the record, my hair is EXTREMELY THICK AND CURLY. And I can make it sleek and straight in 15 minutes. FIVE STARS.#
8.

Lloytron 2000w Epilady Professional A/c Hairdryer + Brushes
Lloytron 2000W Epilady Professional hair dryer is one of the must-have if you are looking for a professional hair dryer that is powerful enough to get your hair dried within a short period of time.
Reasons To Buy
It is powerful enough to get hair dried faster.
It comes with 2.5, an extra-long cable that includes 2 hairbrushes.
Ionic technology is used to eliminate static and frizz.
Reasons Not To Buy
9. 

FHI Heat Platform Nano Weight Pro 1900 Turbo Tourmaline Ceramic Hair Dryer
FHII Heat Platform Nano Weight Pro 1900 Turbo Tourmaline Ceramic Hair Dryer is one of the quiet and lightest dryers available on Amazon, providing ample force in a compact design. Being a universal hair dryer, it can be used on either or thick hair, it has enough heat and power to tame textured tendrils.
Best dryer available for long hair. Used ours every day for 3 1/2 years, when it finally started making a very loud whining noise. Still heats and works, but time for a new one! I Will definitely re-order the same one. Love that it's SO lightweight!
My wife says her hair is now fluffy and beautiful because of this machine. I think she's beautiful anyway, but she loves this thing.
10.

Panasonic Ionizing Low-Noise IONITY Hair Dryer EH5306P-S Silver
Panasonic Ionizing Low-Noise IONITY is a hairdryer that makes use of Ionic technology to ensure a smooth and comfortable hair drying process. 
I can't stress enough how quiet this thing is. On its highest setting, you can still hold a conversation at a normal volume. It takes the same amount of time to dry my hair as my 10+-year-old $12 dryer, but does a better job and quieter. I don't style my hair in any interesting way, and it is still worth the money.
11.

JINRI Travel Hair Dryer 1875 Watt Dual Voltage Blow Dryer Dc Motor Foldable Handle Lightweight
If you are looking for a quiet and affordable hair dryer, JINRI Travel Hair Dryer has the features you won't be able to resist. It comes with a DC motor that provides a lightweight body, with the DC motor it can deliver powerful wind that is strong enough to dry hair within 5 minutes.
Love it! The diffuser doesn't seem removable (and I don't need a diffuser), a bit larger than I expected, but still compact enough to take traveling. I have seldom been satisfied with the power of the hotel or resort hair dryers, and this is perfect. I Will keep this at home if I am able to find one with the same power, and a bit more compact. UPDATE: Diffuser DOES remove. It just took me a while to see how. It's easy.
---
Quiet Hair Dryers:

The ultimate buyer's guide
If you have just seen a product that you like and will order soon, don't be in a hurry to rush away. In this last segment, we shall quickly run through a detailed guide on quiet hair dryers – purchase, usage, and maintenance.
Which razor is best for shaving your underarms? 
How to Choose a Quiet Hair Dryer?
The noise level
Ideally, it should be something around 60 decibels of sound intensity. Many decent quiet hair dryers run at 70-80 decibels. Yet, some models are producing even less noise. The only thing is, you may not find the exact decibel rating on every blow dryer. So far, manufacturers aren't obligated to give consumers a decibel rating of their products.
Total wattage
It can be a good indicator that gives you an idea of the noise level of the certain blow dryer. Generally, a hairdryer with a lower wattage takes longer to dry hair completely, but in the long-term, it's safer for your hearing. Hairdryers that fall within the range of 1400 and 1600 watts are thought to be the quietest. Designed specifically for salon use, it will be a real catch for fellow hairdressers.
The technology employed
Blow dryers with ionic technology are considered to produce the smallest amount of noise. So, if you want to get an ultra-quiet hair dryer, you know what to look for. There are ionic, tourmaline and ceramic technologies, and most modern hair dryers use either one of them or a combination of two or even three. This gives you smooth, shiny, and relatively healthy hair as a result.
The speed and temperature settings
Many quiet hair dryers have two speed modes (high and low) and 2 or 3 heat settings. That gives you some versatility in terms of styling, but not so much. You probably know that it's better to dry thin or damaged hair on lower temperatures. And healthy thick hair can probably stand the higher heat. Anyway, follow the instructions of your particular blow dryer to reduce heat damage as much as possible.
As for the speed, it indicates how fast your hair gets completely dry. The higher the speed, the faster the drying.
A cool shot button
The controls. Typically, they are placed on the handle, right where you hold a blow dryer. So, you may accidentally switch controls when using the tool. It may take some time to get used to such placement.
Most quiet hair dryers, just like regular ones, have a cool shot feature. It helps cool your hair and finish the look.
The power cord
Many modern hair dryers have a long enough cord but better safe than sorry.
Consider the length of the cord. The longer it is, the more comfortable the styling will be.
Now that you know all about a quiet hairdryer…
The only possible drawback maybe their price, but you can still come across affordable models. Now you know what features to consider before shopping, so I hope you will find the best quiet hair dryer made just for you!
It may not be absolutely silent, but it will definitely change your styling experience for the better. And maybe even your life! Peaceful and relaxed home-folks will only thank you for purchasing a quiet hair dryer, so will your hearing.
Is there anything else you want to know about quiet hair dryers? Feel free to leave your questions and suggestions: you can always ask any question and get my answer.
Check some other review articles below:
Best Electric Shavers for Ingrown Hairs
Top Painless Laser Hair Removal Devices To Buy
Best Boar Bristle Brush For Healthier Hair
Reviews of The Best Quiet Hair Clippers for 2020
Full Body Laser Hair Removal Machines to Buy
List of Best Light Hair Removal Machine
13 Best Beard Mug Gift For A Bearded Man