Does Electrolysis Hurt on the bikini line?
Does Electrolysis Hurt? Let's find out.
Like any other individual out there growing hairs and you want to get rid of that unwanted hair, but you heard it from a neighbour and friends that electrolysis could hurt. Reality or Myth?
And that is why I have decided to come up with this article, to enlighten you more on what electrolysis entails, the process of hair removal with electrolysis machine and other relevant information that you need to know.
What Is Electrolysis Method of Hair Removal
Electrolysis is a method of hair removal either from the face or body and it is mostly carried out by a dermatologist. It also disrupts hair growth. The process is carried out by inserting an epilator device into the skin, it causes damages to the hair follicles thereby; preventing growth and makes existing hairs fall out.
---
Does Electrolysis Hurt?
The use of electrolysis for hair removal is a process that involves little or no pain at all. It makes use of heat; you should expect to feel discomfort, especially when you are starting with it.
The kind of pain involved in electrolysis is minimal, with more features and functionalities getting added. The level of pain has reduced compared to years back.
The process of removing hairs with electrolysis has been around for a while; it has just recently become popular today. It is a method of hair removal that seems more permanent compared to the use of hair removal cream, since it operated using electric currents and completely destroys the hair follicles.
You can't get rid of hairs without experiencing pains. Methods such as Laser hair treatment and the use of hair removal cream can cause pains as well.
---
Review of Electrolysis Hair Removal Machine You Can Buy

#1. V2R Deluxe Professional Electrolysis Machine for Permanent Hair Removal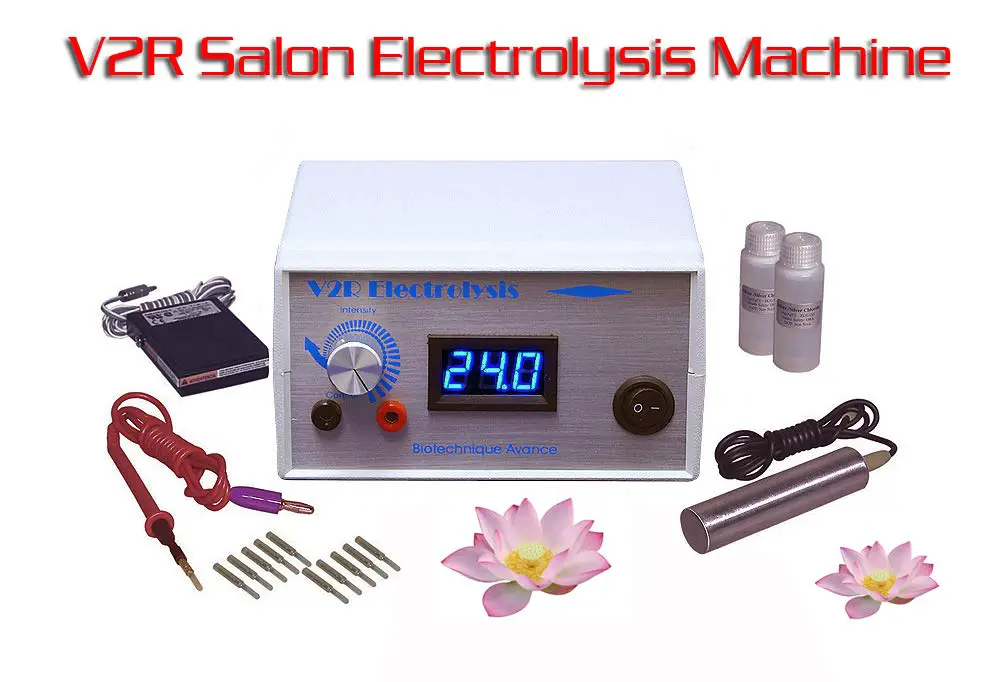 V2R Deluxe Professional Electrolysis Machine is a hair removal machine with almost zero percent difficulty in usage, with no sort of training needed before it can be operated. It makes use of galvanic technology, which makes it only suitable for thick and unruly hairs. It comes with a standard epilator that makes it usable on the face where blend electrolysis seems impossible.
Also, it features an adjustable Rheostat that can give total control of how high and low it can be. The system is programmed to send input voltage between 120 – 220 and it has multiple plug choices for different companies it is to be sent to.
When you buy this electrolysis hair removal machine, you will have access to a lot of benefits.
Reasons to Buy
The results are long-lasting.
It comes with a 1-year warranty.
Effective as an electrolysis hair removal machine.
It can be used in all countries.
Worth the price.
Reasons not To Buy
A little bit bulky.
It seems pricey
Words from a Buyer
The product works as described and is a great price for permanent hair removal. It's not as difficult to use as I thought it would be which is nice.
#2. Verseo eSmooth Electrolysis Permanent Hair Removal Epilation Roller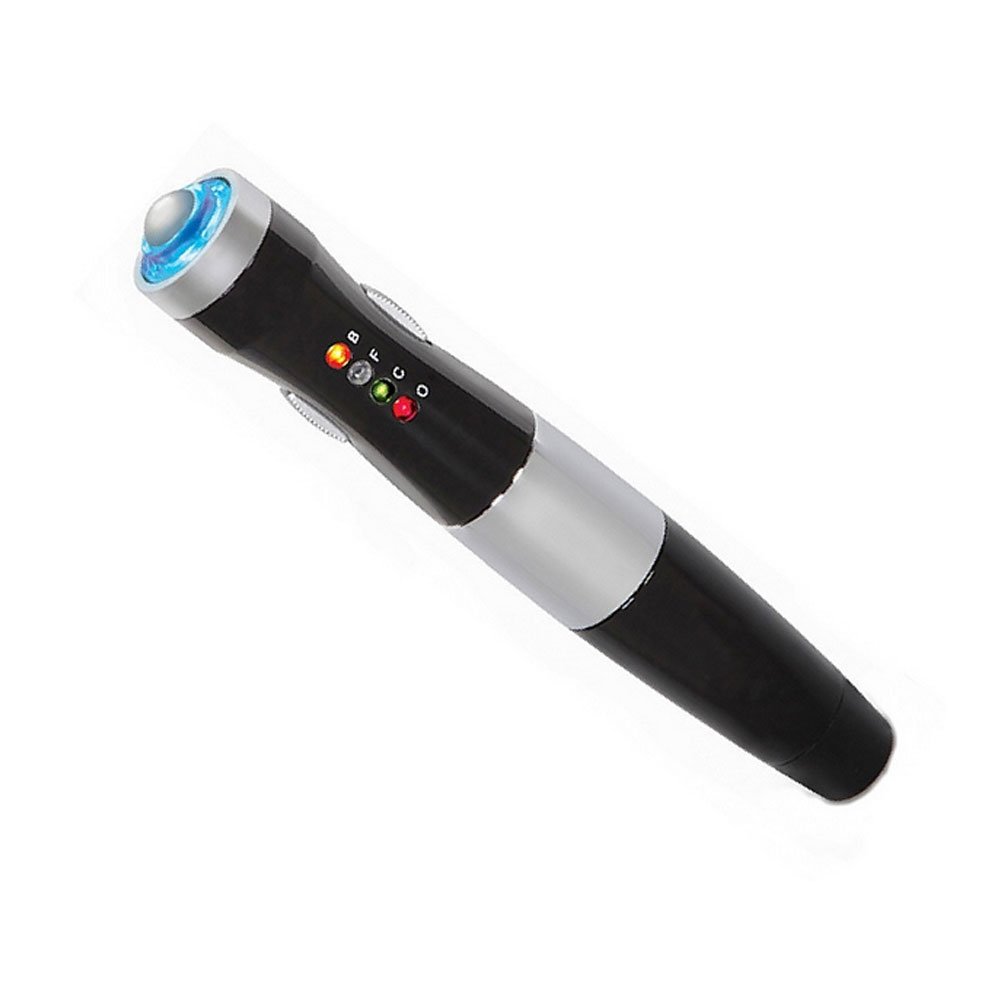 If you are looking for a pain-free electrolysis hair removal machine, you should get yourself a Verseo eSmooth Electrolysis Permanent Hair Removal Epilation Roller.  Aside from being small and lightweight, it is safe and effective on all skin types. By following the instructions and consistency, you will be able to obtain decent hair reduction after 60 days.
It can be used for the removal of hairs around the leg, armpits, face, and head. It works through the process of passing direct current to the base instead of attacking the skin tone. All it does is remove the hairs without pain leveraging on galvanic technology.
Verseo eSmooth Electrolysis Permanent Hair Removal Epilation comes with a wand, 75ml conductive gel, 6 body patches, 2 roller tips and storage pouch that makes it easy to take around.
Reasons to Buy
It is easy to use, lightweight and painless.
Not expensive, so it is affordable.
Worth the price it is being sold at.
Presence of led progress indicator.
Reasons Not to Buy          
Few of the buyers are disappointed in the product.
Words from a Buyer
It is easy to use and with time I feel sure that the hair on my face will diminish. I learned about electrolysis 40 years ago in Beauty College and feel confident that what works then still works. You just need to have patience and give it time to work.
#3. Clean and Deluxe Home Electrolysis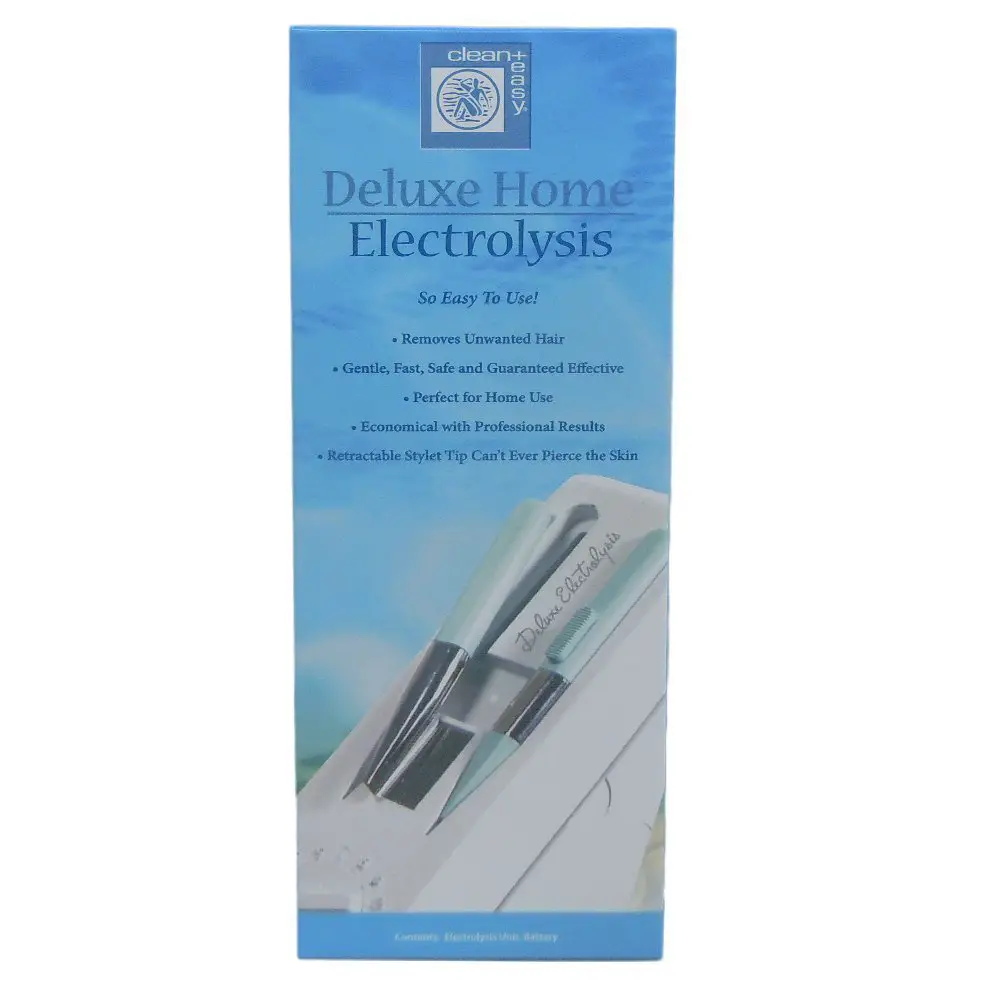 Clean and Deluxe Home Electrolysis is another hair removal device that falls into the category of products that has been reviewed under this blog post. It is an electrolysis hair removal device that takes electrolysis as a method of hair removal from the therapist's office to home. It is a convenient, safe alternative for bulky hair removal devices and has a great appearance.
The majority of the electrolysis hair removal out there needs a license before they can be operated, which can be expensive. But with Clean and Deluxe Home Electrolysis, you can get rid of your hairs without the license or presence of a professional. All you need to do is insert the probe into the hair follicle and then the hair can be removed with tweezers.
When it comes to a lightweight, affordable and easy to use electrolysis hair removal machine, Clean and Deluxe Home Electrolysis should come to your mind.
Reasons to Buy
It is easy to use.
No license needed before it can be operated.
Comfort dial for customizing treatment.
It can be used on the body, eyebrow and bikini line.
Reasons Not to Buy
Words from a Buyer
This is the second one I've purchased. Any electrolysis isn't permanent the first time. It will take multiple zaps before it stops growing back. A wet fingertip with salt water to add conductivity, the machine makes a sound when it has good contact with the skin.  Always retract needle when putting down the wand.
#4. AeVexx 300 Transdermal Electrolysis System, Highly Effective Non-Invasive Electrolysis for Home Use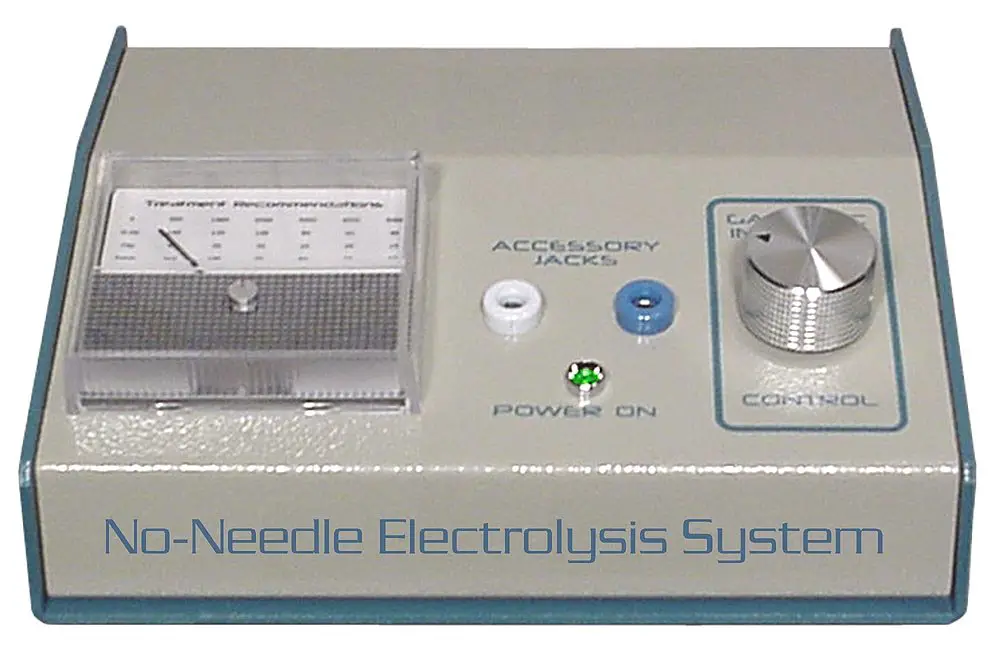 This is the last on the list of Best Electrolysis Hair Removal Machine you can buy below $1000 on Amazon. It is easy to use and convenient for the permanent removal of hairs. Inside the kit, you will find a pair of galvanic tweezers, a swab electrode, 1 electrode clip, 1 electrode assembly, and four reusable deluxe electrode patches.
AeVexx 300 Transdermal Electrolysis System and its kit can help perform all of the functions of the galvanic patch, clip applications, swab, and tweezers. Another major benefit if this electrolysis hair removal machine is that it does not need special training or license before you can operate it.
Reasons to Buy
It is easy to use.
Presence of accessories such as galvanic patch, swab, and tweezers to make the whole hair removal process faster and easy.
You can use it at home without a license or assistance of a professional.
It worth the price.
Reasons not to Buy
---
Causes of Pains during Electrolysis Removal of Hair
---
Is Electrolysis Hair Removal Really Permanent?
The electrolysis method of hair removal works by stopping the hair follicles from growing. This then put the hair growth in a dormancy state for a long period of time – It is longer than trimming and waxing.
There is the possibility of your hair growing back though, and when this happens, the hair will be lighter and fewer in number.
---
What Next After Electrolysis?
The next things to do after your first electrolysis session are follow up treatments.
They are necessary to get the best out of electrolysis.
---
How to Take Care of Your Electrolysis Hair Removal Machine
It is not enough to buy electrolysis hair removal machines without proper maintenance of your hair removal machine and that is why I have decided to provide tips on how to take care of your machine, to save you from wasting financial resources.
Clean the machine after use, then store it in a cool and dry place.
Implement preventive maintenance routine to prevent total shut down of the machine.
Do not use near water.
---
List of Points To Remember for 48 Hours After Electrolysis Treatment
Right after you are done with the treatment make sure Sterex Witch Hazel and Aloe Vera are applied using clean, damp cotton wool immediately to soothe and calm redness while preventing infection. Continue doing this for the next 21 days.
To prevent skin irritation and possible spread of infection, do not pick spots which may appear a couple of days after treatment.
If you have long hair and you are on long term treatment, to reduce the risk of getting your follicles infected, make sure your hair is tied to the back.
Below is a list of things you should avoid/stay away from:
Do not touch the treated area.
Avoid the use of perfumes and perfumed body lotions.
Do not stay under direct sunlight and if you must go out in the sun make sure you use a high protection factor sunscreen to avoid hyperpigmentation.
Avoid swimming.
Stay away from applying perfumed products or soap to the treated area.
Stay away from activities that can stimulate blood flow for 48 hours.
Do not wear restricted clothes over the treated area.
Remember
Make sure you follow instructions on whatever electrolysis hair removal machine or professional help you will be using. If you seeking a professional electrologist make use you follow the instructions for your treatment plan and aftercare.
---
Electrolysis Before Treatment Tips
Don't smoke 2-4 hours prior to treatment
It's okay to shave between treatments, but never, EVER tweeze or wax!
Gently exfoliate your skin with a gentle scrub before your treatment. It opens up the follicles and
lets the unwanted hair slide out more easily.
Practice using deep breathing and other relaxation techniques to make treatment more
comfortable
Hydrate, hydrate, hydrate! The more hydrated you are the better treatment you'll get!
---
Electrolysis After Treatment Tips
Keep your skin clean by gently applying an antiseptic, such as Witch Hazel, 2-3 times per day;
more frequently if dirt or perspiration is an issue.
Applying ice to the area immediately after treatment can increase comfort.
Avoid touching the treated area with your hands. Wash hands frequently.
Make sure the treatment area is covered with an SPF 30+ daily
If you use makeup, reserve a fresh hypo-allergenic formula for use after treatment so you do not
cross-contaminate the treatment area.
Avoid using heavy creams or any type of topical acid (fruit acids, glycolic, salicylic, etc.) or similar
product for 48 hours after treatment and use caution prior to treatment.
Avoid submerging the treated area in hot tubs or river or lake swimming for 48 hours post
treatment.
Report any skin reactions immediately to your clinician and make a note to discuss at your next
visit
---
Is there a way to perform hair electrolysis at home?
Simple answer… Yes.
You can get rid of your hair if you can get a suitable electrolysis machine. But if you are going to work on yourself you should have somethings in mind. The truth of the matter is that it pains and you may find it difficult pressing on. And electrolysis as a method of hair removal requires concentration you can easily get distracted. However, it is not advisable you make use of the cheap electrolysis hair removal machine as you cant do more with them.
---
Frequently Asked Questions and Answers
How Long Does It Take to Do Electrolysis on the Lip compare to the Leg?
A lip is not a big deal of a place to perform electrolysis on because you can be done with it in 15 minutes. But it depends on how much of hair you have. Telling you it will take a specific time for the lip and leg is like a guessing game. It is hard to tell if how much of the hair is not known. Just know that the more hair you have the longer it takes.
How Often Should Electrolysis Hair Removal Be Done?
The amount of time you should make use of electrolysis hair removal machine depends on the skin type, body area, and hair type.
The surface area of bodied differs so it takes more time. In some cases, it can take months or a year.
What Are The Type of Electrolysis?
Under the type of electrolysis, we have galvanic, thermolysis and blend. The galvanic type of electrolysis is the one that makes use of sodium hydroxide production in the body system. Once you have the needle inserted into the hair follicle. The pin with electric current is placed in a way that it reaches the base, and that reacts with the salts forming sodium hydroxide.
While the thermolysis method of electrolysis is the type that makes use of frequency emitted from radio waves. Once the needles get inserted, the follicle gets irritated and that gets it to heat up. With the heat building up, the destruction reduces hair growth.
How Many Treatments Are Needed For Electrolysis?
Getting rid of hairs is a gradual process and it takes consistency and patience on your part. It may take months or years before you start seeing results.
Can Hair Grow Back After Electrolysis?
Yes, hair can grow back after electrolysis hair removal, there is nothing like permanent removal of hairs. However, in the case of the electrolysis method, it takes more time before the hair starts growing back.
Is Electrolysis Better Than Laser? 

      
It depends on your definition of best, is its base on the pain or budget perspective? Electrolysis is considered painful than the laser method of hair removal, and it needs more time/sessions than the use of Best Laser Hair Removal Machine.
Also, Laser hair removal is faster and less painful. If you are considering a low budget method of hair removal, you should opt for electrolysis but you must be ready to face a few pains.
Can You Get Electrolysis on Pubic Hair?
Yes, it's possible to get electrolysis on pubic hair, but not all electrologists are willing to treat these areas. So, you can get a portable machine that you can use for home electrolysis.
Which Area Can You Get Electrolysis?
It can work on all skin and hair types. You can apply it on to the facial and body parts including the upper and lower lip, abdomen, bikini line, feet, legs, back, breast, underarms, and chin.
What Should I Put on My Face After Electrolysis?
After the session, make sure you keep your skin clean by gently applying antiseptic such Witch Hazel, 2-3 times in a day. The use of antibiotic cream or aloe gel can be helpful.
How Do I Choose Electrologist for Electrolysis?
Before you choose an electrologist that will carry out electrolysis on you, there are things you need to consider.
Check their qualifications.
Ask friends and family, if possible ask your doctor for recommendations.
Get a consultation.
Make sure the right technique is used.
Make use of your instinct.
What to Look For When Choosing an Electrologist Technician?
There are many self-claimed electrologists out there and it will be a big problem if you pay and the results won't be the one you want, at the end of the day you end up wasting your time and financial resources.
When choosing an electrologist, look for somebody with experience. And make sure he/she has an office for reference. It is also important that they make use of needles that are disposable and whatever needle will be used comes out of a sterile package.
Who is a Good Candidate for the Electrolysis Removal of Hair?
Anybody is a candidate for electrolysis removal of hairs. You can do electrolysis on any skin and hair type. It is for anybody that wants to get rid of their hairs for a long period of time.
What Can I Expect at My First Electrolysis Appointment?
If you have chosen to move forward with electrolysis after all you've read, congrats, as you have made the right decision. It is one of the approved methods of hair removal by the FDA and American Medical Association,
Now that you are preparing for your first session it is normal for you to be anxious but there is no need for that. The process of hair removal with electrolysis is not painful compared to methods such as waxing and tweezing. With modern technological advancement, the process is now less painful compared to the past.
Do Any Home Electrolysis Machines Work?
Yes, home electrolysis machines work but you should not expect to achieve so much with it especially if you are the previous user of the Laser hair removal method.
Can You Perform Electrolysis On Your Self?
Yes, you can perform electrolysis on yourself, but you must be ready to withstand pains and stay committed to pushing the process till the end.
Is Electrolysis Method of Hair Removal Worth The Money?
Yes, getting rid of your hairs with electrolysis worth every penny you will be spending. However, your hair won't disappear overnight. It is a gradual process so you need patience and commitment.
---
Conclusion on Does Electrolysis Hurt?

Now that you've read on what electrolysis removal of hair truly entails, reviews of best electrolysis hair removal machine.
Laser hair removal is not a permanent method of hair removal; it's still one of the best and alternatives you can consider if you methods such as Laser method of hair removal and use of hair removal cream are good for you.  If you can't afford to pay a professional there are other affordable options that you can try yourself at home.
You may likely experience pain if you are first-timer, which is going to last for minutes.
Do you have anything to ask on Does Electrolysis hurt? You can make use of the comment box to share your experience using the electrolysis hair removal kit and complaint you have regarding any of the products reviewed above.
Check out some of our electrolysis articles here:
How Long Does Electrolysis Take?
Best Home Electrolysis Machine to Buy
Review of Best Home Electrolysis Machine
Electrolysis Hair Removal at Home
Best Epilator for Pubic Hair: Your Buying Guide