How To Grow A Beard Faster in the new year
Happy New Year! It's pretty great having you witness the new year with me. However, what greater thing enhances the hype of a new year than new year resolutions? Nothing greater right?
Hence, as a real man, who's accustomed to the culture and principle upon which the beard community operates, and as well as the magic it does to your facial expression and overall appearance – the ladies' attention, manly apparition, et al, but still isn't contented with the growth rate of your beard, or perhaps in need of even more longer and thicker beards, then how to grow a beard faster should be one of the top-ranked resolutions aimed at, in this new year.
Actually, growing spectacular and eye-catching beards don't need a concrete reason to commence – bearding is more like a way of life that cannot be alienated from manhood.
In our society, I'm sure you'll agree with me saying, the amount of beard you possess dictates and determines the degree of manliness one gets to be addressed with.
True right?
However, this didn't just become an overnight achievement. Great Men from the past, men like Abraham Lincoln, Leonardo Da Vinci, and others in this category, all possessed adorable beards during their time, beards women found absolutely irresistible.
Hence swaying them off their feet, and each was addressed according to the number of beards he possesses. Wonder why a lot of men from their age bred very long, healthy and thicker beards – they did set the pace this present generation is trailing.
All these and even a lot more dictates the reason one needs to learn how to grow beards faster. Yes, this particular year. I'm sure you can't afford to have those shrubs you call beard on your face to accompany you into a new year. This year should be your year! Lol
You see, growing a beard is relatively very simple and easy. However, growing the just perfect beard is what consumes more time and energy, needing more commitment and dedication.
There's nothing more frustrating and annoying than waiting for almost eternity to grow the kind of beard you desire. The kind of beard you've seen Lotta other men out there grow effortlessly. It almost fizzles you out, thereby killing the thoughts and dreams of you ever-growing a perfectly thick beard.
Are you in this category, hey friend! I urge you to keep reading, the goldmine you've been searching, is situated right in between the lines of this article.
Many myths as regards growing thicker beards faster fly around town, but instead, it takes just simple logic; the beard is like the hair found on your head.
How do I mean?
Quite straightforward; just like the hair on your head, the beard growth us largely dependent on one's genetics and age. It tends to grow thicker and even fuller as one grows older. However, the growth rate could be distorted. You could speed up the growth rate, thus earning thicker, coarser and even fuller beards within a relatively shorter period of time.
So, in this article, I've painstakingly explained a number of ways you can in this new year, stimulate your beard growth rate. In a bid to achieve this, I've also explained everything it takes to grow the perfectly thick and full facial hair you've always desired, and also how to maintain it. All in all, in this article, you'll learn how to grow beards faster.
Hence, without much ado, let's step on the pedal, and keep the train moving!
Why Haven't I Been Growing Thick Beard Faster?
Almost throughout the last section – the introductory part of this article, thoughts of "why can't I grow my beard faster?" would have been parading your mind. Well, it's normal.
It's normal to get tensed or worked up, upon realizing things aren't actually flying high the way it should. having the feeling serenading your mind right now is quite normal. And that's more reason, in this article, I would not just be showing you how to grow a beard faster, but I'd also be explaining, why you haven't been able to grow a full and thick beard faster.
See, it's like a writing constitution; some men can't just grow beards, irrespective of how much they try. Lol. But that's actually the truth.
Why is this so?
The truth here is, there isn't just a reason attached to this. There are loads of behind this cause. Reasons ranging from genetics as mentioned earlier in this section, and age too.
Hence briefly, let's outline the various factors that are behind you not being able to grow thick beards faster earlier before now, and after that, we delve fully into how to grow beards faster.
Let's move!
Lack of the right and required genes
Inadequate supply of the right and required hormones in your body.
Possessing a low level of testosterone
The wrong eating scheme, manners, what-a-view.
Wrong use of skin products. This, asides causing an inability to grow a beard faster, has loads of side effects attached to it.
Not knowing how to effectively take good care of your skin. Especially the jaw areas.
Lack or inadequate exercising of the body. Especially the jaw areas.
Placing too many expectations on your mind. This might sound like a myth to you, but the truth is, it's as real as the second coming of Jesus. Placing excessive expectations on your beard growth reduces the rate at which it grows.
Ailment.
These, listed above here, are the most prominent reasons you've been finding it really hard to grow even fuller beards all these while.
However, do not panic. All you need is the right guide. The right guide like this one you're reading at present. The right guide to catapult you to your desired level of bearding. The level at which you too can rock different beard styles you can think of.
Qualities of a Perfect Beard
Hey, I'm sorry for the change in the agreement. Truly I was supposed to delve into the various ways on how to grow a beard faster right here in this section, but I'm sorry, something just dropped into my mind now. Something of great importance. And trust me, it's very important for you to know.
It's about knowing or recognizing as the case may be, the so-called perfect beast. Don't just break frantically into a race where your finish line is still a white horse – very unclear. Know what exactly what your finished product should look like.
Hence, briefly, let's quickly highlight a few qualities, all perfect beard poses. This listing is based on generality, however, in some cases, they differ.
These qualities are:
• Thickness: This represents the number of hair strands that make up the entire beard. Perfect beards posses full thickness. Lots and lots of Hair strands must be present in your beard before it could be referred to as being perfect.
• Length – This is the degree of the longevity of the beard.
• Freshness: This is basically the Lustre of the beard. The shining et al. A perfect beard must look clean and well-groomed, as well as appearing very shiny and appealing to the sight.
• Liveliness: A perfect beard must be looking full of life.
How To Grow A Beard Faster in 2020
1. Increase Your Hormonal Levels
Frankly speaking, every man who desires to grow a perfect beard, needs a high level of hormones such as testosterone and dihydrotestosterone (DHT).
The main reason you've been finding it hard to grow a beard, or perhaps the growth rate is very minimal, is that these hormones are pretty low in your body system. Or perhaps your body sensitivity to these hormones is very low.
However, I hope you know both testosterone and dihydrotestosterone (DHT) occur naturally in the body. Hence, natural methods are mostly required to boost these hormones. These methods include eating well – good foods; such as protein, vegetables, carbohydrates, etc. In other to stimulate your body system to produce these hormones.
Basically, a high protein cum low-fat diet is the best diet when aiming at growing a healthy beard very fast. Also, vitamins like Vitamin A, Vitamin B6, B12, Vitamin B3, Vitamin B5 – Pantothenic Acid, Vitamin C, Vitamin E, and Vitamin F, are all necessary for proper cell reproduction, as well as hair growth.
2. Reduce Stress, And Exercise More
Medically, stress isn't always recommended for humans, except in fewer exceptional cases. Why?
Generally, stress isn't good for one's health, nor for beard growth neither.
Stress has a way of affecting all parts of its victim's body, including the hair and the beard.
How?
Actually, a high level of stress has a way of inhibiting the reproduction of important cells in the body, hence taking turns in reducing the growth of your beard. Also, asides a stunted beard growth, you might also be risking hair loss.
However, do not mistake stress for exercise. For the facts, weightlifting and other cardio exercises, including high-intensity interval training helps manage stress, increase the blood circulation in your body, and also helps in delivering crucial vitamins which are needed by your hair follicles in order to blossom.
In addition, exercising your body helps you in shedding weight. Hence, an increase in the level of testosterone present in your body, as weight loss inversely proportional to a high level of this hormone. And a higher level of this hormone in your body system leads to a faster rate of beard growth.
Still, on how to grow a beard faster, eliminate stress, get adequate sleep, and ensure you engage in exercises.
3. Drink Plenty of Water
To Grow your beard faster, you need to drink plenty of water.
The fact shows the harms we're exposed to as a result of Dehydration. In summary, Dehydration is bad for one's health and also for growth – hair growth inclusive.
It is recommended to drink at least 7 glasses of water with 24 hours interval. In other words, just ensure you aren't dehydrated for any moment if truly you're concerned about the growth of your beard in this new year.
4. Maximum Patience
To Grow beards faster, you need to give your beard time.
You see, one of the best ways to ruin your beautiful chances if growing a thick, full and shiny beard, is running out of patience; being in a rush; giving up on the process; shaving your facial hair too quickly. No! It wouldn't work that way.
When trying to grow a thick and shiny beard quickly, one of the most important things to do is to start taking notes and paying unwavering attention to it every day.
During the beginning period, you might feel intense itchiness on your skin, as well as the growth of your beard makes you feel uncomfortable, still do not give up. The truth is, it's normal for it to be so, and with time, your once itchy beard hairs would grow soft, thereby reducing the itching action it exerts on your skin.
So, don't just give up! Don't lose patience yet, instead continue to pay attention to it.
However, if you're growing really uncomfortable with the beard growth, and the itching effect is growing extremely uncomfortable for you, you can as well fasten the process by using beard oil and/or beard balm. This helps your beard grow softer, shinier, and as well tame all undergrowth your beard might possess.
Best Beard Products to Grow A Beard Faster
Beard Farmer-Growther Beard Growth Oil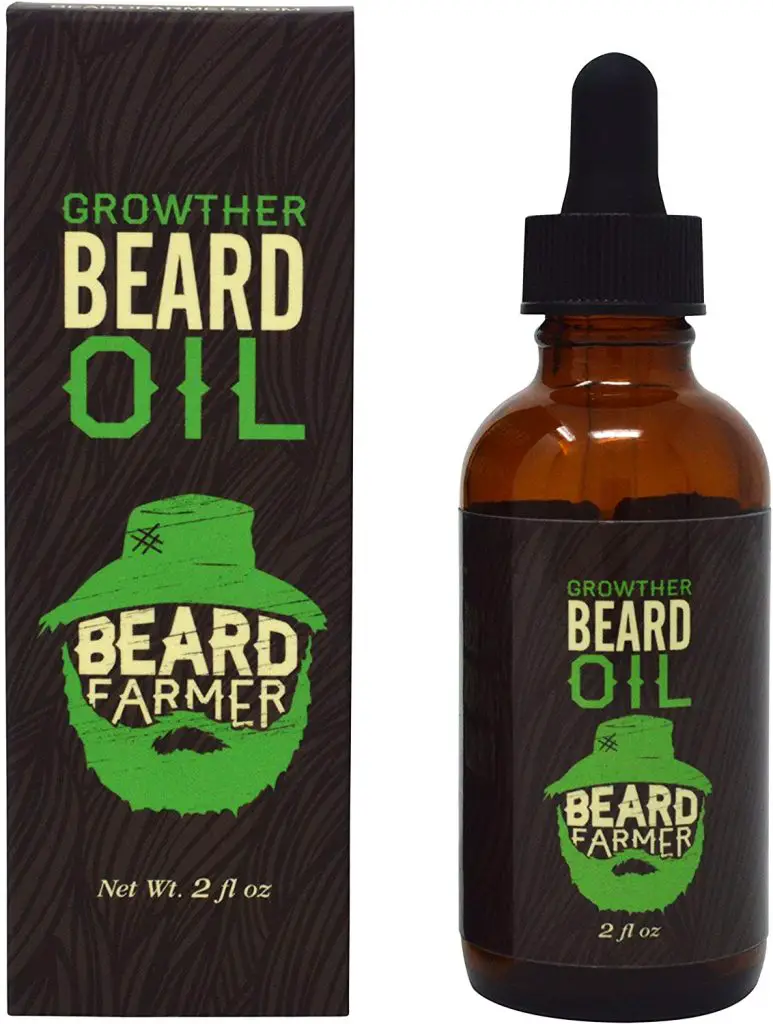 Over the years a lot of men all over the world have come to know that taking care of the face is not only meant for the female. The men can also take appropriate care of their beards by using all the essential products to nurture and grow the beards.
One of the products that have been widely used in the care of the beard is the beard farmer beard growth oil. This beard oil provides beard gangs with the means of stimulating and nurturing beard hair roots as well as conditioning and feeding the beard hair all the nutrients it needs for proper growth.
This beard oil is 100% natural beard oil, made from cold-pressed essential oils including 3 carrier oils as a base.
The oils in this beard farmer product serve double duty as conditioners and moisturizers.
The beard oil is very essential for beard growth and will provide you with all the nutrients you will be needing for a proper beard growth because;
It is made with non-volatile, naturally derived carrier oils from vegetarian sources that have a natural scent.
Natural conditioners present in the beard oil help to moisturize your beard and reduce breaks split ends and bristle
It helps you enjoy a softer, shinier and more manageable beard.
It enhances beards, this is seen after a few weeks of treating your beards which will make your beard to feel softer and be stronger due to natural conditioners in this tested and proven formula.
95% of users noticed better growth and softer beards within 3-5 weeks of use
Thousands of people have trusted beard farmer to help them grow and maintain their beards.
The pure essential oils used in the production of this beard oil helps to thicken the beards and stimulate hair growth
This handcrafted oil blend works to heal and repair dry or damaged hair, rejuvenate hair follicles and moisturize hair and skin
How to Apply 
Apply 3-5 drops of this topical conditioning treatment onto the skin in the area being treated.
Leave the oil on the beard all-day
This can be used once or twice daily based on activity and comfort
Wash off before sleeping
It is gentle enough for everyday use, the scent is not empowering and comes from natural ingredients
It has a light aroma of citrus and cedar
The features and details of the beard farmer growth oil that makes it very effective for use include;
Grows your beard fast while making it full and thick
It has been tested, trusted and proven to contain natural ingredients essential for beard growth
100% risk-free and offers you a money-back guarantee.
Ingredients
The USA sourced carrier oil
Avocado
Casor
Flowers of sulfur
Ylang Ylang
Thyme
Geranium
Cypress
Sage
Grapefruit
Rosemary
Cedarwood
Lavender
All the features mentioned above are what makes this beard oil essential and perfect for your beard growth so if you are looking to get a perfect oil for your beard that will ensure a fast growth while being thick and full then follow the link below to start on your journey to perfect beard growth.
Beard Bolt XL| Caffeine Facial Hair Growth Stimulating Beard Balm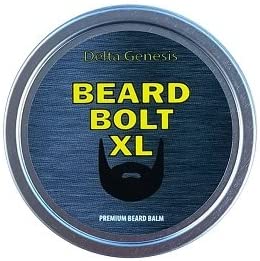 The beard growth balm is formulated with caffeine and to essential oils for maximum beard growth and volume to help you enhance and style your beards simultaneously.
This beard balm strengthens the beard hair while minimizing itch. It is mess-free and ideal for moustaches as well. Beard bolt is the only beard balm in the market that delivers a dual purpose of maximizing natural beard growth and keeps your beards looking its best all the time.
There are no fillers, parabens or GMOs in this beard growth formula and you will be surprised at how far your beard will go with the use of this beard.
It is one of kind caffeine-infused balm to give an excellent and unprecedented result.
The beard bolt XL beard balm contains highly selective ingredients to achieve maximum beard growth and volume.
This beard balm will help you achieve maximum a dense healthy and great looking beard that will make you stand out from the rest.
You may be wondering the reason why it had to be caffeine-infused, of course, the caffeine is for maximum beard stimulation and growth.
Ingredients 
All the above-listed ingredients make up the base of this beard enhancing product
Reclaim your masculinity and bring out the best in your beard today with beard bolt XL
Beard Growth Serum-Stimulates and Repairs New Follicle Growth
This scientifically powered, revolutionary beard serum is designed to provide the necessary nutrients to grow your beards more rapidly and healthier
The unique formula blend, Acetyl tetrapeptide-3 and red clover extract rich in Biochanin A promote natural hair growth and prevention of facial hair loss safely, naturally and effectively.
It stimulates new hair growth for men with no side effects, continued use will help you to achieve beard hair that is cleansed and conditioned with more volume, shine, and density.
It is very safe for daily use and helps eliminate beard itchiness and dandruff by keeping the beard hair more hydrated and moisturized.
This product is most effective when combined with beard growth shampoo
If you have been looking for a serum that will give the exact beard growth you have always wanted then join thousands of users who have discovered the exceptional value and quality of Pronutrition products and have constantly and always use them to enhance their beard growth.
It is very easy to join the thousands of users of this product to explore the many possibilities of using the product to grow your beard to a fuller and thicker beard.
CLICK TO BUY BEARD GROWTH SERUM
---
Frequently Asked Questions and Answers
How can I Make My Beards Grow Faster Naturally?
To make your beard grow faster naturally, do the following: Eat healthy foods, do exercise, sleep well, take care of your skin, make use of supplements that contains Vitamin E, or any of the nutrients your body system is lacking but needed for beard growth. And don't forget to condition your beard.
Can Beard Oil Grow Beards?
The function of beard oil is not to make beards grow faster by doing some kind of miracle. Beards oils that contain unrefined oil such as argan and Jojoba promote beard growth by moisturizing the skin underneath not make it grow than normal. Applying beard oil will remove dead skin cells and others that can stop beard hair growth.
Below are the reviews dropped by verified buyers on Amazon, on how the beard cream they bought has stimulated their beard growth:
When my husband refused to shave his scraggly, itchy, horrible beard, I thought, "well, if he won't get rid of it, maybe we can improve it." I bought this and gave it to him as an early Christmas present. It smells *AMAZING* and actually did make his beard softer and shinier!! And of course, as soon as I started actually enjoying the look and feel of the beard, he shaved it off. But, this stuff is great and I would definitely recommend!!
Can Shaving of My Beard Makes It Grow Faster?
Shaving your beard can only make it look attractive. Note that beard hair growth depends on your genes. Shaving it every day will make it appear thicker and darker, applying beard oil won't increase its growth directly but provide nutrients needed.
Shaving it every day won't increase the growth rate in any way! Just give it time.
What Are The Benefits of Beard Oil?
Treats itching
Prevents dryness of beard and skin
Promotes beard growth
Makes the styling of beard easy
Improves beard look and increase ego
What Is The Difference Between Beard Cream and Beard Oil?
One simple difference between beard cream and beard oil is that one can be referred to as semi-solid while one is liquid. When it comes to functionality, they do almost the same thing, like they grow and soften the beard and add vitamins.
Conclusion on How To Grow a Beard Faster

Basically, that's all about how to grow a beard faster.
However, a thick and full beard isn't all that's needed, keeping a perfectly trimmed and inviting beard matters as well. Thus, with the aid of wonderful beard grooming kits, you're good to go. Remember, to keep a beard, the process isn't complete until it's well-groomed – just as communication isn't complete until feedback is received. Winks**
Finally, should I have missed anything on how to grow a beard faster, then hit me up via the comment section, let's dwell in your pool of knowledge together, or perhaps a few questions you'd like to ask, or experiences you'll love to share, let's all gather at the comment section to discuss. I'll be waiting for you.
Till then, keep bearding!