Everything Dark-Skinned Women Need to Know About Laser Hair Removal is what you will get here!
When we speak of grooming, we can say Home laser hair removal is not only sent for those of us who want to remove body hair (almost) permanently but also revolutionary.
However, Not all home IPL and laser machines are safe if you have dark skin. So, it's important you understand why and choose the perfect device for your skin tone. Luckily, you'll learn why and what to choose in this post!
Since the beginning of this year, hair removal technology has metamorphosed into the point where the best home devices can adjust the parameters (wavelength) in such a way that the laser only hits the melanin inside your body hair (which is usually darker in the hair follicle) – without damaging the surrounding skin tissue.
The home hair removal devices you'll find below can detect your skin tone (1-6 on the Fitzpatrick skin types I to VI – light to black) automatically – and adjust the wavelength to bypass the melanin in your skin, yet still target the melanin in the hair below it.
Up until a few years ago, you couldn't find a home laser hair removal device that was both effective and safe for darker skin. Any coloured woman would have been in a great risk of receiving a laser hair removal treatment. This was because lasers weren't made with melanin in mind and, therefore, were safest for individuals with fair skin and dark hair follicles.
The main disconnect was that the lasers did not properly distinguish hair follicles and skin pigment, so those with dark skin could run the risk of severe burns, scarring, discolouration, and more. Thankfully, in this century, there has been a massive improvement in technology fine toned for dark skins tone especially.
Laser hair removal home devices use lasers to target melanin (the pigment that gives hair and skin its colour) inside the hair follicles and destroys them.
Generally, It gets a bit complicated for people with dark to black skin tones, because of the high levels of melanin in their skin.
The darker your skin, the more melanin it contains. This means that the thermal energy produced by the lasers can target the same melanin in your skin – and burn it
I always advise readers to consult professional skincare aestheticians before using any laser hair removal on your dark skin in order to find out the ones that work best – especially when you are a newbie. It's doesn't end there. it's still so, so important for those with dark skin to do their research, ask their technician specific questions, and follow the right pre-procedure and post-procedure guidelines to ensure they undergo the safest laser treatment.
Anyway, I did some reviews on some of the BEST LASER HAIR REMOVAL FOR DARK SKIN devices and came up with the following list in this article
But before we move on, shouldn't we know why not all laser machines are safe for dark and black skin?
Why are most lasers not safe for dark skin?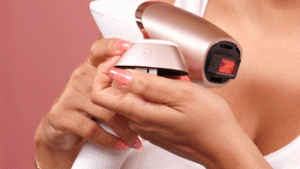 For laser and IPL hair removal the target chromophore is melanin in your hair. This boils down to a science and not much of the product. Light is absorbed by some substances in our body at various wavelength. These substances are called chromophores. They can be described as the dark pigment in hair and skin (called melanin), oxyhaemoglobin in blood, and water.
Away from the science thing, The powerful light energy from IPL and lasers targets the melanin in your hair to slow and reduce hair growth on the body and face.
Certain cells in your hair follicle (the bit below the skin) contain melanin. This melanin absorbs the flashes of IPL and pulses of laser energy, converts to heat and damages areas of the hair follicle. The hair then shuts down and enters a resting phase. So, your hair grows slower and weaker and eventually stops growing at all.
Why are some IPL devices safe for dark skin?
Notwithstanding the above, it is true that some home IPL devices are clinically proven safe for dark skin (type V). This is because They have intensity ranges starting low, additional filters and special configuration of the IPL flashes to make it gentle on darker skin.
This means on the lower levels, only longer wavelengths travel through your skin. This jumps past the epidermis of your skin where your cells contain melanin. Therefore, it keeps darker skin safe. However, even these devices aren't safe for the darkest skin tones.
While some home devices combine IPL with other energies, the effects of the IPL is boosted. Hence, all you need is just a gentle intensity to do its work.
Your results when using these home machines on darker skin may take slightly longer than the advertised schedules. That's because using the lower intensities, your hairs absorb less IPL. So, it's important to give it time to see hair reduction results.
Home devices safe for the darkest skin are available with both IPL + Radio Frequency and IPL + Galvanic energy.
Important questions to Ask Before Getting Laser Hair Removal for Dark skin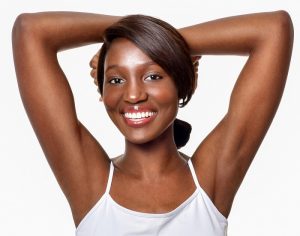 Dark skin is more sensitive than light skin. As such, do your research before getting treated. Go to a facility that has many years of experience with dark skin, ask them to see before and after pictures, always do a test patch and wait prior to treatment. If the reaction is good, then you can proceed
As a dark-skin patient seeking laser, the first thing to ask the laser practitioner is how long they have worked in the field of laser hair removal, approximately how many patients they've treated with a dark skin type, and how satisfied those patients were with their results.
To be sure your skin doesn't have a bad reaction, It is ideal to have the practitioner perform a test spot in an inconspicuous area and wait for approximately 48 hours post-treatment. This is an added safety precaution.
Be sure to not use any medications that create photosensitivity for at least one week before your treatment. And if you're on Accutane, avoid laser for approximately two to four months after getting off the regimen.
So if you're probably thinking about trying it out, but you're not even certain of where to start. Well, It's very important to follow these specific pre-procedure guidelines before going in for the treatment.
Our Choice of Best Laser Hair Removal Devices for Dark Skin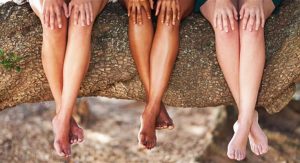 Owing to the fact that some of the procedures such as laser treatments do not produce the same effective results for dark-skinned people as it does for people with lighter skin tones, Body hair removal is a challenging experience especially for men and women with dark skin tones than it is for those with lighter tones.
After a week of intensive research, I found six high-quality home devices that work for dark skin – without any danger of burning it.
In this article, you'll find the important features of home laser hair removal for dark skin, and our research and reviews for the 6 best, FDA-cleared laser hair removal systems for home use.
What's next? here's the round-up of best home IPL devices for dark & black skin.
1. Braun Gillette Venus Silk-Expert IPL 5001 – comes with a free App for calendar guide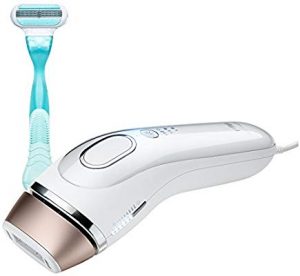 About product
The Braun IPL 5001 is an effective, safe and painless laser hair reduction device can help you finally eliminate (or at least significantly reduce) your body and facial hair.
The FDA-cleared Braun Gillette Venus IPL home device fits people with I to V skin tone, which means it may not work for people with VI skin tone (Very dark brown to black skin).
But, for people with light to brown-dark skin, it's a safe and effective, clinically proven IPL hair removal home device.
You are assured to get a result after only 4 weeks (up to 3 months), and treatment time for large areas is only 8 minutes.
Reasons to buy
Very easy to use in the gliding mode for large areas, or alternatively the precision mode ensures that smaller areas (like the upper lip) are treated safely and gently.home laser hair removal for dark skin
In terms of technology, the Gillette laser hair removal treatment device has a skin tone sensor, which modifies the treatment as you move it across your skin (80 times per second!).
You can choose between 2 intensity settings – normal/gentle. Then the device automatically adjusts the energy output between 10 levels to give you the best results for that pigment area.
While it is painless for all skin types, the Lamp lifetime is 300,000 flashes (about 5 years)
The laser device comes with a free APP, with a calendar to guide you through sessions and help you plan your hair elimination process. As for the area of use, it can be used on the entire body, including the face.
The Gillette is corded – no need for batteries or recharging. You simply plug it in and turn it on and begin treatment.
Guess what? There is actually no need for replacement parts, the device lasts for 300,000 flashes – 5 years of use with a 1-year warranty.
Avoid using on intimate areas which tend to have more sensitive skin. Men can use it only on their body.
Pros
Fast treatments, quick results
Painless treatment
Safe and effective for dark skin (I to VI skin tone)
No downtime for recharging – corded
Comes with a Gillette razor to shave before treatments
Comes with a handy calendar app to plan your treatments
Cons
May not work for very dark to black skin
2. Silkn infinity home laser hair removal for dark skin – safe for dark and black skin.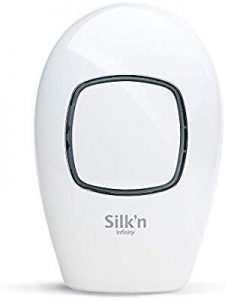 About product
Because this IPL hair removal device combines Galvanic energy, which is a small electric current that makes your pores dilate, The Infinity laser hair removal device is our new find for 2020 and is a rare find for people with dark-black skin.The IPL reaches deeper into the follicle.
It can, therefore, use very gentle (and effective) IPL – safe for dark and black skin.
Reasons to buy
It comes with 500,000 flashes (enough for 15 years of full body treatments and a nice storage case.
For effective result, four treatments at 2-week intervals and then continuous use monthly until you get the full results.
On darker skin (using the lower intensity) it's likely to take a bit more time to get to smooth hairless skin (we suggest around 12 sessions)
The Silk'n Infinity (FDA cleared and clinically tested) comes with a built-in skin sensor and fits all skin colours (white to black), the price is affordable, it is compact, lightweight and fast.
Warranty is 1 year + 30-day return policy (only on Amazon) with a Lamp lifetime of 500,000 (no cartridge replacement will be necessary)
The full and easy instructions can be found on the device page on Amazon.
Pros
Works for all skin types and most hair colours
Five power settings (low intensity recommended for dark skin)
Infinite pulses, no need for replacement parts
Painless
Quick results
Galvanic energy leaves the skin smoother
Cons
Using at a high level may hurt and cause damage
3. CLALUFA IPL Hair Removal Device – Ice Point Hair Removal for Permanent Hair Removal and Smooth Skin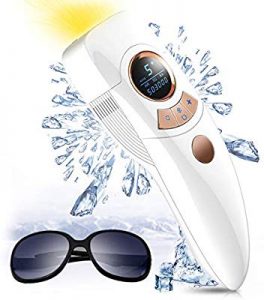 About product
This is a Hair removal device with an LCD screen, the function can be recorded at any time, 5 energy gear. It can meet all your requirements.
After the first use, The hair growth slows down by 75%. 95% of processed hairs do not grow after 12 weeks as the hair becomes  soft after 4-6 times
Reasons to buy
CLALUFA IPL hair removal system with Cream involves a simple operation and stable performance which will make you feel cooling when using. The high-quality packaging box is the best gift for your friend.
Its IPL technology is best hair removal salon: Significant effect, painless, no side effects, and of course, permanent hair removal.
This IPL device for dark skin is equipped with Two different effectiveness of the lamp head, adapter, instruction manual, glasses, exquisite bag and a 100% quality guaranteed in 2 years.
Pros
Comes with glasses
Users report almost pain-free treatments
Works very well on facial hair
Fast treatment time
Covers a good amount of area per flash
Comes with attachments to epilate or shave during treatment
Comes with a portable and rechargeable blue LED acne spot treatment tool
Cons
Takes a lot of treatments to see results (but users report 75% hair reduction)
Cartilage only lasts 2-5 months (5000 flashes) – but you can replace it
Less effective on thicker or coarse hair
4. PretiHom Facial & Body Permanent Hair Laser Removal – IPL Hair Remover Cold Compress 400,000 Flashes Home Use Hair Removal System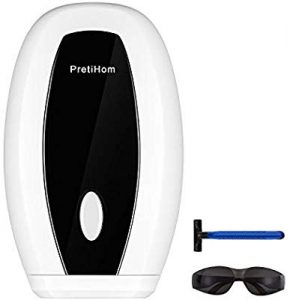 About product
The device, which is very popular with professional salons and dermatologists, targets the follicles from deep inside to ensure that they do not get any nutrients for their further growth. This helps to eliminate any hair regeneration and growth. PretiHom laser removal device uses the IPL system to give effective results in as little as two treatments.
The painless hair removal device works perfectly for people with dark hair colour and other colours as well. It also works effectively on people with dark skin types as well as other skin tones. The laser is ideal for both men and women.
The device comes with 8 adjustment gears that you can control to your speed and efficiency preference in order to avoid any damages to the skin.
Reasons to buy
The device works well on all parts of the body and especially Zero-sum. rager leg areas. It can give you full-body treatments for up to 15 years on larger treatment areas and up to 35 years on smaller treatment areas. The device also comes with a razor for shaving off excess hair before the treatment.
It comes with a convenient cord that makes it easy for you to use the device from the comfort of your home or make it your travelling hair removal device.
Pros
Painless
Long-lasting
Works well on dark skin tones as well as other skin tones
Comes with 8 adjustment levels
Uses the IPL system
Maintains a cool skin temperature
Clinically proven
Comes with a razor
Cons
Works only for people with darker skin tones and not as well for other skin tones
5. Braun Gillette Venus Silk Expert Face and Body Hair Removal – 300,000 Flashes, Face & Body Hair Removal System with Razor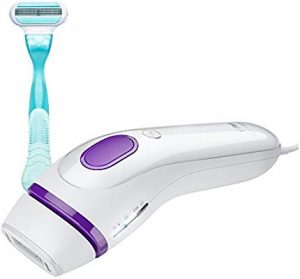 About product
It is long-lasting device and it can serve you effortlessly for 5 years. The device also comes with a razor to shave off excess hair before the laser treatments. It is also painless on the skin and it comes with a free app that helps to be your guide through all the sessions. It does not use any batteries and all you do is plug it in and start removing the unwanted hair. The laser device comes with a 1-year warranty.
Reasons to buy
The device is ideal for people with skin tones but may not work as well for people with black skin. The FDA cleared device fits people with skin tones of I to V and may not work so well with VI skin tones. It comes with 10 levels that you can adjust according to your preference. Out of the 10, there are two intensity settings for the best results. The Gillette laser is ideal for all parts of the body and it is easy to use for both men and women.
The device is a safe clinically proven device gives you results in as little as four weeks. The laser comes with a skin sensor that helps it to modify its treatment at 80 times per second as you move it across the skin.
If you have dark skin and wan to get rid of your body hair painlessly and effectively, use Braun IPL 50001 for the safest and best results. The device helps to eliminate and reduce hair with very significant results from the body and face.
Pros
Fast and quick treatment results
Effective and safe for dark-toned skin
Painless
Does not require any downtime before using
Comes with an app
A Gillette razor available for shaving off the hair before treatments
Comes with a one-year warranty
Cons
Does not work well for people with black skin tones
6. MiSMON IPL Hair Removal Device for Men/Women – Safe And Effective IPL Technology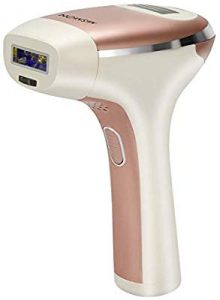 About product
Also kmown as the "American Health Patron Saint", the laser removal device penetrates deep into the melanin of the hair follicle to get rid of any regrowth and regeneration of hair permanently.
It is ideal for people with dark hair and light skin tones. People with very dark skin colours and those with brown skins may not get the best results from the device. It is also not suitable for people with light, white, grey, red or golden hair colours.
Reasons to buy
The clinically tested and FDA approved device is painless ad easy to use for both men and women
The ideal parts of the body to use with the MISMON hair removal are the arms, legs, back, belly, armpits, bikini line, chest and chain.
This is another quality device ideal for people with dark hair; the device uses IPL system that helps to give it quality and effective results in as little as four treatments.
Pros
Uses IPL system
Waterproof
Safe
FDA certified
Offers permanent hair removal solutions
Painless
Affordable
Easy to operate
Wide range of operation
Cons
Not ideal for the facial hair
Not suitable for very dark skin colours and different colours of hair besides the dark colour
NOTE: Be consistent with your home treatments, and don't lose hope before at least 7 weeks go by. We are all different and some skin tone combinations take a little LONGER. It's worth the wait
What Do you Do After Your Laser Hair Removal?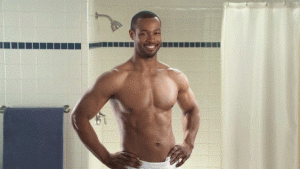 So do you feel there is something important to carry out once you are done with a laser hair removal treatment? Well, your feeling is right. As a matter of fact, important!
You should avoid direct sun exposure for at least a month pre-treatment and post-treatment. You also shouldn't bleach, pluck, or wax for four to six weeks.
To reduce any redness or swelling after treatment, it is recommended to apply a cool compress, aloe vera, and topical corticosteroids morning and evening for five days post-treatment. I will recommend any soothing cream after laser. Like, aloe vera, vitamin E, vitamin K, or hydrocortisone 1% over the counter
Post-procedural care should entail applying a cool pack post-treatment, avoiding any exercise or heat-inducing activities for 24 hours, and to avoid sun exposure throughout the treatment series
Risks about laser treatment that Every Dark-Skinned Woman Should Know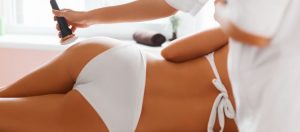 If the wrong equipment or wavelength is used, your skin may get temporary burns or discolouration.
Darker skin tones have extremely sensitive skin, which is why it's so important to differentiate lasers for dark skin and lasers for light skin.
Lasers for darker skin complexions have been in existence since 2000. However, most facilities have not spent the money to buy the right equipment.
Laser Hair Removal Facts About Dark Skin
Since the contrast between the colour of the skin and the colour of the pigment in the hair follicle is what allows the laser to easily pick out what to target, laser hair removal typically works best on fair skin with dark hair.
With the advances in laser technology, the Nd:YAG wavelength has demonstrated safety and efficacy. Side effects are minimal with this wavelength and generally can be easily avoided, especially if the patient follows the pre- and post-treatment guidelines.
A good example is The GentleMax Pro Laser which is safe for darker skin types due to the fact that it offers two wavelengths: one being a 755 nm wavelength or a 1064 nm wavelength.
The 1064 nm wavelength, also known as the Nd:YAG wavelength, is not as highly absorbed by melanin as other wavelengths. Due to this, the wavelength can safely treat all skin types because it deposits its energy deep into the dermis without relying on melanin to do so.
Also, the GentleMax Pro offers varying pulse durations enabling a better destruction of the hair follicle, larger spot sizes enabling a deeper depth of penetration and effective DCD cooling.
I also recommends the Nd:YAG laser because the wavelength bypasses the epidermis, so it's very safe on dark skin.
How Much Time You Should Spend on Your Process
Typically, four to six treatments are recommended
Hair growth is reduced after each treatment, and the number of treatments required will be based on your hair colour and type, body area, and skin tone.
Remember that your results may be different because every treatment varies depending on the person.
FAQ: Laser Hair Removal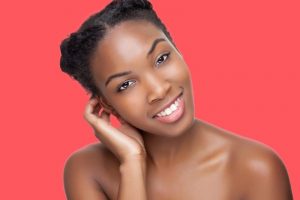 Is laser hair removal safe for dark skin?
Yes, provided that you choose the right home devices (listed in this post), that can detect your skin tone (1-6 on the Fitzpatrick skin types I to VI – light to black) automatically – and adjust the wavelength to bypass the melanin in your skin, yet still target the melanin in the hair below it
Do home laser devices remove hair permanently?
Laser hair removal doesn't get rid of hair forever, but it does significantly reduce hair growth and makes the hair weaker, lighter and finer with more and more treatments.
Laser hair removal works by heating hair follicles to stop new hairs from growing, which puts the follicles in a state of dormancy for a long time – much longer than shaving or waxing.
When the hair does grow back (sometimes after 6 months and more) – it becomes lighter, finer and fewer.
How does laser hair removal work?
Laser hair removal works by targeting hair follicles with concentrated beams of light. Hair follicles are small holes in the skin from which hair grows. They absorb the laser, which is attracted to the hair's melanin pigment, and the hair vaporizes instantly.
Wrapping it up
Laser hair removal at home is effective and safe for dark skin tones, if you choose the right IPL laser hair removal home devices, and follow instructions perfectly.
We've found the 6 best and FDA-cleared laser removal home devices for dark skin. All devices are easy to use, painless, last for 5 -15 years of use, safe and effective for removing hair on your body and face.
As I am about to bring this post to a fulfilling end, I would like to speel out here that You do not have to worry about not having a smooth skin if you have dark skin colour because the above devices can help you to achieve the best effective results. You can have as good and smooth a skin as anyone else by using the highly recommended devices that come with very flattering reviews like the once here.
They all use the latest technology to ensure that hair regrowth and regeneration is a thing of the past once you go on their treatments. The devices are easy to use and affordable.
And now I'll pass on the Baton to your hand: do you have any experience with laser hair removal at home? do you have any more questions? I'll be happy to read your comments.
Cheers to your health and Radiant skin.
You should check out some of our other review articles that may be good for you:
Best Laser Hair Removal in Miami
Laser Hair Removal Consultation Questions
How To Do Laser Hair Removal At Home