The best silent hair clippers not only will provide silent operation, but also quality performance. In this buying guide, you will learn what factors make a hair clipper quiet.
In a salon full of barbers, part of the business is keeping a calm ambience in a salon. If you are someone who likes to do trimming in your bathroom, the confined space will amplify the noise.
Whether at a barbershop or home, the constant grinding sounds coming from a hair clipper may turn you or your customers off. But with the right model from this list, you will gain the perfect trimming and quiet operation you deserve.
Did you know that a hair clipper has two arms? The moving arm won't be able to pull back fast if the motor is not powerful enough
Today, in this article, I will not only be sharing with you the best silent hair clippers but I will also give you a detailed explanation of each model's strengths and setbacks.
As a lady with beards? Here are causes and treatments
Best Silent Hair Clippers For Peaceful Trimming – Quick recommendations
Attention: The internal data of table "19" is corrupted!
Best Silent Hair Clippers For Peaceful Trimming – Detailed Review
Below are some of the best hair clippers for use, featuring some of the silent hair clippers available.
Wahl 79300-1001 Color Pro Clipper Kit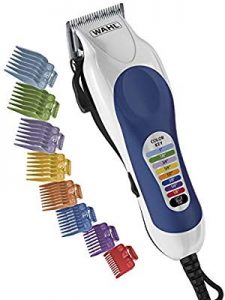 Top Quiet Hair Clipper
About product
The Wahl 79300-1001 Color Pro Clipper Kit boasts a complete set of quality haircutting tools. With a quiet motor, self-sharpening precision blades, and quality construction, this model delivers a silent, yet effective haircutting experience.
It has a heavy-duty 60 Hertz power drive motor that delivers exceptional power for no-snag trimming. As a result, you get 6,000 strokes per minute while keeping noise levels at a minimum.
The Wahl 79300-1001 Color Pro Clipper Kit comes with 26 pieces of accessories that let you control cutting style and noise levels.
When you want to achieve detailed haircut, use the adjustable taper lever for blending and fading.
The colour-coding enables you to match the correct comb, setting, and style. Hence, you can cut hair confidently, knowing you'll achieve a smooth, neat trim in every use.
The self-sharpening ground blades cut through all hair types and stay sharp longer.
Do you have difficulty in straightening your short beard? This is for you HERE
Oster Fast Feed Clipper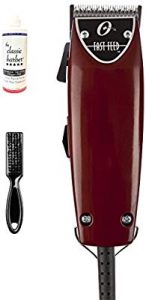 Because of its small size, the Oster Fast Feed Clipper does not require much of a motor, making the clipper overall very quiet.
About product
This product has a higher than average amount of settings that can be used to modify your haircut just the way you would like it to be. While the clippers may not appear flashy or interesting, they are all a DIY hair-cutter needs. It is powerful, brand-name, and most importantly, quiet
This is obviously preferable, especially because it's targeted for home use on "customers" such as children. Oster is generally a line that is quite expensive and used for highly professional use. However, this specific product is made to be affordable for use at home while maintaining some of the characteristics of their higher-end products.
Its dull blades are not changeable which may result in pain on the behalf of the customer. On a budget, however, these hair clippers are a perfect choice.
Finally, Some cons, however, to purchasing this blade, are that due to its low price, it is less than high quality. In addition, it has a weak motor so it shouldn't be used for extensive hair cutting.
Find out the best beard kit for African American men right HERE
Andis 63695 Professional Ceramic Hair Clipper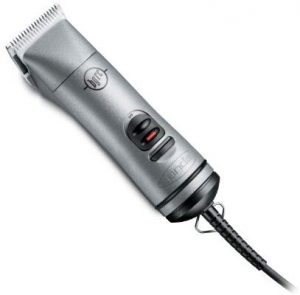 For High Volume Or Thick Hair
About product
This quiet hair clipper comes with ceramic-edge blades that stay up to 75% cooler than steel and stay sharper longer. the high-carbon steel blade is suitable for cutting a high volume of short styles.
This product has a noise level of 57 decibels. Hence, you achieve a quiet, but versatile trimming. The Andis 63965 Professional Ceramic Hair Clipper uses a 60 Hertz rotary motor for heavy-duty use. Because of this, it can make 2,900 strokes per minute. Consequently, the clipper is 10% smaller and 20% lighter
Meanwhile, UltraEdge blades feature an exclusive hardening process for prolonged blade life. Similarly, the detachable blades change out quickly and easily, making cleaning simple.
the Andis 63965 Professional Ceramic Hair Clipper is the premium choice in this list, but its quiet operation will make up for the additional price. If you are up for some heavy-duty and long-lasting unit, then this model is worth the investment
.
You can choose from five-speed, two-speed, and single-speed options. Use lower speeds for situations that call for greater control, such as haircutting on children. Use high speeds for thick, coarse hair.
To sum it up,, the Andis 63965 Professional Ceramic Hair Clipper gives you greater flexibility with multiple blade options.
Check out the benefits of peppermint to your hair
Andis Ceramic Bgrc

This hair clipper with ceramic blades is highly acclaimed
About product
These hair clipped are durable and heavy-duty, made to be used for professional use almost exclusively. Interestingly, for the power produced by this product, it is extremely quiet. This is expected, as a result of the pricey tag associated with this product. Because it's made to be professionally used, this product is quite expensive, but you most definitely get what you pay for with it.
Because they are ceramic, not a lot of heat from the motor is transferred from the product to the blades, making it very comfortable for the customer. Another feature that users of this hair clipper enjoy is the fact that it can be converted to a cordless clipper when charged.
In addition, The ceramic blades on this clipper are very interchangeable, meaning that most of the Andis brand blades can be used with this product.
Beard shampoos for black men, what you need to know! 
Andis Master 01557 Adjustable Blade Hair Clipper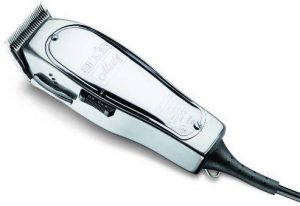 Suitable For Tapering
About product
With the flick of a lever, the device can provide multiple cut lengths in one tool. This makes the powerful, adjustable blade perfect for all-around cutting and tapering.
The Andis Master 01557 Adjustable Blade Hair Clipper comes with a powerful, single-speed magnetic motor that produces 14,000 cutting strokes per minute. You can adjust the blade from fine to coarse size. Likewise, the blade can be zero-gapped.
There's even a convenient thumb-controlled side switch for one-hand on and off operation.
The good balance between sharp blades and good motor prevents uneven cutting, pulling, and snagging.
In addition, the Andis Master 01557 Adjustable Blade Hair Clipper is ergonomically designed to fit comfortably in your palms.
All in all, the Andis Master 01557 Adjustable Blade Hair Clipper is a powerful, yet quiet device that is ideal for all-around cutting and tapering. It is a durable hair clipper that can provide versatility and flexibility in creating various haircuts.
The only weakness of this corded hair clipper is that it tends to get hot or overheat when used for a very long time.
Therefore, it is advisable to operate the tool in short periods to allow the hair clipper to cool down.
Oster Professional 76023-510 Fast Feed Clipper
The best part about this unit is its whisper-quiet pivot motor, which is two times more powerful than a magnetic motor
About product
This quiet hair clipper brags the iconic Master adjustable blade clipper, which is a favourite of hair professionals for generations.
In addition, the Oster Professional 76023-510 Fast Feed Clipper is the best hair grooming assistant when you seek flawless haircut without any loud motor sounds. This is a must-have if you want a quiet operation, longevity, affordability, and quality.
It's the solid solution when you want to eliminate the noise coming from cheap fade clippers.
What's special about the Oster Professional 76023-510 Fast Feed Clipper is that you can use both its corded and cordless versions.
The Oster Professional 76023-510 Fast Feed Clipper is low maintenance, yet powerful enough that it can produce 14,000 strokes per minute. .
For convenience, the adjustable blade permits you to swiftly change the cut's length from very close to medium length.
The package comes with the adjustable clipper, eight guide combs, blade guard, cleaning brush, and blade oil.
A textured, easy-grip housing allows you to comfortably finish the trimming job. If you want, you can purchase other blade sets from the brand separately.
Wahl Professional Sterling Eclipse 8725-1001 Cordless Clipper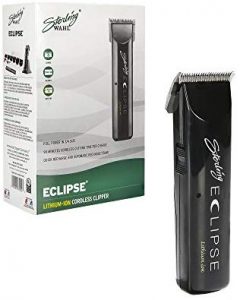 A great buy for professional stylists and self-trimmers who want a peaceful, but effective cutting.
About product
What's cool about this model is the way it combines power and flexibility. First, there are full-sized clippers and precision blades that are easy to maintain. You can use the Wahl Professional Sterling Eclipse 8725-1001, Cordless Clipper, for 90 minutes before you need to recharge the lithium-ion battery.
Here is how to grow great beard in 2020
More than that, there's the cordless feature that enables you to make a full range of movement. From Wahl Professional's commercial grade line of products, this silent hair clipper is designed to provide the sharp performance that experts demand.
At 1.2 pounds, this is the most lightweight unit in this list. Having said that, this device is perfect for long hours of trimming. The Wahl Professional Sterling Eclipse 8725-1001 Cordless Clipper uses a rotary motor that generates 5,500 strokes per minute and produces noise up to 50 decibels.
The package comes with eight attachment combs, an automatic recharge stand, detachable snap-on blade, styling comb, red blade guard, cleaning brush, and oil.
---
Do you know why Hair Clippers Produce Loud Noise?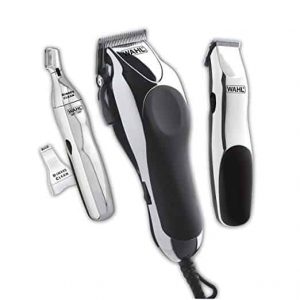 While the noise level is a priority, other factors such as motor, blades, and accessories contribute to the sounds you hear while cutting hair.
Whether you are a customer or a hairdresser, I'm sure you are familiar with the loud banging sound coming from a clipper. It's as if the device is on the verge of breaking down. Worse, it is so close to your ear that the sound intensifies. The motion of the moving arm causes the clipper's bottom blade to shift from left to right. In this way, the clipper can cut through the hair.
Cutting hair is like an art form. Each customer is different, and each customer can be as picky as they like
When you're buying hair clippers, you are paying for quality. Whether you are a barbershop or looking to cut your own hair at home, you need to make sure you get the right product to get the job done.
Is honey really good for beard growth? Check out these fact HERE
However, it is hard to know what the best hair clippers are, so here are some qualities you should look for in a quality pair of hair clippers.
Long-lasting
Quiet and Clean
Efficient
Safe
---
The way you use your hair clipper can impact noise and efficiency. Here are some tips on how to use the device correctly
How To Cut Your Hair the Right Way Using A Hair Clipper?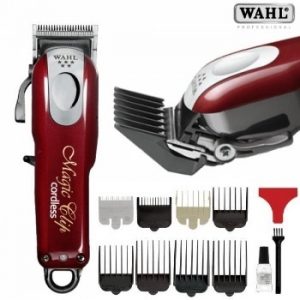 The best way to cut hair using a clipper is to work upwards toward the top of your head. As you trim, tilt your head slightly forward, then rest the device against the back of your head.
Once you've selected the fitting blade length, place the hair clipper at the base of your head. It is ideal to cut against the direction of hair growth to get a more even trim. 
Ensure you have a firm hold on the device, so you apply the necessary pressure as you cut along.
Afterwards, move to the sides of the head. Start at the base then move upward. Ensure your ears won't get clipped. 
When you reach the top of the head, begin at the forehead and trim towards the top. Make sure to follow the hairline. 
After removing the bulk of your hair, you can now move on to the fine details. 
Next, remove the length guard. Hold the device vertically with the blades perpendicular to the skin. Clean cut the hairline at the back of the neck and the lines around each ear. 
To set where you want the hairline to end, press the hair trimmer against the skin. Then, move the tool downward for a smooth, clean shave. 
How to clean and maintain silent hair clipper
The way you use and maintain your silent clipper will determine how long it will last. Sharpening of clipper blades and regular lubrication of clippers are two crucial steps in maintaining a silent clipper.
With the advent of the latest technology, most silent hair clippers have been originally designed to sharpen by themselves as a result of a self-sharpening feature fixed into the clipper blades. But these kinds of hair clippers often come expensive than normal ones.
If your hair clipper does not have the self-sharpening blades feature, you will need to sharpen them yourselves using a clipper blade sharpener or sharpening stone.
Even the best set of clipper blades can get dull after some time of constant use; you need an effective method to sharpen your clipper blade in order to bring the clipper back to its optimum cutting efficiency. If you are bothered as to how you can sharpen silent hair clipper blades, I will show you how.
Sharpen the Hair Clipper blades
Before you sharpen the blades, you need to disassemble the clipper blade from the body of the clipper by unscrewing the nuts. Make sure you get rid of debris and hairs that are found on the blade teeth and take note of how the disassembled parts were fixed before you disarranged them. Use an old toothbrush to effectively get rid of residues in the clipper blades.
Like I have mentioned earlier you will need a sharpening stone to get the job done. Most people call it whetstones.  The perfect sharpening stone should be about 4000 grit surface.
Simply Place the blade on it and move it forward about 10 times at an angle of 30 to 45°. After this is done, check to see if the edges are even or shiny. Repeat the same process for the other edge.
Now that you have successfully sharpened your clipper blades, it is important to assemble all the loosed parts just as the way they were originally fixed. Before you begin to assemble the body parts, make sure the blades that have been sharpened are now even and smoothly honed.
To prevent the screw from losing out when using the clipper, make sure all the screws are tightly fixed.
Oiling clipper blades
After properly cleaning and sharpening your clipper blades, the next thing is lubrication. The essence of oiling clipper blades cannot be overemphasized. Most professional hair clippers come with clipper oil that can be used for lubrication.
The oiling of clipper blades is essential to avoid overheating and wear and tear of the newly sharpened blades.
Just an application of a few drops of clipper blade oil is enough to keep it sustained. it is advised to use clipper blades oil on your clipper after each use.
Switch on the clipper and run it for some minutes before using it on hair to check if you have done a perfect job so far. A clipper with perfectly sharpened blades will not have difficulty in cutting through coarse, thick hairs.
Frequently Asked Question About Silent Hair Clippers
Should hair be wet or dry when using clippers?
You should dampen curly or longer hair before using a clipper on it. For short and straight hairs, it is not bad to cut t with a clipper when it is dry.
It is believed that wet hairs are easy to cut sing clipper blades than dry hairs.
Should you wash your hair before using clippers?
It is very difficult to cur greasy hear because they will stick together and become too strong for hair clippers to run through them. The job will be much easier if you use clippers on clean hair.  To get the perfect look, wash your hair and make sure it is dried completely before combing.
Can you use a hair clipper to shave?
It is absolutely safe to use a clipper to shave. The use of hand razor can attract razor bumps and irritation but a quality clipper will not give you that. Clipper gives you a safe, easy, fast, and smooth shave. A very good clipper is less prone to razor bumps and ingrown hairs.
Can I use a hair clipper to trim my beard?
There is no other handy beard grooming tool as good as a beard trimmer. I'd recommend the use of a beard trimmer on beards. But you can as well use a beard clipper for facial ha9ir. Only that you may not get an optimum result when you intend to use it regularly on beards.
However, Beard clipper will not be able to give you a perfect edge to the neckline as a beard trimmer will do.
Is it bad to trim your own hair?
It is true that you will save yourself some cash when you trim your own hair rather than going to a professional. You may even save yourself time as well.
But the time you will spend trying to trim your own hair may not worth the while, especially when it is your first time.
Most people who trim their own hair can testify to the number of times they have had a bad end result and still even pay a professional to fix their mistake.
The best thing is to go to a professional and pay for the service to save you the stress.
Is Remington or Wahl better?
Remington and Wahl are among the leading brands in men's grooming products so far, and people keep asking which of them is better when it comes to efficiency.
As an avid researcher, I have discovered that Wahl produces topnotch models of hair clippers while Remington quality trimmers. Most users also claim that Wahl products are relatively cheaper than Remington.
What is the difference between hair clipper and trimmer?
The difference between a trimmer and a clipper is not really obvious as they both perform the same job in removing hairs and making grooming easier. The major difference between a clipper and a trimmer is in the blade size.
While clippers will cut better on thick and long hairs, trimmers will work best on short and straight hairs. Hence, get a perfect trim by first cutting the longer hairs with a clipper, then using a trimmer afterward to achieve a close shave.
---
Wrapping up on best Silent Hair clippers For Peaceful Trimming
Overall, it is important to know what kind of hair clipper to purchase for your needs. Depending on whether you are using them for personal or professional use makes a big impact on the decision of which to buy.
All the silent hair clippers in this list come with pros and cons. The key takeaway is their ability to deliver an efficient trimming experience, all while silently operating.
Buying one from this list will save you from irritating sounds and a bad haircut. Lastly, remember that the right silent hair clippers should have a good noise level, but won't sacrifice smooth and precise trim.
Check out some of our review articles below:
Best Electric Shavers for Ingrown Hairs
Top Painless Laser Hair Removal Devices To Buy
Best Boar Bristle Brush For Healthier Hair
Reviews of The Best Quiet Hair Clippers for 2020
Full Body Laser Hair Removal Machines to Buy
List of Best Light Hair Removal Machine
13 Best Beard Mug Gift For A Bearded Man