What is world beard day 2019 all about? When will it take place and who are those organizing it? That is all we will be talking about here.
Holds every first Saturday in September and the World Beard Day for 2019 is September 7, 2019.

World beard day is a time around the world when bearded men celebrate themselves and what they stand for.

Bearded men are known to be people with charisma, courage to challenge the status quo or the stigma attached to growing beards in some part of the world and likewise promote the art of beard growing, connect with individual e.t.c.
So let's briefly look into what world beard day is all about and how to get started.
What is World Beard Day 2019 About?
From the introduction above, we can say a lot of things on what world beard day stands for. It is a day just like worker's day, mothers day set aside to celebrate men with beards, connect with other bearded men, through this, they will know they are not the only one into it.
World beard day is not in any war close to violent, it is an event where people with facial hairs. Come together to celebrate people with massive facial hairs.
In short, the focus of the world beard day 2019 is on the face of each man that will attend the event and its fuzz.
History of World Beard Day
The past is the aggregate of the present and the present will be that of the future.
No events in the world occur in the past without no cause. A group of people can't wake up one day and decide to start celebrating the growing of beards without no cause.
Where does it start from?
Who is the first set of people that celebrated it?
What is their Nationality?
Are they still alive?
Let's quickly look into the history of the World Beard Day
World beard day started when a group of anonymous bearded men organized an event to honor the tradition of Scandinavian until it caught the attention of the international audience.
And other sources have it that the exact origin of world beard is unknown, there is the only evidence of Danish Vikings dedicating a special day to the celebration of bearded men as far back 800 AD. Back in those days, there is no specific date to honor the beard, but we have multiple celebrations throughout the world. Some of the celebration is crazy to talk about.
Let's take for example, Donskborg where people without beards are banished into a nearby forest to for 24 hours.
Who is saying the truth here? Nobody can say, as history can be subjected to a series of manipulations to suit each man's agenda.
That is that, let's move to who the organizer of world beard day 2019 is?
Who is the Organizer of World Beard Day 2019
It is a day where bearded people from anywhere around the world come together to celebrate beard. The organizers for each country vary.
Who is the organizer of World beard day in Nigeria?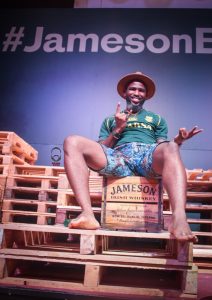 Have you heard of the popular brand own by Jameson Irish Whisky? They are one of the popular whiskey brand in Nigeria with a huge following and has also developed over 10 brands focus on the Nigerian market.

Last August, they announced that world beard day will take place and that the brand will be doing something to celebrate it.
The press release goes as follow " The Campaign is a celebration of the bearded community across Nigeria and the world – bearded culture keeps growing and each September and Jameson makes a point of giving a voice to the bearded brothers"
To show that the event will be one to remember, the whiskey brand partnered with popular photographer Emmanuel Oyeleke and a leading Lifestyle brand with the name Konbini Africa to make the day one that every bearded brother will remember for good.
When is the Word Beard Day taking Place?
The world beard day will hold on 7th of September 2019 and Jameson Irish will surely make it a memorable one. To follow this movement follow  Jameson on Instagram and Mybeardgang on Instagram.
How World Beard Day is Celebrated?
Public events involve contest or display of bearded prowess among attendants. Music shows and special food are not always far from there. You will see a lot of amazing activities where attendants paint their faces to mimic different beard style.
Private events are made up of activities where bearded brothers engage in masculine activities. It is usually in two categories. Constructive ones are building of the bearded human pyramid and destructive ones such as the building of bonfire.
Rules are always created which include the following:
Those with beard are to be praised.
Served and gifted by those without beards.
So what next?
How to Celebrate World Beard Day
How it is done is not the same for all nations in the world. The way it is done in America is different from the way it is done in Nigeria, but all share one thing in common. And that is the celebration of the beard.
Organize a beard day by gathering a group of people and you can as well do it in your community, and be sure to do a lot of outdoor activities where those who attend can hold a competition on who has the most beautiful beards and many other creative games.
What to do on World Beard Day
Do you have interest in hosting a world beard day but you have no idea on activities that can be performed on the day. Here is a list of possible things that can be done on world beard day to make it a memorable one.
1. Break bread with your bearded brethren.
No world beard day can be said to be a complete one without having a series of foods that are friendly to the beard.
Hot dogs
Fondue
Vodka
Hot dogs
2. Organize a fire
This can be done if the law permits it and you can make those without beards do it for you, then sit around and enjoy.
3. Change a Tyre
This is another game for men with the muscle. Grab bearded men, then form a group of two to three members, flatten a car wheel, then pass through the process of changing it making use of your extensive life skills.
4. World Beard Day Games and Events
Series of events and games take place on World Beard Day around the world. You can create your own game and event, or choose from the following custom beard day games.
Vodka
Dungeons and Dragons
Cleanchin darts
Effigy Burning
Pin the beard on the guy
5. Sing
Start by breaking the vodka, creating a band and sing along to individual favorite songs.
6. Organize a Football competition
Organize a football competition and play it the way it is meant to be e.g. bearded men vs. Non-Bearded. You can as well make rules that will make the beardless less advantage.
The referees will be a bearded man.
And so on…
World Beard Day Facts You Should Know
Organizers of World Beard day in Southern Spain reported an occurrence where beardless boys duel with men with beard holding spikes.
A village located in Sweden normally banishes those without beards for 24 hours while those with beards are left behind.
The exact origin of World Beard Day celebration is unknown, but there is evidence that Danish Vikings dedicated a special day to glorify the beards as back as 800 AD.
It is disrespectful to shave beard during the celebration of World Beard Day.
World Beard Day Messages and Quotes
With a great beard comes great responsibility…Cheers to men with a beard!!! Cheers on World Beard Day!!
Today is World Beard Day, the day to pamper your beard and just love it the way it is…Warm wishes on this special day to you.
There is only one reason for which you might think of shaving your beard and that is to grow it again..Wishing you a very Happy World Beard Day.
World Beard Day is the time to have some fun time with brothers with a beard… Happy World Beard Day to you.
World Beard Day reminds us that those who have a beard may look really tough but they also have a kind heart… Happy World Beard Day.
Wishing a very Happy World Beard Day to you… Beard is something that makes you look so handsome, stylish and different.
There are two types of people in this world. One who can enjoy the superior beard and the ones who are erroneous. Best wishes to the entire world on beard day.
One can constantly have faith in a person with a beard and eyeglasses. Greatest needs on World Beard Working day.
A beard often implies staying Fantastic among the typical men. Happy World Beard Day.
Don't forget that on the day of Globe Beard Day that it is not just a Beard, it is a passport to awesomeness. Happy World Beard Day.
What if I have no Beard but want to participate in World Beard Day?
We have people that are interested in growing beards but find it hard to. Check out How to grow beards or grow beards in bald spots.
Since the world day celebration is some hours away, growing natural beards is not possible. What you can do is get yourself a Fake facial hair from Amazon.
Follow the links below to read on the Stories of other bearded brothers, their experience and many more:
To get more of stories of the bearded, tips on taking care of your care and many more. Kindly follow us on our social media platforms, bookmark our beard gang Homepage or subscribe to our Newsletter. It is not much of a thing to ask for.